Avantura Choppers Rudra and Pravega: First Ride Review
November 13, 2017
Views : 12340
---
How does it feel to ride the real deal: a 2000cc made-in-India chopper?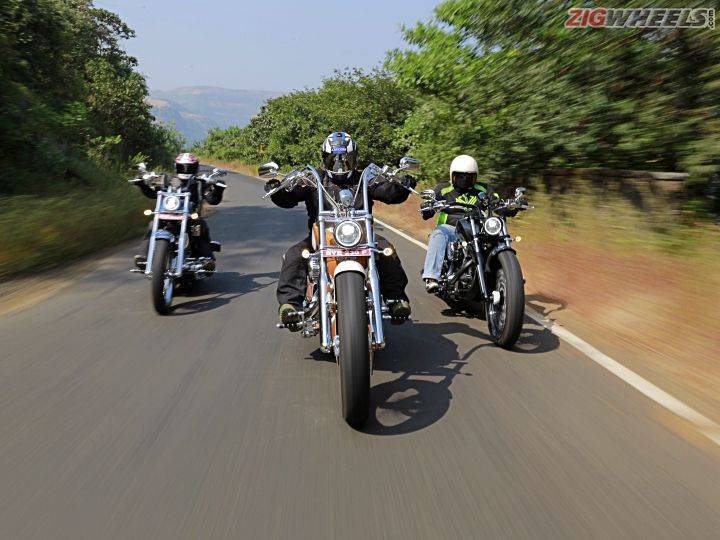 The story behind the inception of Avantura Choppers is somewhat along the lines of Lamborghini. While Lamborghini was born out of a desire to spite Ferrari, Avantura came into being from a milder emotion - dissatisfaction. Gaurav Agarwal ran a quite successful business of manufacturing PVC pipes and farm equipment, the profits of which allowed him to indulge in his passion for motorcycles, or rather choppers (not the flying ones but the shiny, road-going ones). The year was 2010 and though the Indian motorcycling as well as custom bike building scene was budding, as far as choppers went, there were not many options available for Gaurav.
Back then, Gaurav did get his first chopper commissioned in India but he was dissatisfied with the performance, finish and reliability. He went on to own two more customised, made-in-India choppers but they still felt lacking. On his visit to Thailand, at a motorcycle show, he laid eyes on a proper Harley-engined chopper, his very first sighting. Then came a visit to Sturgis, the mecca of custom bike building. It was there among the 50,000 attending bikes that Gaurav thought about making his own line of choppers in India. What followed was meeting various bike builders and component suppliers. That's when he met Kevin Alsop, bike builder extraordinaire and founder of Big Bear Choppers. Gaurav managed to rope in Kevin to design and build two choppers for him. Vijay Singh, Co-founder and CRO of Avantura, assisted Kevin in making these choppers road-worthy for Indian conditions.
The next step was the biggest and most daunting of all. Gaurav wanted to manufacturer the choppers in India. For that he needed ARAI to homologate the bike. Since the choppers were US-spec, they needed a substantial amount of modifications and reverse engineering to pass the stringent tests. The result of a seven-year journey is what you see in the images. Meet the Rudra and Pravega.
What separate a chopper from a cruiser are the massively raked front forks and attention to detail. Of the two choppers here, the Rudra is the flashier one. It is nine and a half feet long and runs on 23-inch front and 20-inch rear machined billet aluminium wheels fitted with a rear 280-section Avon tyre. Kerb weight is a massive 344 and with a seat height of 600mm, you sit quite low. The cruiser has clean lines with loads of chrome. The paintjob gets a two-layer base and six-layer clear coat for that mirror-like finish. It gets a single-pod instrument cluster that houses an analogue tachometer and a digital speedometer, while the switchgear as well as some other bits and bobs are taken from Harley Davidson's parts bin.
While the Rudra is your typical boulevard cruiser, the Pravega is the easy handler of the two. It features a tighter rake, shorter wheelbase and 21-inch front and 18-inch rear wheels with narrower 250-section rear rubber. It weighs 3kg more than the Rudra and manages to accommodate a larger 21-litre fuel tank.
Both bikes get their powerplant from S&S - a large 124 cubic inch or 2,032cc V-twin unit. S&S has been a favourite among custom bike builders and Harley owners as they also supply performance parts for the Milwaukee-based bike maker. Since the bike is undergoing homologation, Avantura was unable to disclose performance figures though the engines sold in the US make close to 130PS and 180Nm of torque at the crankshaft. However, to compensate for Indian fuel conditions, the engines Avantura use run a lower 8.9:1 compression ratio. So, even though the motor revs up to a respectable (for a large V-twin) 6,000rpm, expect lower performance figures. Transmission duties are handled by a 6-speed gearbox that gets tall ratios designed for comfortable highway cruising.
Press the starter and you can hear the large pistons shake off their inertia as the heavy duty starter coaxes each of the litre-sized cylinders to life. It almost sounds apocalyptic as the earth trembles and your eardrums shake trying to adjust to the visceral thump. Of course, all this drama was thanks to extra-loud aftermarket exhausts on our test bikes. We expect the stock ones to crank out more tolerable decibels. The motor is all about torque and the lazy gearbox allows you to stick it into one gear and ride all day long.
That said, the gearbox is a bit of a hit and miss and we encountered false neutrals at slow speeds. But the shifts do get better as the speeds increase.There is enough grunt available from idle all the way to the redline to lug this 350kg bike around with gusto and also to push you back into the cushy seat if you really whack open the throttle. And even though there's no liquid cooling (it's air-and-oil cooled), heat management is surprisingly good for a motor of this gargantuan proportions. Of course, with two massive pistons reciprocating inside this engine, vibrations are to be expected. But they're well contained and only feel like a bit of a bother once past 4,000rpm. Another downside to operating a motor this of this size is a heavy clutch, which does take a bit of getting used to.
Riding these choppers is quite a unique experience. You sit very close to the ground and while the reach to the handlebars and footpegs is long, both can be adjusted to your preference. Avantura even goes as far as offering three different types of handlebars. Made by Mustang, a US-based OEM seat specialist, the wide saddles are extremely comfortable and you should be able to ride all day long in them.
Handling is where the dichotomy of choppers, including these two, starts to show. Even though you are sitting in the comforts of a recliner, you need to exert quite a bit of effort to keep a handle on things. Given the lengths of these behemoths, reversing directions on most roads is a 3-point-turn affair. The handlebar itself feels heavy due to the long rake and large wheels, and steering is quite lazy, requiring quite some effort at low speeds. At slow speeds, the front end wants to constantly re-centre and needs constant corrections to the point of feeling like steering a boat. You also have to be wary of the fat rear tyre's tendency of tramlining on uneven roads. The handling gets better post 60kmph and at those speeds, these choppers turn surprisingly well for their size. The trick is to let the bike do its thing and ease it into corners. That said, the Pravega is the better handler of the two and easier to ride overall due to its smaller rake and narrower tyres.
Braking comes courtesy of large front and rear discs with six-piston calipers made by Beringer, a French brake specialist. They provide adequate bite but the front lever requires a lot of effort to haul the bike down to a stop. Be it maneuvering or stopping, riding both bikes is a physical exercise, something that comes with the territory.
Ride quality is good for the most part, limited only by rear suspension travel. In order to mount it within the tight confines of the low set chopper, the rear gets a horizontally linked monoshock at the back. The suspension soaks up most of the uneven patches but we did have to slow down a bit on rough patches for the sake of our spine. Overall, the ride felt better at higher speeds. And their 150mm ground clearance is quite good for bikes of this nature. That said, though both bikes manage to make it over most bad roads, you will have to be careful while negotiating speed breakers.
Owning a chopper is a highly individualistic choice. Avantura offers you a lot of customisation options in terms of paint, handlebars, wheels and much more. You can also get your bike personalised via a customisation software which lets you see the final product in 3D. Avantura will be manufacturing the bikes at their facility in Vasai, Mumbai, which has a capacity to roll out 200 bikes a year. We wouldn't know if choppers like these is everyone's cup of tea but we can say with certainty that both these bikes have a knack of turning heads like few others. Every time we stopped, there were throngs of people asking to be photographed with these incredibly attractive machines.
At Rs 21.4 lakh for the Pravega and Rs 23.9 lakh for the Rudra (both prices ex-showroom Mumbai), it's impossible to use the words "affordable" or "value" in their context. But let's face it, it's really impossible to put a price on individuality. For those looking to make an entrance in style, it's really difficult to do better than the Avanturas. And even if you're not one for making a display of swag, these will look as good parked in your (substantial sized) living room.