Tata Nexon EV Overview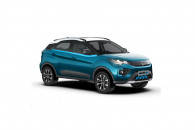 Features & Styling

Comfort

Performance

+ 3 more
Maintenance Cost

Safety

Mileage
Preferred For : Daily Commute
58% of users have given a rating of 4.5 and above
5.0

excellent excellent excellent 👌👌

3.3

Charging station are less available and runing rang also not proper... These are two man drawbacks of Tata nexon EV

3.3

Charging station are less available and runing rang also not proper... These are two man drawbacks of Tata nexon EV

2.7

Veen using nexon ev for last 1.5 months.Real world range is just 140 km per charge with ac.Have issues with stearing and brake as well.

2.0

Guys this is my personal experience please do not buy it i have purchase this car on 24/10/2020 i found this is not running properly and suddenly its gone break down i called team and they have take it for servay and after 8 days its sudden stop on road and they again take it and admit is like patient 😀 😄 my recommendations is do not buy it this is very bad car
All Nexon EV User Reviews
4.7

I have booked this Car in Nov 2019 and got the delivery in Jul 2020. I am writing this review after using the car for 1 month. Biggest plus point of this car is ease of driving. It has instant and linear pickup so you don't feel any drag at low speed. There is no engine noise hence you won't know how fast it's going until you look at the speedometer. Teal blue collar is head turner. Many people come near the car to appreciate the colour. Harmon infotainment system is awesome. Speaker quality is also really good. I am using CarPlay feature with my iPhone and it works flawlessly. Dashboard and Instrument cluster is of premium quality. The regenerative breaking is really smooth and you don't need to apply breaks to slowdown. Vehicle automatically slows down when you remove the leg from accelerator. Charging box and installation was done by Tata Power at my Parking and it was free of cost. It takes 8 to 9 hours to charge fully. It runs around 200 to 210 km on full charge. Fast charging stations are coming up in my city (Pune). Nearest fast charging station is 5 KM from my apartment. Tata zConnect App is also really cool. You can improve your driving style based the stats provided in the APP. It has a lot of remote control features like turning on the AC, Turning on head lamp, Turning on Hazard lights, Run Car Diagnostics, Geofencing, SOS and emergency contact, Valet parking mode, Security breach alerts, Battery charging related alerts, Find nearest charging station etc. Some of the improvement areas are:1. All Tata service stations are not equipped to service this car.2. Auxiliary battery get's discharged if Car is not used for long. This is due to the fact that car is always connected to internet via built in SIM cards to make the zConnect APP work.3. Service staff like road side assistant is not really familiar with the car and struggle a bit. For example my car Auxiliary battery was drained and I had to call the road side assistant. He came really quickly that too on Sunday. He jumps started the car however he was not sure if I need to drive the car to charge the battery or I can keep the ignition and motor on to charge the battery.

4.3

Am using Nexon EV XZ+ LUX in Chennai for past one month, basically for urban commute. Getting an range of 210km for 100%. Normally I recharge it when it comes to 25% for which I used to get an range of 165 to 170kms (for 75%). This is with AC and infotainment. I have used only AC slow charger till now, never used DC fast charger. - Daily travel distance: 72 to 75 kms - Top Speed: 80 to 90 kmh - Avg. Speed: 35 to 40 kmh (depends on the traffic)- Total distance driven: 2000 kmsPro's:- Running cost is less than Rs.1/- per km- Expecting very less maintenance cost as well- Easy to Zip through the traffic, good pickup and very smooth driving- Build quality, design and comfort. (AC is very good)Con's:- For long distance travel I still depend on my petrol/diesel cars.

2.0

Guys this is my personal experience please do not buy it i have purchase this car on 24/10/2020 i found this is not running properly and suddenly its gone break down i called team and they have take it for servay and after 8 days its sudden stop on road and they again take it and admit is like patient 😀 😄 my recommendations is do not buy it this is very bad car

3.0

The car is good. But price is too high rather than petrol version.normal person can,t use 6lac petrol .electric vehicle price should be under 6 lac.

2.7

Veen using nexon ev for last 1.5 months.Real world range is just 140 km per charge with ac.Have issues with stearing and brake as well.
All Nexon EV User Reviews