Jawa 42 Overview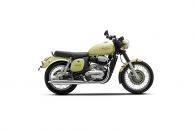 Performance

Comfort

Features & Styling

+ 2 more
Preferred For : Daily Commute
44% of users have given a rating of 4.5 and above
1.0

Useless bike lots of pain in my back no comfort no mileage in service center 5 out of 1 rating my worst decision to by jawa 42

5.0

Best bike.Has great performance gives all the needs to the rider also gives best impression it is one of its own kind😍.

1.8

I'm just posting this review that not to buy jawa.Kindly go for another brand like re, Honda, Benelli, I just having the brake issues & engine noise till now.I have got applied warranty for 3 times and for 3months the vehicle remains in showroom even though they could not able to find the issues what the problem is? my vehicle engine got dis-assembled for 2 times.They have changed crankshaft assy, Balancer assy, Clutch assy, Bearings, Tensioner lifter and cam shaft.So the quality of the vehicle is worst and the services also worst they doesn't even know to service they have not trained yet.Coolent oil leakage, Many more complaints.On the day while booking and during the first and second service the response is too good but only for fake.And now i'm facing plenty of issues.Mr.Aariff ( service manager) who is accepting the problem and gave an plenty of reminders to him and a person from the classic legend manufacturing plant mr.Gireesh too got through mail.They are not given the proper solution i just go on looked about 10 vehicle on the showroom with the person aariff.Each and every vehicle has different - different sound with plenty of issues.

5.0

Have been using jawa 42 for last 4 months and must say this is a fantastic bike.There has been lot of corrections made in bs6 version and must say the bike is great.Looks stunning, Feels great on long rides, Powerfull.

1.0

Poor after sales service from the dealer end and corrosion will start in your rear shockers and petrol fuel tank area along with the other areas.I have already decided to file the consumer court case against the company and dealer regarding their paint quality and the after sales service.Better you go for the trusted brand always and not for the new comer who doesn't established yet in the market.
All 42 User Reviews
1.8

I'm just posting this review that not to buy jawa.Kindly go for another brand like re, Honda, Benelli, I just having the brake issues & engine noise till now.I have got applied warranty for 3 times and for 3months the vehicle remains in showroom even though they could not able to find the issues what the problem is? my vehicle engine got dis-assembled for 2 times.They have changed crankshaft assy, Balancer assy, Clutch assy, Bearings, Tensioner lifter and cam shaft.So the quality of the vehicle is worst and the services also worst they doesn't even know to service they have not trained yet.Coolent oil leakage, Many more complaints.On the day while booking and during the first and second service the response is too good but only for fake.And now i'm facing plenty of issues.Mr.Aariff ( service manager) who is accepting the problem and gave an plenty of reminders to him and a person from the classic legend manufacturing plant mr.Gireesh too got through mail.They are not given the proper solution i just go on looked about 10 vehicle on the showroom with the person aariff.Each and every vehicle has different - different sound with plenty of issues.

5.0

After launching there bikes after so long, jawa have still maintained there old school charm. Highely satisfied with the performance , pickup , handling , looks , design , exhust node , tyre size , capability of bike. It's so attention grabing thing, when ever I bring it on roads people starts following it to watch, many many lod people ask about bike, they say is it that old yedzi company's bike? Abhi bhi isme gear aur kick ek saath hai? Bahut badhiya hai ye to , kitne ki li? , and alot more.... I have lots of stories related to that bike which happens.....when you ride it , it feels like a nimbulled , well designed, a balanced design of colur of bike in many parts , with chrome along with matt black colour, and a very powerful , muscled , compact , powerful , machine. The amount of of power and torque delivers it engine in just 293 cc is really really amazing , more than 27 bhp of power in just 293 cc of engine is still is still so far from aal old and new rivals of this category. Highely satisfied with the bike, highely recommended, before buying any other bike must take a test ride of jawa, you will going to amazed.🤩

3.4

Around 24 years ago i owned old jawa and rode it for thousands of km.It will thrill me each and every time i touch the handle bar & pump it to start the engine.The exhaust thump & interval between the next thump cant say in words.Flick & kick is a wonderful experience.I used to get mileage around 30 kmpl to 35 kmpl.Now to coming new jawa.I went test ride new jawa with imaginations & drove more than 210 km i got mileage of 23kmpl.Engine is powerful till 110 km/hr then it straining to climb speed with vibrations & becomes too noisy.The exhaust sound is like hero splendor bike.There are lots welding visually seen around new jawa.They recreated visibly old jawa.Visually good bike.I didn't get moved or ringed & impressed while riding.I never need a bike for visual pleasure.

1.0

Worst bike, first experience bike ka. Rha. 1600 km normal use me. Engine khul gya oil leakage ,timing chain problem . Sensor. Khrab ho gya. Fuel metre kharab . Metre me fog ,battrey problm. It feels like Purchsed bike just for show piece . Spending more than 2 lakh on this worst bike is useless. They are saying this problem is coming in every bike. I have seen. Almost every bike. Got the same engine problem While servicing.1st time and then 2 and time also . Every single bike there got the engine problem . So from my side jawa is useless . . Comapny jab tk ye isaues ni sahi krti apni bikes ko vapas lena chye. Ise. Bekuf bna ri. Jawa ka name pe. Bike bik ri. Bus. . They have to. Pay for it.

1.4

Agree with all users, The motorcycle is useless. The cols has cold start problems. The engine runs for 49 seconds without throttle in idle state when I crank the engine in the morning. The engine dies when i chug the accelerator when clutch is used. In traffic also the bike stalls when clutch is fully pressed. The re is an unbearable engine hiss. The seat is very hard. The dealer is an unscrupulous person lacking in infrastructure and the mechanic is untrained. ABSOLUTE WASTE OF MONEY. BUY RE INSTEAD
All 42 User Reviews