What's Bajaj Up To? A Smaller Dominar 250 Or A Cheaper Dominar 400?
---
Recent spy shots have got us thinking…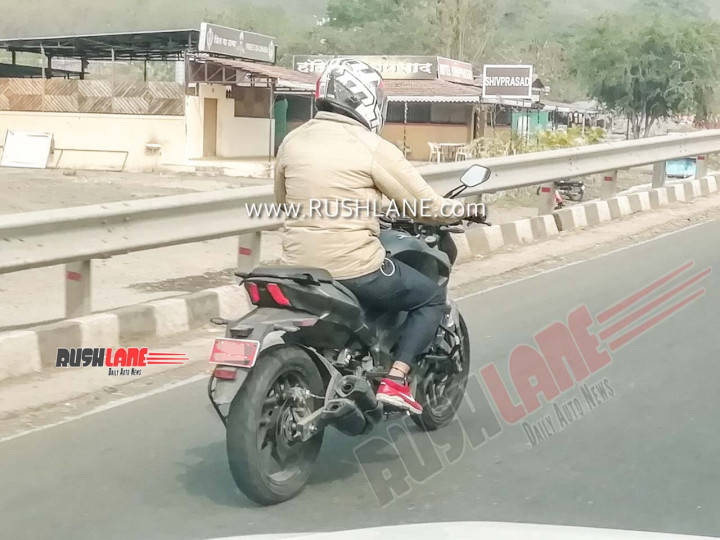 We recently came across some spy shots online of a camouflaged Dominar being tested. Our first and most obvious thought was that Bajaj is putting the updated BS6 version of the Dominar through its paces, but a closer look at the images revealed some interesting details.
The motorcycle in the images is nearly identical to the current-gen Dominar 400 in almost every aspect. Except one. And that is its swingarm -- while the current bike uses a beefy cast swingarm, the test mule featured a basic box-section unit. This got us thinking… could Bajaj be working on a smaller capacity Dominar? Possibly a 250?

There is some merit to this theory. The Dominar has been selling reasonably well since its update last year, and the 250cc segment is doing quite okay too. Perhaps Bajaj intends to combine the two and expand its Dominar lineup to tap into this segment of the market. It also makes sense since Bajaj doesn't have a bike in this performance and displacement range.
In terms of displacement, there is a large gap between the 220cc Pulsar 220F and 373cc Dominar 400. An equally large gap exists in terms of both price and performance between the Rs 1.42 lakh, 24.5PS Pulsar RS200 and the Rs 1.90 lakh, 40PS Dominar 400. A DOHC 4-valve, liquid-cooled 250cc motor would be the perfect tool to plug these gaps.

There are some factors that work against this possibility, though. The test bike features a sizable upside-down front fork, a double-pod digital display, double exhaust exits, a large brake disc, and chunky wheels and tyres. If Bajaj was really working on a Dominar 250, we doubt all these bits would be on offer, especially the beefy cycle parts double exhaust tips. A Dominar 250 would have its own identity in terms of design and purpose, which we fail to see on the test bike.
So if not a 250, what is Bajaj up to then? Well, the answer could come from the Dominar's storied past. First launched in December 2016 at just Rs 1.36 lakh, the Dominar has received a total of NINE price hikes and one generation update over the last three years, to reach its current price tag of Rs 1.90 lakh. Perhaps the Dominar has become a little more expensive than Bajaj would like, and hence, it is working on a more affordable variant of the Dominar 400. A box-section swingarm could allow it to price this variant Rs 5,000 to 7,000 lower than the current bike, which could help attract more buyers.

Or perhaps Bajaj is just trying to mitigate the inevitable price hike that will accompany the Dominar's BS6 update. With the stricter emission norms nearing ever closer, Bajaj needs to roll out the cleaner Dominar quite soon. The update will involve an additional catalytic converter, which will further drive costs up. To offset this increase, perhaps Bajaj will equip the Dominar with a box-section swingarm. Though it is the flagship Bajaj, it isn't really a very performance-oriented motorcycle, so a fancy swingarm isn't a must-have on the Dominar.

There are many possibilities and each one is interesting and exciting in its own way. Whatever the case, we won't know anything for sure until Bajaj decides to reveal its plans, so for now, we'll wait and watch.
Add Your Comments