Porsche Mission E Electric Sedan Spotted Testing
---
The car will enter production in 2019 with a starting price that's in line with the base Panamera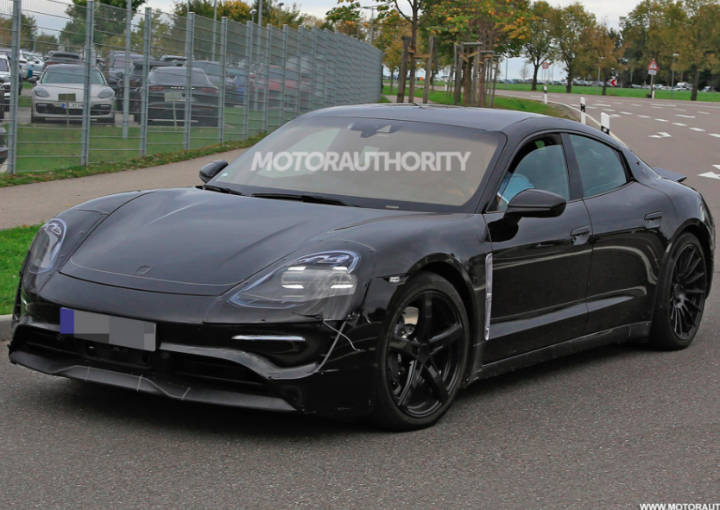 About a month back, Oliver Blume, CEO of Porsche, said that the base trim of the Mission E will carry a price tag similar to that of the base Panamera with a 3.0-litre petrol engine. It's nice to see that the Mission E will be priced on par with the cars running on liquid fuel.
Exactly two years after the car's debut, Blume informed reporters at the 2017 Frankfurt Motor Show that the E is on track and will enter public road testing. Soon, a specimen was spotted wearing black camouflage and running around with a Tesla Model S and Model X. The tests could be in progress to benchmark the new 4-door Porsche against the current kings of luxury electric cars. A fresh batch of spy pics has now emerged giving a better look at the upcoming EV.

Compared to the concept displayed at the 2015 Frankfurt Motor Show, the face of the near-production Mission E has grown, with a few cuts and creases acting as spoilers for extra front-end downforce. Placed just under the front number plate and hiding between the two front spoilers is a bunch of cameras and sensors to give the car self-driving capabilities. The rear appears to have a retractable spoiler to add extra kilos at higher speeds. On the design front, the car retains the silhouette of the concept but ditches the suicide rear doors in favour of a conventional 4-door design that keeps the B-pillar for improved safety from side impacts.

The Mission E variants are expected to retain the traditional Porsche names such as S, GTS, Executive, etc. but we're not expecting to see the 'Turbo' badge on the car as it doesn't have forced induction. The higher-end variants of the E are said to dispatch triple digit speeds in under 3.5 seconds and have a top speed of 250kmph. On one charge, the Mission E will be capable of covering 500km. Again, we're expecting Porsche to reserve these specs for the more expensive trims. Expect the base-Panamera-level E to have a base-Panamera-level performance; as in, it will take around 5.5 seconds to get to 100kmph.
The top-spec Model S P100D is capable of sprinting to 100kmph in a hypercar-like 2.5 seconds. Porsche is not aiming for that kind of acceleration and will instead bank on the brand recognition, design and handling characteristics of the Mission E when it goes on sale in 2019. We're expecting some variant of the Mission E to land on our shores with a tentative price tag of Rs 1.1-1.2 crore, given the tax benefit available to electric cars.
Also Read: Tata's EVs Will Now Be Sarkari!
Toyota Won't Go Electric In India
Tata Tiago EV Looks All Set For Indian Roads
Source: Car Magazine, MotorAuthority
Recommended Variant :
Panamera Diesel 250hp
More on Porsche Panamera

Rs. 1.49 crore Onwards
Ex-showroom, Delhi
View June Offers
View On Road Price