Porsche Debuts The Taycan 4S, Macan Turbo As Well As Its Maiden Formula E Race Car At LA
---
The Taycan is Porsche's initial push to go green, and the 4S is its third and most affordable variant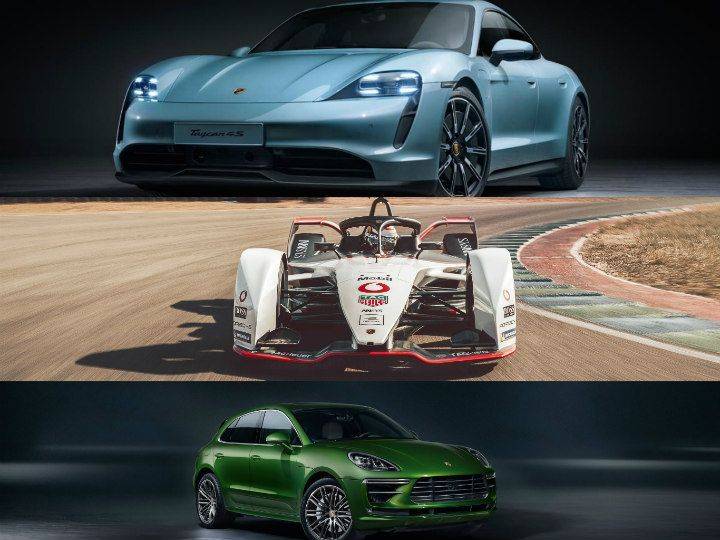 The Taycan 4S is a more affordable offering at USD 103,800 (Rs 74 lakh, excluding taxes).
The Macan Turbo packs more power in small packages at 440PS as well as other enhancements.
Porsche makes its Formula E debut and return to formula racing after 30 years with the 99X electric racecar.
The 99X will be competing at this weekend's Formula E season opener at Riyadh.
Porsche has been quite busy in making up for its late entry into the EV segment. However, it might just be worth the wait as the carmaker has debuted the Taycan 4S at the ongoing 2019 Los Angeles Auto Show. That's not the only EV, with the carmaker showcasing the 99X Electric racecar for its debut season in the 2019/2020 ABB FIA Formula E Championship. ICE fanatics need not worry as the Macan makes a comeback in a Turbo iteration. Here's all you need to know about Porsche's stand at the 2019 LA Auto Show.
Taycan 4S

While Porsche went green in style with the Taycan in its Turbo and Turbo S trims, it lacked an entry-level VFM offering. Porsche seems to be answering our prayers with the Taycan 4S. It comes with a sticker price tag of USD 103,800 (Rs 74 lakh, excluding taxes) that undercuts the Taycan Turbo S by a whopping USD 76,000 (Rs 54 lakh)! It comes at the cost of a smaller 79.2kWh battery pack pushing out 530PS however it returns a driving range of upto 463km. You can also get the 93.4kWh battery pack from the Turbo and Turbo S as a performance option. The performance battery produces 571PS compared to 670PS and 751PS in the Taycan Turbo and Turbo S.

The 4S utilises the same powertrain layout as its bigger brothers i.e, two motors on each axle making it an AWD sedan. It also retains its fast-charging capabilities with compatibility upto 800V. Both versions of the Taycan 4S can hit a top speed of 250kmph and sprint to the 100kmph mark from standstill in under 4.0 seconds. With the Taycan confirmed for India, we might get the more affordable 4S variant. Expect an India debut by March 2020.
Macan Turbo

Porsche's next debut is more towards traditional ICEs with the return of the Macan SUV in a Turbo trim. It gets more punch in a small package, powered by a downsized 2.9-litre V6 that puts out 440PS (40 more than before) and similar torque levels at 550Nm. It propels the turbocharged SUV from 0-100kmph in 4.3 seconds and 4.1 seconds (0.3 tenths faster) with the optional Sport Chrono package. It tops out at 270kmph which is an increase of 4km. It retains the PDK gearbox (7-speed) along with with Porsche Traction Management (PTM) all wheel drive.

Other enhancements include Porsche Surface Coated Brakes (PSCB) from the Cayenne and Porsche Active Suspension Management (PASM) dampers packed in as standard. You also get optional equipment like height-adjustable air suspension, Porsche Torque Vectoring Plus (PTV +) and the Porsche Ceramic Composite Brake (PCCB).

Cosmetic changes outside consist of three large air intakes, side skirts and different exterior mirrors along with LED fog lights above the air intakes. Interior highlights include Alcantara roof liner, 18-way adaptive sport seats and a Bose 14-speaker surround sound system. Prices start from $83,600 (Rs 60 lakh excluding the optionals). Porsche has not given any confirmation as to when the Turbo will be offered in our markets, but we remain optimistic.
Porsche 99X

The Taycan isn't the only EV from Porsche as the carmaker showcases the 99X electric racecar. The 99X signals Porsche's return to formula racing after 30 years as well as its debut season at the 2019/2020 ABB FIA Formula E Championship. Interestingly, the TAG Heuer Porsche Formula E Team's debut race is this weekend for the season opener on the outskirts of Riyadh (Saudi Arabia).

The 99X is a part of Porsche's plans for the carmaker's 2025 plan that consist of purist GT road-going sports cars and all-electric sports cars. It will also serve as a platform for developing future EVs. While the chassis and battery is standardised according to Formula E regulations, its drivetrain technology will be its own.
Add Your Comments