Exotic Bimota Tesi H2 To Launch By September
Jul 16, 2020
Views : 4047
---
It uses the Kawasaki Ninja H2's supercharged motor
Bimota Tesi H2 was showcased at EICMA last year.
Features a hub-centre steering system.
It will be launched with a new paint job.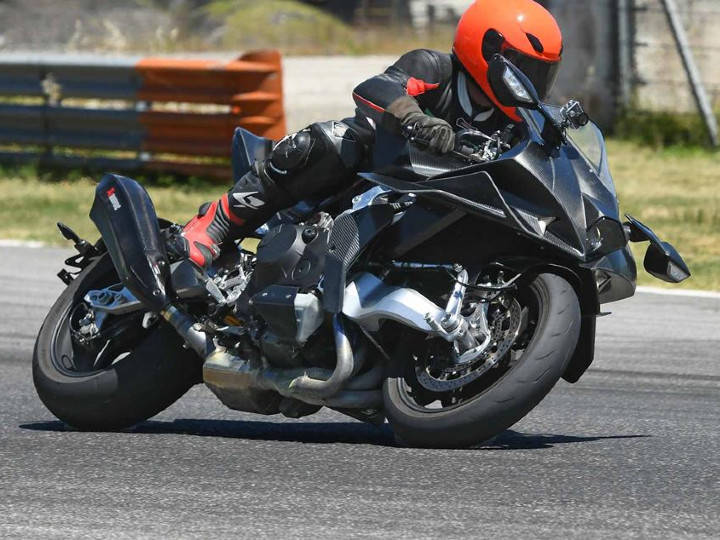 Bimota has confirmed that it will launch the Tesi H2 in September. Speaking to MCN, Bimota spokesperson Gianluca Galasso said the company would need time until September to begin production and deliver the first 20 bikes to customers. The hyper-exotic motorcycle was slated to launch in June but got delayed due supply issues and shutdown on account of the COVID-19 pandemic. The Tesi H2 was unveiled at EICMA last year. Around the same time, Kawasaki had announced that it acquired a 49.9 per cent controlling stake in Bimota.

The Tesi H2 is based on the Kawasaki Ninja H2 and comes with Bimota's trademark hub-centre steering system. It gets the Ninja H2's supercharged 998cc inline four-cylinder motor that develops an astonishing 231PS of power and 141Nm of torque! Bimota has been testing the Tesi H2 at Autodromo dell'Umbria circuit in Magione, Italy. According to the bikemaker, the circuit was selected because it's hard on the brakes and all the tests were carried out in accordance with social distancing protocols.

While the production motorcycle is expected to remain largely the same as the bike shown at EICMA, the paint job will be slightly different. According to Galasso, the production bike will get a red and matte white pearl finish that changes shade in different lighting conditions.

While Bimota has not revealed prices for the Tesi H2, we expect it to be as outrageous as the bike itself. For reference, the Tesi 3D cost around EUR 30,000 (Rs 25.71 lakh). We reckon the Bimota Tesi H2 could easily cost significantly more than the exotic Kawasaki Ninja H2 that retails for Eur 29,700 (25.46 lakh).
Source: MCN
Add Your Comments