Supercharged Bimota Tesi H2: When Italian Flair Meets Japanese Engineering
by Gaurav
Nov 7, 2019
Views : 4987
---
As the name suggests, it's based on the manic Kawasaki Ninja H2
The Bimota Tesi H2 features a unique center-hub steering system.
The front suspension is mounted in front of the rear wheel and is electronically adjustable.
It's expected to make the same power as the Ninja H2, which is around 240PS.
The Tesi H2 is likely to be launched overseas by mid-2020.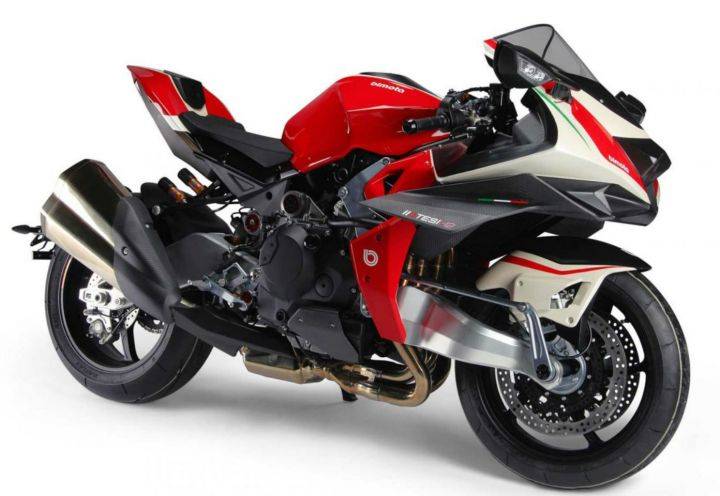 Bimota is one of the few iconic brands that deserves proper recognition. When you have names such as Valerio Bianchi, Giuseppe Morri, and Massimo Tamburini behind the brand, you know it's special. Yes, the company has been through financial difficulties in the past and went bankrupt in 2015. But, it recently joined hands with Japanese manufacturer Kawasaki to make a comeback. And the very first offering from this merger is the Supercharged Bimota Tesi H2.

It's pretty obvious, given the name, that the Tesi H2 is based on the lunatic Kawasaki Ninja H2. So you could expect the motor to push out at least 240PS unless the Italians work their magic and churn out more from the engine. Say…over 300PS?
Also Read: All The Juicy Details About The Kawasaki Z H2

Power figures aside, what makes this bike so special is the tailor-made center-hub steering system, bespoke to Bimota. The unique mechanism is where Bimota earned its name. Essentially, the handlebar connects to the front steering or swingarm via various complex linkages on the right-hand side. The bike also has a pull and push rod on either side of the center-hub connected by a fixed arm that helps steer the bike. The second set of rods remain static and ensure the axle stays level with the rest of the Tesi H2. One could say that the functionality is quite similar to that of a car.
Also Read: The Kawasaki Ninja ZX-25R Is Proof That Big Things Come In Small Packages

Also, unlike the Tesi 3D, the Tesi H2 mounts its front suspension adjacent the rear suspension, both of which are electronically adjustable. How this system works is beyond me, but the ingenious solution makes enough space for the engineers to plonk that massive inline four-cylinder motor along with its radiator. A center-hub steering system doesn't dive as much as a conventional telescopic fork. It pushes braking forces more efficiently back into the chassis of the bike rather than transferring bending forces on a pair of forks. This offers better stability. Fascinating stuff, this.;

The bodywork on the Tesi H2 comes together pretty well in our opinion with angular panels, a tonne of carbon fibre parts and top-shelf components.

Considering the kind of work that's gone into the bike, you could expect this supercharged Bimota Tesi H2 to cost an arm and a leg. Not surprising then that it'll be made in limited numbers and expected to launch overseas by mid-2020.
Add Your Comments