Kawasaki Patents Bimota Tesi H2-style Front Suspension Setup
Mar 20, 2020
Views : 23794
---
Like the Tesi H2, the Kawasaki patent reveals a hub-centre steering system. However, it uses a single-sided front swingarm when compared to the Bimota's double-sided unit
Last year, Kawasaki acquired a majority stake in Bimota.
The Bimota Tesi H2 was subsequently displayed at EICMA last year.
The Kawasaki uses a simpler, potentially more affordable design compared to the Bimota.
Kawasaki has also filed patents for a three-wheeled motorcycle.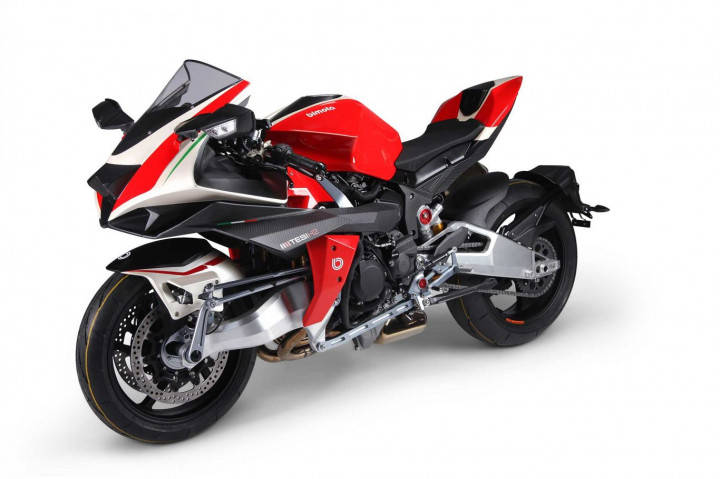 Kawaski seems to be stepping out of its comfort zone and embracing unconventional motorcycle technology. It all probably started with the Ninja H2 that with the help of a supercharger made north of 200PS. Quite recently, Kawasaki filed patents for a Yamaha Nikken style three-wheeled motorcycle and now it has patented a hub-steered swingarm suspension setup. Most enthusiasts among us know the inspiration behind this setup - Bimota.

Kawasaki recently acquired a controlling stake in Bimota and plans to revive the brand. At EICMA, it even showcased the Bimota Tesi H2, equipped with the Kawasaki Ninja H2 supercharged engine coupled with the manufacturer's trademark hub-steering setup. Like the Bimota Tesi D3, the wheel steers on a pivot inside the oversized front wheel hub. The Kawasaki steering patents though is different from the Bimota steering setup.
For one, the Kawasaki design shows a single-sided swingarm. Then the swingarm links differently to the frame. While the Bimota Tesi H2 has a single pivot point, the Kawasaki patent design shows a four-bar linkage setup that uses four pivot points. Also, while the Bimota uses rods for steering linkages, the Kawasaki has a more direct setup.

A hub-steered setup keeps the steering separate from the suspension setup so it feels more responsive to ride. Even the ride quality is better, with minimised dive under braking. Know more about the advantages of hub steering over conventional steering here.
What makes the Kawasaki patent drawing interesting is its relative simplicity. This could make the tech more accessible. Hence, we won't be surprised if it makes it to conventional sports bikes in a few year's time. It is plausible that the new setup could be revealed at this year's EICMA motor show in November.
*Bimota Tesi H2 image shown for representation
Add Your Comments