Kabira KM 3000, KM 4000 Review In Images
---
Do we finally have a couple of genuinely sporty e-bikes?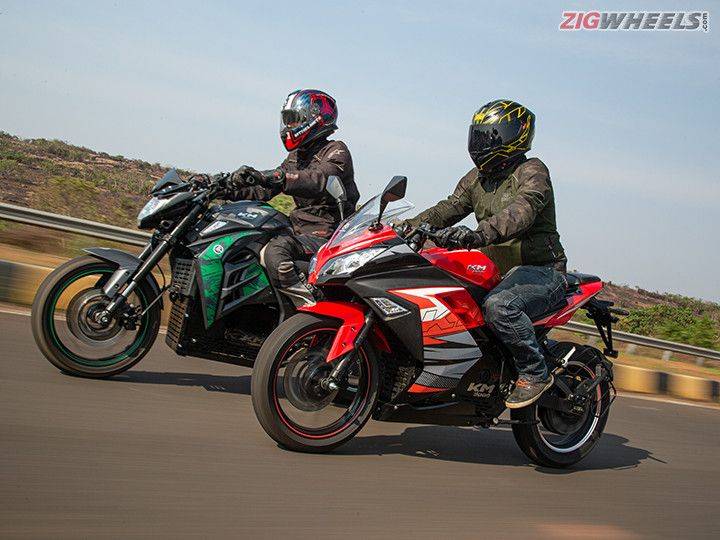 After much fanfare, Goa-based startup Kabira Mobility has finally launched its KM 3000 and KM 4000 e-bikes. But are these any good? Could these sporty electric motorcycles offer enough performance and convenience for you to make the switch to electric propulsion? To find out, we visited the brand's HQ in Goa to have a go on pre-production models of both motorcycles. For a more detailed account, you can also check out our comprehensive first ride review.

Kabira says the designs are its own creation, but we think a certain Japanese manufacturer and its green meanies will beg to differ. The KM 3000 looks ditto like the Ninja 300 while the KM 4000 naked is a scaled-down Z1000 but with the Yamaha FZ v2's headlight unit slapped onto it.

The naked KM 4000 has been designed to be the more powerful offering and the faired KM 3000 to be the more practical choice. That's evident in the performance numbers: the KM 4000 is powered by an 8kW hub motor while the KM 3000 has 6kW of peak power.

While we couldn't test it on the VBox, the KM 4000 managed to reach 85kmph with relative ease in the highest power mode. There was a definite strain post that speed and you will need a long stretch of tarmac to hit the claimed 120kmph top speed, if at all that is even possible.

The KM 3000 is rather sprightly, but it doesn't feel all that different from the KM 4000. It's slightly slower than its naked cousin and seems to run out of breath post 85kmph, which is a lot more honest to its claimed top speed figure of 100kmph.

The KM 4000's 4.4kWh lithium-ion battery pack offers a claimed range of 150km in Eco mode and supposedly dips to 90km in Sport mode. The battery, however, drained away pretty quickly during our ride and that too without clocking even half the claimed distance. Whether this turns out to be an actual issue is something we can only confirm once we get the bikes for a proper road test back in Pune.

Though it gets the same battery pack as the KM 4000, the KM 3000's unit has an 80 percent DoD (Depth of Discharge). This means its usable capacity is only 4kWh with a claimed range of only 120km in Eco mode.

Riding posture is a rather unusual affair on the KM 4000. The bars are narrow and point slightly upwards. Plus, the rider's pegs aren't flat either. They too have an upwards incline, something that becomes somewhat of an irritant the more you ride.

The KM 3000's seating position is very accommodating and familiar. The clip-ons are in a more natural position, the pegs are slightly rear-set like you would expect on a faired machine, and there's plenty of room in the saddle even for larger riders. The posture is sporty, but not too aggressive, and never puts a strain on any of your body parts.

The more pressing matter with the KM 4000 is its suspension setup. Thanks to rear-biased weight distribution, there's barely enough weight to load the front suspension. It seems as though the front spring is fully uncompressed, unable to absorb any bumps whatsoever. Matters are compounded due to the extremely stiff link-type monoshock. It barely compresses and often tossed me off the seat when going over the smallest of bumps or even rumble strips for that matter.

Ride quality is marginally better on the KM 3000. You are weighing the front a bit more and since one isn't sitting on the monoshock, the harsh road imperfections do not filter through as much. Still, it is far from being pliant.

Kabira offers two charging methods for its bikes: Eco and Boost. Eco is the conventional time-consuming method of charging that takes 2 hours 50 minutes to charge the batteries from 0-80 percent. With Boost charging though, the 0-80 percent charge time goes down to just 50 minutes.

There's no getting over the fact that there are glaring issues with the bikes, both of which feature a theme of cheap plastics and shoddy build quality. The paint was chipping off at places and even the vinyls were peeling off in some areas. Loose wiring and ugly welds were prominently visible.

Then there is the braking department. The lack of stopping power is outright dangerous. Also, the brake caliper mounting bolts falling off just a few minutes into the ride, on both motorcycles, no less, is absolutely unacceptable.

For the packages that they are, the price tags of Rs 1,26,990 for the KM 3000 and Rs 1,36,990 for the KM 4000 (ex-showroom Goa) are very much on the steep side. These bikes have some major problems that Kabira will have to rectify for us to even think about recommending them to anyone.
Kabira Mobility KM 3000 Video Review
More on Kabira Mobility KM 3000

Rs. 1.26 Lakh Onwards
Ex-showroom, Delhi
See what our community has to say!
NEW
India's largest automotive community