This Panigale V4 R Made With Legos Goes 300kmph+
Jun 20, 2020
Views : 3350
---
Okay, you shouldn't ride this bike but it is an actual 1:1 size replica of the Panigale V4 R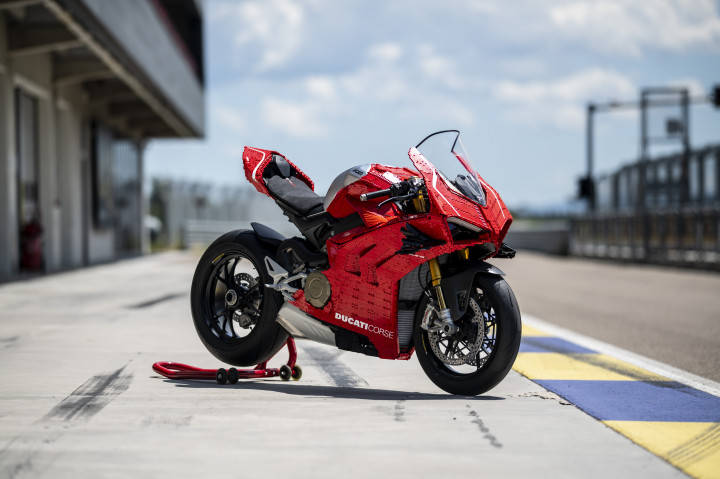 Lego is quite known for its Technic model kits of automobiles. Recently, the world's most powerful naturally aspirated bike, well now the second most after its Superleggera cousin, the Panigale V4 R was added to the list of automobiles. But that was a kid's toy, or, in some nutter's eyes, a collectable, and you couldn't ride it. Now, a 1:1 size replica has been made of the bike and it is entirely operational but we don't think you should ride this one either.

Yes, this new 'Lego' Panigale V4 R is actually the regular (although nothing about the Panigale V4 R is regular) V4 R but its body is made from Legos. Built by Lego artist, Ricardo Zangelmi, the entire fairing, winglets and scoops included, has been crafted from Legos.
FUN FACT: It weighs more than the actual bike!
This painstaking creation took over 400 hours to create. This new 15,000+ Lego piece body has increased the weight of the Panigale V4 R though, now tipping the scales at 180kg, 8kg heavier than the stock bike.

Ducati top boss, Claudio Domenicalli and the company's MotoGP star rider, Andrea Dovizioso, took the wraps off the creation at Modena, Italy. The striking resemblance between the original bike and the Lego creation is uncanny as Zangelmi has paid terrific attention to detail in getting the curves of the body absolutely correct.
Also Read: Most Powerful Ducati Goes Into Production
While the creation is fantastic, we do not think it is advisable to ride it. Cause, firstly, the heat from the 998cc V4 engine might just melt every single brick, spoiling the creation and more importantly, the chances of the bricks falling apart are higher. It might be cheaper to repair the fairing but you wouldn't want your Panigale to look like Mater from the movie Cars now, would you?
Add Your Comments