This Ducati Monster Custom Is Unlike Anything You've Ever Seen Before
---
No, it isn't a prop from the next Transformers movie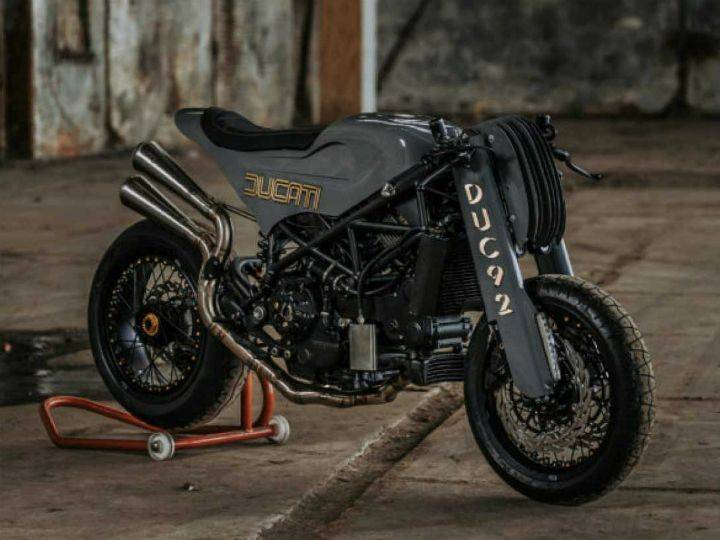 When it comes to custom motorcycles, Ducati is not a name you hear very often. That makes this build by Dutch customiser Moto Adonis something of a rarity. Called the Duc92, this custom is based on the Ducati Monster S4R and gets the same 996cc L-twin motor and the 92 in its name refers to the year that the Monster was introduced. One of the advantages of using a Ducati as a base for a custom build is the fact that many of them come with gorgeous single-sided swingarms, and the S4R is no exception.
Also read: Ducati Monster 821: First Ride Review

In terms of appearance, it's hard to shoehorn the Duc92 into a particular genre, it seems to stand in a class of its own. One could call it a contemporary cafe racer and there are even some Scrambler elements visible. The highlight of the design is the single unit encapsulating the fuel tank, rider's seat and stubby overhanging tail section.
Also read: Ducati Scrambler customs at EICMA

At the front of the motorcycle, the Monster's signature round headlight has made way for a finned structure resembling a heat-sink. Instead, lighting is taken care of by small LED units placed on the fork legs which are now completely covered in bodywork that features the build's name. Low-set and steeply angled clip-on handlebars give the front of the Duc92 a very clean look.
Also read: 5 Concept Motorcycles From EICMA 2019 We Want To See In Production

Other eye-catching elements in this region include the gorgeous Kineo wire-spoke wheels and the lovely Moto-Master wave rotors. Moto Adonis went to great lengths to give the Duc92 a neat and uncluttered look, even swapping out the original (and quite large) radiator for a much smaller unit. The twin exhaust pipes with high-mounted end cans are made by Moto Adonis' aptly named sub-brand MAD Exhausts. They give off a Scrambler vibe and bestow the bike with an overall rugged look.

In its standard form, the S4R's L-twin motor puts out 112PS and 95.5Nm, and these figures are sure to have gone up with this exhaust system. This healthy power output, the distinctive appearance, glorious exhaust note, and aggressive riding position should make this a very special motorcycle to own and ride, completely unique and unlike anything else out there.
Add Your Comments