This Custom Honda Monkey Looks Like The Lovechild Of Honda & Harley
---
Honestly, this looks like the Harley millennials can actually afford!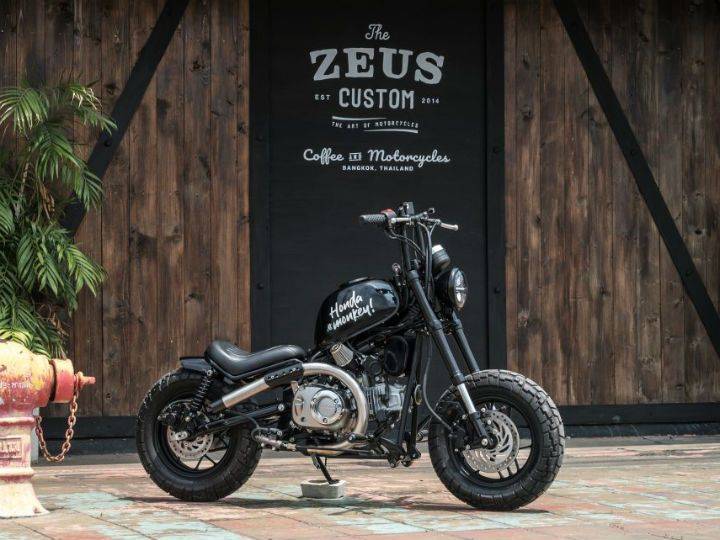 The Honda Monkey is not only loved for its minuscule dimensions but also for its versatility to be customised according to one's wild imagination. Zeus Custom is one such mod-house based in Thailand and its latest creation is The Jaak. As you can see, the custom-house has completely transformed the umm, monkey bike into a proper miniature bobber. And boy, they've managed to make the bike pretty badass and cute at the same time!
The folks have replaced the stock frame with a dual cradle unit. This makes it convenient to position the footpegs way ahead in a true cruiser fashion and complements the U-shaped tall handlebars. In a bid to make the front-end more fluid, they've moved the key slot behind the handlebar clamps creating more space for the headlamp to nestle between the fork stems. Also, the headlamp is a custom 5-inch LED unit and the handlebar ends are wrapped with aftermarket handlebars from Biltwell.
The fuel tank has also been replaced with a high-set peanut type unit and its design line at the bottom neatly flows into the seat, which is custom-made with black leather, corduroy stitching, and embroidered brand logo. While the front fender is eliminated, the rear one is chopped to highlight the block pattern tyres. They appear to be stock 120-section front and 130-section rear units. The front and rear disc brake have been retained as well.
Zeus Custom has equipped the engine with a conical air filter and the stock exhaust has been replaced with a custom curved stainless steel unit with a black anodised aluminium exhaust heat shield. These two mods should slightly increase the power and make the motorcycle rev a little more freely. For reference, the stock 125cc fuel-injected engine makes 9.38PS and 11Nm.
Also Read: This Custom TVS Moped Could Be Just What You Need At The Beach
The body panels have been finished in gloss black whereas the alloy wheels, handlebars and triple clamps have been powder coated in black. Attention to detail reeks on the indicators too. The custom house has used small LED bullet type indicators mounted near the brake and clutch levers up front and on the rear suspension mounting points.
Anyone can easily pull of the lean mean custom look in a full-blown cruiser motorcycle. But emulating the same in a bike that's the opposite of everything big and burly is something Zeus Custom has achieved beautifully!
Add Your Comments