BMW tie-up gives aspirational value for TVS bike: Venu Srinivasan
---
TVS Motor Chairman Venu Srinivasan and BMW Motorrad President Stephan Schaller talk about the significance the new alliance holds for both the companies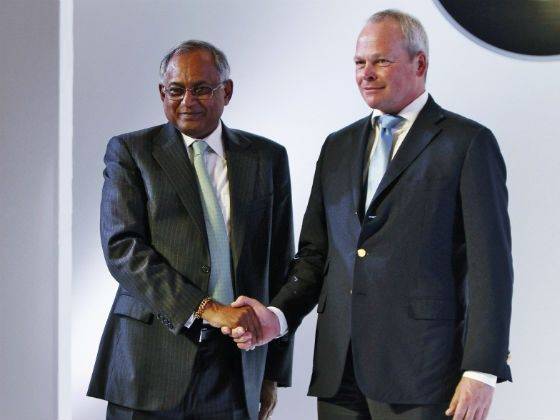 Venu Srinivasan, chairman of TVS Motor, is always guarded and weighs every word carefully when he interacts with the media. So, when asked whether the tie-up with BMW is a game changer for his company (Related: , he preferred to be more conservative, terming the alliance as a "significant step" to enter high-quality premium bikes over 200cc. The chairman of TVS Motor was, however, emphatic about what his German technology partner brings to the table.
"BMW brings in a cache of quality and premium technology that I think is superior to anybody else in the business." So, his peers need to watch out. TVS will manufacture high-powered bikes at its plant in south India, while its German partner BMW will take the lead responsibility to develop the models with the help of Indian engineers. In an interview to ET, Venu Srinivasan, the chairman of TVS Motor Company and Stephan Schaller, president of BMW Motorrad, outlined the rationale behind the tie-up and what do they stand to gain. Edited excerpts: TVS BMW partnership gets going
Is it a game changer from the perspective of TVS Motor?
VENU SRINIVASAN: For the first time, both of us are getting into products above 200cc and below 500cc. I would not like to term it as a game changer, but I would say it is certainly a very significant step to get into high-quality premium bikes over 200cc. It does provide aspirational value for TVS Motor bike.
From BMW Motoradd's perspective, with developed markets in the midst of a slowdown, will this tie-up open up new horizons?
STEPHAN SCHALLER: It fulfils our strategic direction of moving towards profitable and sustainable growth. Getting into 500cc offers us an opportunity — with high-quality mass manufacturing of TVS Motor — to put together new innovative products in the markets where we are selling at the moment, as well as the markets which will be new for us.
Is India going to be more profitable base for BMW when compared to other markets?
STEPHAN SCHALLER: For sure, high quality products with the Indian cost competitiveness, it will be profitable. For TVS Motor, do we see the company selling motorcycles in the developed markets of Europe or US?
VENU SRINIVASAN: It expands our current market above 200cc, where we are not present at this stage. It opens up new markets and will strengthen our play in several markets where we currently export. It provides us a scope for growth in terms of capability. Moving to 200cc-500cc is a very big step in terms of engineering, compared to bikes in 100cc-200cc.
Indian market is largely Japanese brand-dominated two-wheeler market. How do you see the perception evolving with BMW coming in the picture?
VENU SRINIVASAN: BMW brings in a cache of quality and premium technology that I think is superior to anybody else in the business. Therefore, it will only significantly help in boosting the brand.
Talks between BMW and TVS Motor were on for sometime. BMW Motorrad has been realigning its portfolio by selling its low cost brand Husqvarna to global rival KTM. What was the thought behind BMW to sell the brand?
STEPHAN SCHALLER: These are two important steps in our strategic direction. We are realigning our motorcycle business with a focus on urban mobility and electric mobility. In line with BMW's strategic direction of sustainability and producing lower carbon emissions, Husqvarna did not fit. We lost some of the markets, where Husqvarna was sold. It was important to develop this new partnership which offered scope for more markets and new models below 500 cc with an appeal that targets entry-level younger customers. Related: EXCLUSIVE! BMW to link up with TVS via its Husqvarna brand?