2019 MRF Challenge ITC Saloon Car Race: Volkswagen Bids Farewell To The Ameo Cup Racecar
---
Volkswagen bid farewell to the Ameo Cup car by racing it against the ITC Saloon and Super Stock Saloon categories. Here's how the action unfolded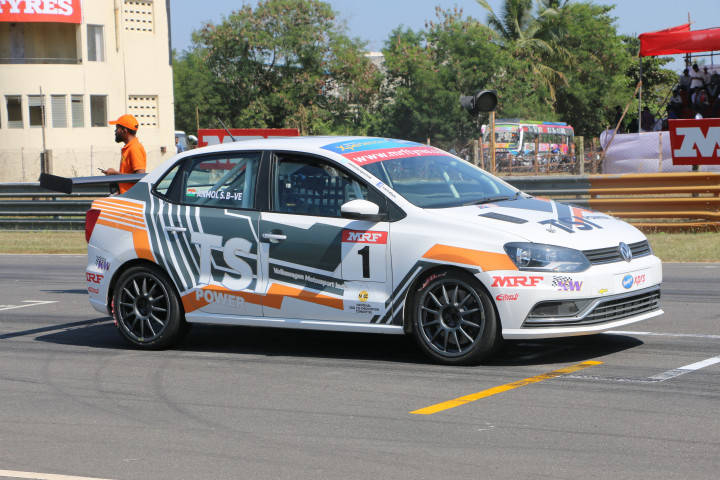 The farewell race event for the Volkswagen Ameo Cup one-make car was held at the Madras Motorsport Racetrack in Sriperumbudur, where it raced alongside the ITC saloons and Super stock category cars like heavily modded JDMs and the Vento ITC. All in all, it was a packed grid with a whopping 29 cars. Let's see how the action unfolded:
Day 1:

Arjun Balu (Honda City), Keith D Souza (Vento ITC) and Saurav Bandyopadhay (Ameo Cup car) lined up 1, 2 and 3 on the grid. As soon the green lights came off, Arjun Balu with his highly modded Honda City took the lead and stayed there until the end of it!
A poor start for D Souza meant he was overtaken by Mohite and Bandyopadhay who took second and third positions respectively in the first lap. But Bandyopadhay managed to overtake Mohite on the second lap and then stayed there for the remainder of the race.

Keith, who started second, dropped down to fifth by lap three and Mohite went down to 4th as Anindith Reddy managed to overtake him on lap five. Meanwhile, at the tail end, Sirish Chandran needed to retire facing technical issues with his car.
The rest of the race didn't have any major incidents till the finish. As the chequered flag waved, Balu took the win for race concepts while Bandyopadhay and Reddy rounded off the podium for the VW Motorsports team.
| | |
| --- | --- |
| Position | Driver |
| 1 | Arjun Balu (Race Concepts) |
| 2 | Saurav Bandyopadhay (VW Motorsport) |
| 3 | Anindith Reddy (VW Motorsport) |
Day 2:

Race 2 saw the top eight finishers of Race 1 start in a reverse grid format. This meant that D. Vidya Prakash (Esteem) started on pole, followed by Anmol Singh Sahil (Ameo Cup car) and Ishaan Dodhiwala (Ameo Cup car) respectively. Meanwhile, the top three from Race 1, Balu, Bandyopadhay and Reddy, were placed at eighth, seventh and sixth positions on the grid.
As the race got underway, Balu managed to swoop quickly into 3rd by the end of lap 1. And by the end of lap 2, the Coimbatore-based racer was in the lead. Meanwhile, Vidyaprakash and Singh trailed behind Arjun Balu in second and third place respectively.

As the race went on, the VW Ameos started to pose a threat to Vidhyaprakash. And by lap 5, Singh overtook him for 2nd place. Meanwhile, Ishaan who was in 4th position was overtaken by Reddy on the same lap. Vidhyaprakash dropped out of podium contention on the next lap, being overtaken by Reddy and Mohite. Apart from two technical breakdowns, the race then proceeded without any major incidents.
In the end, Balu took a clean sweep for Race Concepts, whereas Singh and Reddy from VW Motorsport took second and third positions respectively.
| | |
| --- | --- |
| Position | Driver |
| 1 | Arjun Balu (Race Concepts) |
| 2 | Anmol Singh (VW Motorsport) |
| 3 | Anindith Reddy (VW Motorsport) |
Recommended Variant :
Ameo 1.5 TDI Comfortline
Add Your Comments