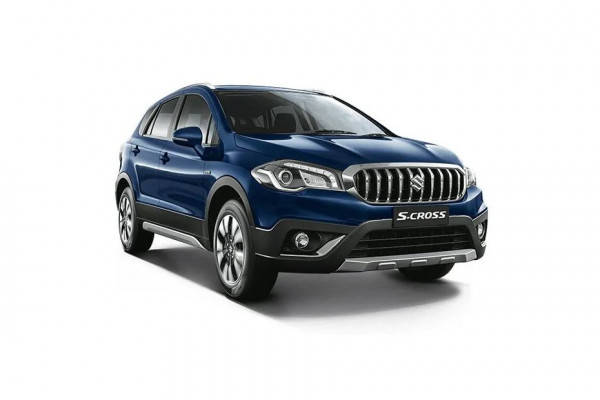 Maruti Suzuki S-Cross 2017-2020
Rs. 8.50 - 9.00 Lakh
Discontinued Model since 28 Jun 2020
---
About Maruti S-Cross 2017-2020
The Maruti Suzuki S-Cross in India is Maruti's first premium offering that is sold through the new NEXA range of showrooms. The new Maruti Suzuki S-Cross is priced between Rs 8.34 - 13.74 lakh, ex-showroom Delhi and will go up against a whole range of cars. The S-Cross DDiS200 with its lower price tag will combat the likes of the Ford Ecosport and the upcoming Mahindra TUV3OO, both of which are much smaller compact SUVs while the larger engines DDiS320 variant goes up against the Renault Duster and the Hyundai Creta along with other competition like the Nissan Terrano and the Mahindra Scorpio.
Maruti S-Cross 2017-2020 Overview
Maruti Suzuki has listed the petrol variant of the S-Cross on its official website. It is expected to launch in the country after the nationwide lockdown has been lifted. It will utilise Maruti's tried-and-tested BS6-compliant 1.5-litre petrol engine. The petrol model will also be offered with manual and automatic options.
Maruti Suzuki S-Cross 2017-2020 Colours
Cars Similar to S-Cross 2017-2020
Must Read Questions & Answers Before Buying S-Cross 2017-2020
Q. Is it worth to buy S Cross Zeta now?
S-Cross is powered by 1.5-litre, four-cylinder engine assisted by the Smart Hybrid tech that makes 105PS at 6000rpm and 138Nm of torque at 4400rpm. The strength of this engine is its refinement and ability to pick up speeds in a linear manner. It even sounds just the way a petrol engine should: smooth and refined. Until you reach 3000rpm, you can barely hear it inside the cabin. Vibrations too are kept well under control and this motor is as smooth as you'd want your daily driver petrol to be. Brakes of the S-Cross are impressive in the city and offer a good bite and feel from the paddle. Another big strength of this engine is its ability to pick up speeds from a low rpm. When you go for a smooth overtake, the engine with its 138Nm of torque and mild electric assist lets you surf that wave and make for swift acceleration. While this engine is relatively new, this transmission has been around for ages. That is one of the major reasons why the S-Cross's drive lacks excitement. Summing up the S-Cross is simple. It's a good looking car, with great practicality, available at a price which does make it bang for the buck. For a better understanding of compatibility and driving comfort, we would suggest you to take a test drive. Follow the link and select your desired city for dealership.
More Questions
Q. Eco sport or S-Cross which is a good buy as my preferances are mileage, build quality & features - EcoSport?
S-Cross provides more mileage than Ecosport. Even though the mileage of Ecosport is rather good. On highway I usually achieve a mileage of 21+ kmpl and in city - 17kmpl minimum. The USP's of ecosport over S-cross is it's shere build quality, toughness, features and driving experience. The driving experience is dull when compared to Ecosport which is best in the segment. I have driven both the cars side by side , and if a minimum mileage difference is not a very major concern then go for Ecosport. Otherwise space is what you wish for in the backseat go for S-Cross.
Please go for Ecosport. On Cost and Safety, it's is much better than S-Cross. Ecosport Diesel has 1498cc engine with power of 98.96bhp@3750rpm while S-Cross Diesel has only 1248cc with power of 88.5bhp@4000rpm Ground clearance of Ecosport is 200mm which is better than S-Cross with 180mm. Driving experience of Ecosport is better than S-Cross. And Ecosport is slightly cheaper than S-Cross.
See zigwheels comment on ecosport...its worth ..petrol has 3 cylinder engine with amt too..diesel powerful ..ambient variant is too good compared to s cross...abs ..ebd..curtain airbags ..so its 2020 bs6 ecosport.
View All Answers
Q. Which is better brezza or s cross in overall performance - S-Cross?
Performance in what respect, well if i be honest you gonna use both the cars in city and highway so i would suggest you to get the s-cross why because it simply proves to be a better family car which gives you more cabin space more road presence better ride quality as well as qualitatively better cabin.In the real world the s cross offers better high speed stability than the brezza i have taken it to 155kmph and trust me with one hand on the armrest and other on the steering! it was all easy whereas the brezza manages the same upto 140kmph! coming to the mileage well that's totally subjective upon you driving, but I am having around 16-18kmpl in city like noida and above 20 at the highways. The vitara brezza also has some things that are totally ahead of the s cross but it totally depends upon that you really need! coming up to the variants if you are planning for the zdi brezza go for the s-cross delta as it offers you not only all the features but also more than that like push start stop button, cruise control, electrically retractable orvm, keyless entry. If you want to spend 11+lakhs then you can choose between zdi+ brezza or s-cross cause here brezza will give you two more features like auto headlamps and rain sensing wipers! but that too is dependent if you want those features or what i mentioned above.
In terms of figures, the Vitara Brezza is better than the S-Cross (1.3 SHVS diesel, i.e) in every way - 0-100kmph, quarter mile time, in-gear acceleration. Overall, the S-Cross is better to drive, thanks to better balanced dynamics, especially in the suspension department - the Vitara is way too stiff.The 1.6 S-Cross is a different animal, and it could be reintroduced soon!
S Cross will be the car you will die to have. Its way better than Brezza in every aspects but when it comes on the terms of performance, S Cross feels quite unpowered but there is a soothing power delivery which makes SCross a better car to cruise with.
View All Answers
Q. May I know about auto engine on off feature and whats the procedure to apply it. - S-Cross?
Hi deepak Auto engine on off is because of the smart hybrid technology that automatically stops down the engine if the car stops and will get start automatically after 180 seconds or just by pressing the clutch You can off this mode also by a button named A on the side of the fog lamp switch Hope it was helpful
If you are asking for Hybrid version like whenever you slowdown or stop your vehicle will automatically turn off and once you operate clutch your vehicle Will start without using Ignition. Which help us to save fuel.
More Questions
S-Cross 2017-2020 Questions and Answers
Maruti S-Cross 2017-2020 User Reviews
4.2/5
Based on 476 rating & 152 reviews
Review your vehicle & win ₹ 1000
All

Comfort (25)

Mileage (25)

Performance (12)

Engine (10)

Looks (10)

Service (9)

Experience (8)

Maintenance (8)

Power (7)

Price (6)

Space (6)
2.7

Diesel car

I am a professional driver and having total car driving experience of 13 years in my life. I am writing this review about my S-Cross (Delta) by Maruti Suzuki at 24000 km (2 years and 5 months)First of all, I would suggest not to waste your valuable money in this car. If your budget is around 10 lacks, in the market there are few cars which you have to find out and make your car experience worth. Coming to the point : Cons : 1. According to body, the 1.3 ltr engine is not capable. But you know that Maruti has (EK hi Khet ki Muli) only n only 1.3 lts diesel engine whether it is any diesel car. When car is fully loaded with 5 person and luggage at backside, the power and pickup is really very weak. 2. The body : This car's body is like a PAPER. That mean not safe at all on highway, after all it is all about our life safety and if the car has a body like a PAPER, you can think about. The iron material which company has used in this car is worst. The Fiber material is like a scrap which they have used in a new condition. Car Jack kit is not user friendly at all. 3. All glasses (Front, rear and all other windows) are also very slim. 4. The horn is very very very light. According to body and price, company should have given a good quality horn which can be used on highway and everywhere.5. Handbrake is just like a toy. Not useful at all on slope. 6. Dashboard material also very weak compared to other companies. Not safe at all. 7. The material is very light weight and cheap so that overall car weight is also lowest according to body size. 8. The same KEY for all maruti cars. If you buy alto in 3 lacks then also the same key will be given. Not giving that personality (Seems DESI). 9. For better driving, steering grip with horn should be more comfortable for drivers. Here it is not. --------------------------------------------------------Pros : 1. Good boot space. Can keep more luggage very easily. 2. Good braking system (All Tyre disk brakes)3. Mileage is OK. 15-16 in city and 20-21 on highway (with AC)4. Very specious from every angle. Space makes journey peaceful.5. Engine is good only after shifting to 5th gear. 6. 50 Ltr Diesel tank which is good for long journey.7. The music system and sound quality is OK. Not bat but NOT BEST also. ---------------------------------------------------------------Overall opinion : Rather than going for S-Cross, I would suggest to go for 1. Hyundai Creta2. Ford Ecosport3. Ford Freestyle4. Skoda Rapid5. Mahindra XUV 3006. Mahindra TUV 3007. Mahindra Thar8. Kia SeltosIn short, I would say that if you see a person, doesn't mean that he/she should be beautiful. He/she should be 'HEALTHY'. Don't judge the car assuming that this car looks very big size and price is Rs. 10 lacks, will definitely a very good car. Sorry if you are a S-Cross owners but I am also the same like you. Thanks.

4.0

Long drives

Bought scross diesle 1.3 ltr on 2019-Feb and has been using it since. Estimate for 3rd free service was Rs.5048 (Parts - 3048 and Labor - 2000 ) @ Yelahanka Nexa (Bengaluru). When asked why labor is charged even in free service, I was told that wheel alignment/balancing and tire rotation does not fall in the service labor category. MARUTI/NEXA - Being a reputable company, should not hide these facts during sales, but sadly they do.Performance of the vehicle - averageBengaluru City Mileage - 12 to 15 kmplOutside Mileage (long drives) - 17 - 20 kmplWheel turn radius - Needs improvement (have difficulties while making u-turn)Comfort - 5 people can sit comfortably (3 + 2), makes it a stand out when compared to other cars in this segmentSuspension - Needs improvements - Even going at 5 - 8 kmph speed, car suspension does not do justice, when the tire goes through p*t holesSpecial features - Cruise control, steering based audio controls, instant mileage display, rear parking sensors are good to have in this car7 inch LCD - Needs improvement in the inbuilt map (as no service center performs map updates)

4.3

Cons: 1.This car as everybody

Cons: 1.This car as everybody points out need a bigger powerful engine to justify its brilliant chassis. 2.There are quality issues like body rattles, squeezing sounds from driver seat etc. 3. A rear Air-con vent is a big miss although AC is descent. 4. Turning Radius is a big disappointment. Even a bigger car in Scorpio has got a better turning radius.5. engine noise insulation could"ve been better.6. Approach angle is too aggressive and it is the only soar point that is vulnerable from getting hit in deep sharp bumps. A better approach angle will surely do wonders for it though it is city focused.7. I found tyres to wear off very quickly. I had to change them at 20k.Pros.1. Ride quality is brilliant. 2. Once you understand the car as a whole, you can do a lot of stuffs with it. most of the off-roadings other than extreme conditions can be done if you take care of the approach angle.3. Ground clearance is good enough if you drive carefully off tarmac and take care of front skid plate.4. Space is adequate for 5.5. Returns good mileage.6. Maintenance cost is on the lower side.7. It is a VFM car. most people compare it to creta SX(O) which is unfair but when you see it at the price point in which the top trim Alpha comes, it sways away creta in every aspect other than build quality.

1.0

Brand cars

I am using this car since June 2019 . I am a very cautious driver . Almost no scratches on my car . Car has just travelled 9,000 kms from mumbai and I am the only sole driver of this car .The Cluth gear has already been burned out and I had to spend rs 9,500 in just about 18 months . I have Full 3 years warranty but it doesn't cover these charges ! Super disappointed by this product ! And very speedy response from nexa to even attend my vehicle . A sad buyer .never buy nexa . I have other brand cars as well , all are with me since 10 years and none of them have made us pay for cluth gear before 50,000 kms . This vehicle just got its gear worned our in 18 month s???

5.0

Its six months now since

Its six months now since we have been using a Scross delta 2019 model. I can blindly say its the best car i have used till date from maruti after Ritz. In between i owned the 2018 dzire vdi,but was disappointed with its height,ride,etc. So changed to scross. Very much satisfied. Its not at all under powered. I too heard this statement from many reviews saying it lacks power,in comparison maybe yes. But do you go racing? I certainly feel its a comfortable car for long journeys. It falls above the compact suv segment,so that extra tax. Returns a mileage of 18kmpl in normal driving conditions. Top speed :180+ kmph.
Maruti Suzuki S-Cross 2017-2020 Expert Reviews
Maruti Suzuki S-Cross 2017-2020 Images & Videos