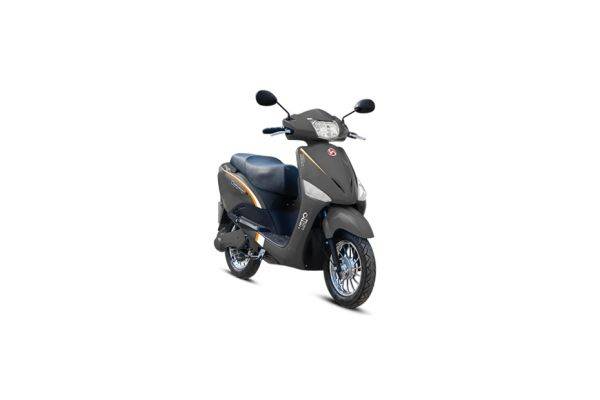 Hero Electric Optima HS500 ER
Rs. 71,990
Discontinued Model since 19 Jul 2021
---
Hero Electric Optima HS500 ER Colours
Bikes Similar to Optima HS500 ER
Must Read Questions & Answers Before Buying Optima HS500 ER
Q. Ek bar full charge krne ka kitna unit electricity lagta hai?
The unit of electricity varies from one city to another, hence it would vary according to the city. Moreover, the units or cost of electricity required will depend on source current/voltage, charging time, and specifications of the charger.
I am not asking to you about cost. I am asking to you about how much unit electricity consume by original charger for full charge
Q. Is Optima HS500 ER a electric scooter?
Yes, the Hero Electric Optima HS500 ER is an electric scooter. It is powered by 550 - 1200 W Motor. It takes 4-5 Hours to get fully charged its 48 V, 56 Ah battery and has a claimed range of 110 km/charge with a top speed of 45 kmph.
Q. Is Hero Electric Optima HS500 ER available?
For the availability, we would suggest you walk into the nearest authorized dealership as they will be the better person to assist you as it depends on their stock book. You can click on the following link to see the details of the nearest dealership and selecting your city accordingly. Dealership.
More Questions
Q. What documents you required if we buy an e scooter?
Generally, the documents required while purchasing a vehicle are proof of identity (Aadhar Card, Voter ID, etc,), proof of address (driving license, electricity bill, etc.), and income proof (bank statement, salary certificate, etc. Moreover, we would suggest you to get in touch with the nearest authorized dealership for more information.
Sorry my pan card is been broken I have voter ID card can it run
Q. Is Hero Electric Optima HS500 ER good for hilly area?
Hero Electric Optima HS500 ER is powered by a 550 - 1200 W Motor and is fairly capable of carrying the weight of two average adults. Over the hills, you may face a bit of a challenge but that would depend on the weight and steep hills. For a better understanding of compatibility and riding comfort, we would suggest you to take a test ride. Follow the link and select your desired city for dealership details.
Ok, is it equivalent ot nornal 125 cc petrol scooty?
More Questions
Optima HS500 ER Questions and Answers
Hero Electric Optima HS500 ER User Reviews
3.7/5
Based on 38 rating & 13 reviews
Review Your Vehicle - Win iPhone
All

Speed (4)

Mileage (3)

Lights (2)

Parts (2)

Tyres (2)

Headlamp (1)

Small (1)

Seat (1)

Dealer (1)

Power (1)

Comfort (1)
3.0

*pros* : 1) removable battery

*pros* : 1) removable battery - scooter can be charged inside home. 2)anti - theft feature - alarm is loud.We can1immobilise the scooter completely and can't be even dragged by hand. 3)shock absorbers and bigger tyres(compared to activa 3g that i have) give a very comfortable ride 4)was able to climb a tough slope with my son weighing 23 kgs without efforts - 5)though at around 22 kmph was able to pull 3 persons, Weighing around 150kg, On descent slope at around 15 kmph. 6) being very light, It is easy to manoeuver through streets and heavy traffic and no multiple efforts in winters to start. *cons*: company's claim of 82 km range is possible only if you drive it at speeds below 20kmph. That too if a good portion of the drive is on downward slopes without pulling throttle.On plain roads,You most probably are not going to get 82 kms even at speed of 20 kmph. - the company says that the scooter runs for approximately 10 kms when battery reaches 47 volts, But in actual, It we stray you in less than 2 kms. - your wrists are going to get ache trying to maintain a certain level of speed or pulling throttle to maximum.- seat is not at all1comfortable for continuous drive of over 1 hour.Your are bound to get your a*s wanting some rest. - no foot pedal for ladies - speed is significantly slow1on climbs - more so with 2 or 3 persons- with 2 or 3 persons, Range is going to get reduced until1approximately 30 kmph. - no buzzer for indicator.Got it fitted separately. - no smart features / phone connectivity - fiber body - outer parts are going to break on small impacts. - horn button is not well placed.Thumb can't easily to button - could climb a decent slope with rajni roughly at 20kmph - headlamps -there is very little difference between the two headlamps.Headlamps are not that powerful, Even at full brightness setting. - the dashboard / odometer is pathetic.It does not show total distance travelled all the time, But only at startup.It does not show battery percentage directly, Rather in terms of volts.Earlier lower1end models have these features.The distance travelled shown on odometer is approximately 83% of what is actually travelled.Another buyer reported that it is approximately 63%.Same is the issue with speedometer. -could reach maximum speed of 40 on downward slope. - after-sale service - the dealer has not been able to arrange a damaged body part from company in over one month despite several visits. - you are definitely going to feel crippled on fast moving roads. Verdict despite more cons than pros, It feels good to have one.But it will be a little too early to buy one.I recommend waiting for 6 odd months for better models from hero or other companies.

4.2

Lowed side

1. speed is up to 45 kmph which practically a lowed side.2. Braking is not up to the mark. it doesn't stop were we needed to stop, it takes a little more distance than the needed place.3. mileage mark is good. if you drive in 30 kmph it will give up to 120 km mileage. if you drive below 40 kmph speed you will get nearly 100 to 110 km as mileage (range). speed 40 to 45 kmph will give the range of 80 to 100 km with related to throttle speed.

4.2

Good electric scooter for single

Good electric scooter for single rider. Each battery gives a mileage of 50 km on average for single rider. If double ride mileage is 35 - 40 km. Best scooter suitable for single rider and good for city roads. Charging time is 4 - 5 hrs. Top Speed is 48kmph on full charge. And after draining half battery it reduces to 35kmph.

5.0

Usesupp bikei

Supp bike i have use supp supp bikei have usesupp supp bikei have usesupp supp bikei have usesupp supp bikei have usesupp supp bikei have usesupp bikei have usesupp bikei have usesupp supp supp

5.0

Long distance

Mileage very good, Nice performance, Tyre grip very good.I used vehicle to go long distance between chennai to melmaruvathur without any disterb.