Triumph Scrambler 1200 XC: First Ride Review
May 28, 2019
Views : 6590
---
We ride Triumph's, and possibly the world's, most hardcore factory-ready scrambler through the trails as well as twisties of Himachal Pradesh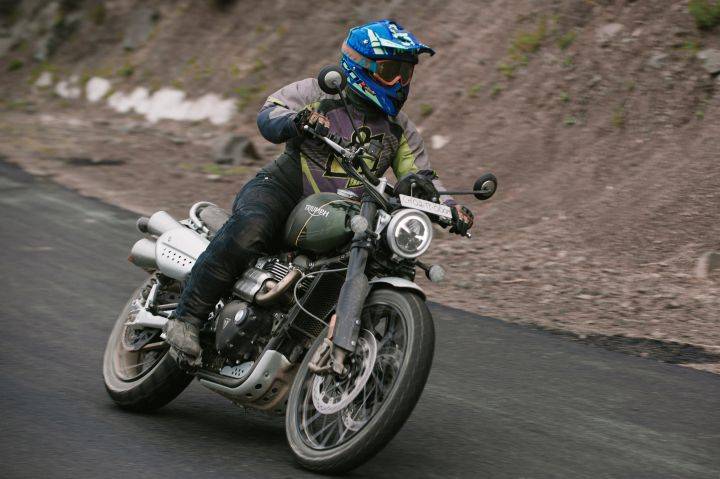 If you were a rebellious teen in the 1950s/60s in Britain, you would be stripping your brand new motorcycle off the bits that were unnecessary in a bid to make it lighter. After stripping it down, one would either emulate their racing heroes of the day and go racing from cafe to cafe. Or you would spec it with some long travel suspension, knobby rubber and go scrambling. Fast forward to the 21st century and every other bike manufacturer seems to be cropping up with its own vision of what a neo-retro motorcycle should look like, developing their own cafe racers, scramblers and so on. However, the Triumph Scrambler 1200 XC has stuck to its guns by staying as close as possible to the original British scramblers of yore. A motorcycle so mean and butch that it is a middle-finger to the concept of sanity. What makes the bike so special? How about we get a little dirty first.

True-blood Scrambling Genes
It was essential for Triumph to go the whole mile in making the Scrambler 1200 as close to its roots as possible. It already has the Street Scrambler in its lineup, but that cannot match the off-roading capabilities that its elder siblings possess. The same holds true for all of the other road-biased scramblers, like BMW R nineT Scrambler, Ducati Scrambler Icon or Ducati Scrambler 1100, available in the market which will break a sweat at the first sight of an obstacle. The only other motorcycle that comes close to the Scrambler 1200 in being a pure-blood is the Ducati Scrambler Desert Sled. A feisty comparison in the works, but for some other day.

What became clear is that the Scrambler 1200 could take on anything in its path with a grin. It can take a knock but like Rocky Balboa, it just refuses to say quits. Unlike the Tiger 800 XCx, the near equivalent adventure motorcycle to the Scrambler 1200 XC in Triumph's kitty, there is little to no body work to damage on the Scrambler 1200. Off-road crash protection is limited to just an aluminium bash-plate, necessitating you to invest in some knuckle protectors, engine guards and the usual protection kit.
Adventure vs Scrambler
It would be incorrect to state that the Tiger 800 is better at the off-road game than the Scrambler 1200, but it would be incorrect the other way round too. Each have their strong points which make them the way that they are. Since you miss out on the top-heaviness of the Tiger, the Scrambler 1200 is way more responsive and communicative in the trails. The center of gravity is heavily concentrated in the middle and the motor is not even that wide, making it compact to grip the bike.
But the Scrambler 1200 is nowhere near as agile as the Tiger 800. The Thruxton-derived double downtube chassis features a whole new steering head stock with a lazier rake angle and longer trail. This means that out on the trail, there is more drama when flitting through small yet technical sections. This has got nothing to do with the 21-/17-inch wheel setup as both bikes run wheels of the same dimension. However, when it comes to managing that bulk of just a little over 200kg around, the Scrambler 1200 has the upperhand with better positioning of rider touchpoints.

Kitted With Top-spec Components
Despite the fat Showa USDs, the stock suspension tuning on the Scrambler didn't seem quite impressive. The stock setup is on the firmer side, which does tend to cause the front end to bounce about. The Ohlins RSUs too were firm but did not upset the riding dynamics. There is a fix available as you get full adjustability at either ends. All in a day's work of tinkering around, eh?

What did please me is that even though the bite of the Brembo M50 monoblocs has been dialled down by a notch, there is no doubting the braking prowess of the Italian stoppers. These have been lifted straight-off Triumph's racy naked - Street Triple RS. There is more than enough progression with the brakes as you can trust them with your life to keep you the right side up.

Hammering Through
What does shine through the brilliant foundations is just how easy it is to have fun with as little revs as possible as the 1200cc parallel-twin motor just keeps on surging through. With 100Nm produced at as low as 2000rpm, you have an abundance of torque at any point in the rev range. Given that it is a modern motor, the electronic aids just help you maximise your fun. The dedicated 'Off-Road' rider mode does change the throttle map to help you make the most of the low-down torque surge while dumbing down TC intrusion just enough to allow you to execute small slides as well as turning off ABS intervention on the rear wheel. In case you are serious about your off-roading, you will thoroughly appreciate the fact that you can switch off traction control altogether.
You might want to set up how your Scrambler 1200 motor behaves by tweaking the throttle map, traction control and ABS settings individually in the 'Rider' mode, but there is a small chink in this plan in order to set this up for off-roading. You only get the option of selecting from 'Rain', 'Road' and 'Sport' throttle maps with the ABS setting limited to 'Road'. My advice: leave the settings to the computer and enjoy kicking up the dirt.
So it is a hoot off the broken path, but does it still feel as fun to ride on tarmac?

Thruxton On Stilts
You commonly hear us calling many an adventure tourer a naked motorcycle on stilts but the Scrambler 1200 XC here is definitely a Thruxton R on stilts. Thanks to the neutral suspension setup, the Scrambler 1200 feels at home in the corners. It surely surprised me with the amount of lean angles that I was able to carry, ending up scraping the peg feelers on the ridiculously high footpegs. There is a bit of effort required in throwing her down in bends or when changing directions but the process is oh so enjoyable.

By the end of the hooning, most of us had mere millimetre-thick chicken-strips with the Metzeler Tourance rubber more than capable of holding out its own. Even though they are dual-purpose in nature, the rubber seemed to be doing a better job of gripping tarmac than sliding around on dirt. The Brembos did not disappoint one bit as there was more than enough feedback at the levers.

High Power Scrambler
Again, it is the engine which managed to shine through on asphalt as this motor was made for plastering wide grins. 'Sport' mode gives you the instant boost that you need to enjoy your one-wheel shenanigans. But there is so much more to it than that. There is just so much enjoyment with a simple twist of the wrist that you forget you are riding a parallel-twin scrambler and not an exotic supermoto.
It plays the sensible bit quite well too. This motor belongs to the High Power and not to the High Torque family of Triumph Bonnies, with this particular bike getting its own dedicated tune. Peak figures of 90PS and 110Nm are more than enough to give your Sunday riding mates a run for their money in the twisties and still manage to cruise calmly at 3000-4000rpm in top gear, clocking triple digit speeds.

Wind protection is next to nothing, but Triumph will sell you a windshield as well as other touring accessories. But what the hell! You are a rebel and no wind could impede you. On the plus side, there is a 16-litre fuel tank with a claimed fuel efficiency figure of slightly over 20kmpl. Which means you can clock approximately 300km on a tankful. Not bad, yeah?

A Scorching Tune
The biggest problem that I faced with the Scrambler 1200 was the upswept scrambler-style exhaust. It does lend a deep bassy rumble but it is a big nuisance at slow speeds or even at a standstill. You do end up singeing your right calf when you decide to grip the bike, especially when you are standing up on the pegs. What is the solution? Better insulated riding gear and switching off the motor when stopped are two work-arounds to subside the pain.

Looks Gorgeous
I don't know about you, but to my eyes it does look the part. The styling is era specific and when it comes to attention to detail, Triumph is the master at the game. The brushed aluminium finished parts look amazing. Although it comes in two colours, the green option is what we would go for as it pays homage to its British roots.
There are modern bits in the mix as well. The round headlamp is fully-LED lit and so is the bulbous tail-lamp and round turn indicators. Keyless ignition finds it way from the Tiger 1200 on to this bike.

And not to forget the party piece - Triumph's second-gen colour TFT screen. It greets you personally, every single time you thumb the starter and wishes you good-bye after your ride. The new colour TFT-screen has two themes and relays a whole lot of information on the go. It has the hardware in place for Bluetooth connectivity with turn-by-turn navigation and the Scrambler 1200 will become the world's first motorcycle to get GoPro controllability. Both modules will be available as an accessory as Triumph will be launching them later on in 2019.

Scrambling Into Your Garage?
Pricing strategy has been Triumph's forte of late and the same continues with this baby. It is priced at Rs 10.73 lakh, ex-showroom India. The equivalent off-road capable Tiger 800 XCx (Rs 14.03 lakh) is Rs 3.30 lakh dearer and it is just Rs 80,000 more than the newly launched Ducati Desert Sled (Rs 9.93 lakh). What you are getting for the money is a brilliant off-roader which will not cause you as much heartburn every time you drop it and in the same package, get an equally capable road motorcycle that can do pretty much everything. Is it practical? To a certain degree. Will it be an ideal choice for a big bike? Not really. But should you own one? Hell yeah!
Triumph Scrambler 1200 Video Review
Add Your Comments