BMW 320i: Review
Aug 17, 2016
Views : 20128
---
Does a new petrol engine make the 3-Series more desirable?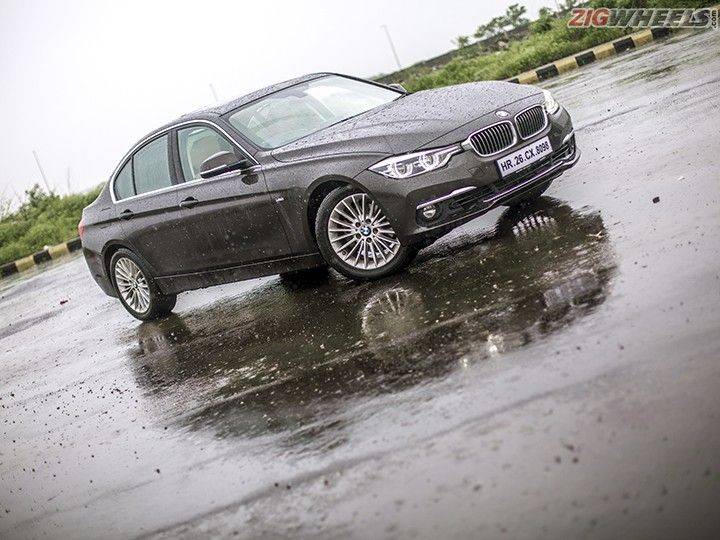 I'm not a religious or superstitious person, nor do I hold any stubborn beliefs. But I do, or rather, I did believe that fun to drive cars HAVE to be petrol powered. That is, until one day the BMW 320d rang my doorbell, slapped a spec sheet in my face and called me a dummkopf before speeding away.
This is when I saw reason. The diesel 3-Series may be powered by the 'devil's fuel', but the numbers are anything but sluggish. The car sprints from 0-100kmph in 7.2 seconds and hits a top speed of 235kmph. That makes it quicker off the line than Merc's C220d (7.4 seconds) and the Audi A4 35 TDI (7.9 seconds).
Alright, I'll get to the point. With such great figures already to the 3-Series diesel's name, you can guess why we were excited when BMW decided to bring back the petrol in the form of the 320i i.e. the 328's more civil cousin. So is it worth your cheque?
Exterior:
Save for the 320i badge at the rear, there's nothing that wasn't already introduced in the updated 3-Series that was launched in January. It's still the most aggressive looking car in the segment with the kidney grille, LED headlight clusters and wider intakes almost humanly expressing their displeasure at seeing anything stay ahead of the sedan.
16-inch wheels come as standard and while the 17-inch wheels on the Luxury Line look neat, the double-spoke style wheels from the unoffered variants would look so much sportier. It's not as stately as the C-Class, but I'd be damned if there was anything that could pull off class and athleticism in design this well.
Interior:
No changes vs the diesel out here either. The dashboard is driver centric and there's still a lot of buttons to play around with. I don't like the fact that all BMWs feel so similar from the inside, but that's the trend with most manufacturers today. It's still an upmarket setup and as you'd expect, it's deserving of all those big words (luxurious, opulent, decadent, photosynthesis etc.). However, it's still too business-like. There's no sense of humour and it feels like the cabin judges you if you aren't in a suit (M Sport kit please BMW!).
That said, the seats are super comfortable, yet fantastically supportive even for big frames. The driving position is spot on and apart from everything falling to hand easily, the arrangement just encourages spirited driving. Soft-touch trim elements bump up the snob-factor further, but while tall occupants fit in the front seats with ease, the space left at the back will only please a yoga enthusiast.
As you'd expect, fit and finish quality is excellent and the 205W HiFi loudspeaker sound system will sooth you and protect you from what little noise the cabin insulation lets through. Opt for the Luxury Line and you get an electric sunroof, paddle-shifters, navigation with 3D maps and Bluetooth audio streaming plus handsfree in addition to the standard 2-zone climate control, ambient lighting, electric seats and iDrive system.
Engine and Performance:
Under the 320i's long bonnet is a 2.0-litre, turbo 4-pot mill that belches out 184 horses. What's more is that it plates up 270Nm of torque, all the way from 1,350-4,600rpm. Impressive for a petrol. Hit the starter button and it comes to life in an eerily silent fashion. Refinement levels are great, but all it takes is a little lead-footing to hear the engine's engaging note. It's not loud or throaty, but almost teases you to get after-market pipes to enjoy what the motor has to offer.
As mentioned before, the cockpit somehow makes you want to drive enthusiastically. Throttle response is immediate and there's no turbo-lag whatsoever. The 320i hits 100kmph in an impressive 7.3 seconds, same as the C200 and quicker than the equivalent A4 or XE. With a claimed economy figure of 17.61kmpl, like the 320d, its on paper efficiency is better than every rival in the segment too. While the performance stats speak for themselves, there's some drama missing. Sure, the car feels incredibly settled, so you never realize when you've crossed 100kmph, but it doesn't give you that little tinge of enjoyable fear you got with the 328i.
Gearshifts from the ZF-sourced 8-speed autobox though, are quick and smooth. You can have paddle-shifters, but not once did I feel the need for them, even during urgent overtakes. Rest assured, the powertrain can stay relaxed and comfortable to use in the city, but you'll never be starved for aggression when the roads get wide and empty.
The steering is light, but engaging to use and while manoeuvring through narrow bylanes is a breeze, it's equally fun to shuffle through highway traffic. A little more weight at speed though, would go a long way. The ride quality is surprisingly plush even with the standard run flat tyres. While I'd imagine the drive mode selector set at 'Comfort' most of the time, even 'Sport+' doesn't make things uncomfortable, albeit more communicative.
Verdict:
Bimmer, or any manufacturer adding one more variant to its range is always good news. Buyers can definitely benefit from more choice, but ze Germans have erred by making the 320d so good. Is the 320i a good car? No doubt about it! But it's a direct import which has raised its all-India ex-showroom prices to Rs 36.90 lakh for the 'Prestige' grade and Rs 42.70 lakh for the 'Luxury Line' – same prices as the equivalent 320d! It's not available in the 'Sport Line' or 'M Sport' variants either.
The benefits? It's a more refined animal, will cost less when it's time for a service and is the only 3-petrol in India south of the '///M' badge. Great car standalone, but BMW, to make an impact, you'll need to make it cheaper or get the sub-6 second 330i. Since the 237PS Jaguar XE Portfolio is here already, we'd go with option two.