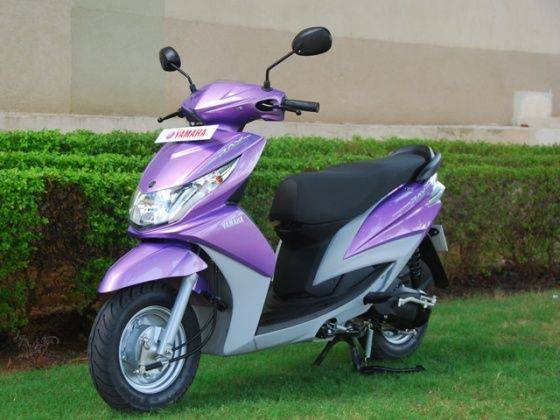 Japanese two-wheeler giant Yamaha had carried out a number of initiatives to boost sales in India. It had launched its Ray scooter recently to mark its entry into the Indian scooter market. As result, its sales showed a significant 33 per cent growth in November 2012 on a Y-o-Y basis. With the Ray scooter it is looking at an overall market share between 10 and 15 per cent in the scooter segment by 2016.
The company sold 37,347 units in November 2012 as against 28,178 units in November 2011 in the domestic market. Exports fell from 10,984 units in 2011 to 7,344 units in November 2012. The company's overall sales stood at 44,691 units in November 2012, while a total of 39,162 units were sold in November 2011, marking a 14 per cent overall growth.
Roy Kurian, National Business Head, India Yamaha Motor, said, "We are very pleased with the sales growth that we've witnessed in the past month on account of our strong product portfolio, upbeat customer confidence and new launch in the scooter segment with Ray. Our efforts towards enhancing our relationship with our esteemed customers through various initiatives like the Yamaha Safe Riding Science Programs, R15 One Make Race Championships etc, have also been very rewarding. We recently introduced a unique marketing initiative called Ray cavalcade which reached the Ray customers in a more targeted manner. The festive season did play a role in changing the market sentiment. However due to the current economic conditions and rise in inflation, the festival season has been weak compared to last year."
Yamaha is also placing greater emphasis on its female clientele and will be introducing the Yamaha Female Riding Training programme very soon. Following the launch of the Ray scooter, the company will be expanding its dealer network, appointing more female staff at customer contact points and introducing a female customer care programs.
Yamaha India has over 400 dealers across India and plans to spread to more cities to increase its dealer network to 2000 by 2014. Growing demand for two-wheelers from Tier 2 and Tier 3 cities has spurred it to embark on building a strong dealership network in these cities. The company is also working on its secondary network to be realigned to reach more customers in rural areas.
Also read: Yamaha Ray: First Ride
Slideshow: