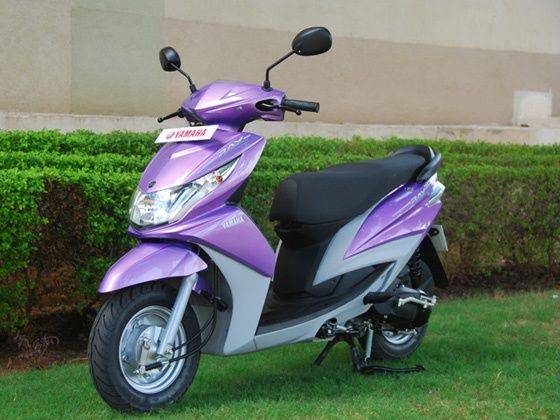 It closely resembles the most dashing looking moto scooter on sale in the market today, and yet it seeks to satisfy a very different kind of customer. Call it plain old chivalry or clever product strategy Yamaha India has created what it is convinced will be a new 'Ray' of hope for enthusiastic female scooter riders in the country.
Priced at Rs 46,000 (ex-showroom Delhi) the country's first ever scooter offering from Team Yamaha, namely the Ray is here to squeeze itself into a two wheeler category which isn't just expanding heavily in sales and volume, but is simultaneously maturing across verticals, be it design, overall efficiency or just clean and simple practical motoring.
However, given the direction that Yamaha has taken with regards to conceiving the Ray and perfecting it for production in the months that followed the unveiling of the first concept at the AutoExpo in January this year, it must be said that the final outcome is a noteworthy one.
Design: Fairer Sex Flavour
For those who have already begun comparing this new face with the current generation Honda Dio it's seriously time to stop. Yamaha may be among the late comers in the Indian scooter segment, but isn't exactly new to the small moped/scooter business globally and a quick glance at its Mio Ultimo and the likes family of commuters selling across Southeast Asia for almost a decade now will better explain the inspiration behind the V-shaped headlights that we absolutely adore on the new Yamaha Ray.
Unlike larger-bodied scooter models now present in significant numbers, the Ray settled for a rather leaner and well sculpted body frame (1835x675x1075mm) that isn't necessarily feminine in its overall demeanour.
The rider display is lavishly laid with a bright white speedometer dominating the central part of the triangular shaped console flanked on either side by turn indicators and the high beam signal lamp. The fuel gauge finds room in a much smaller reverse triangle below the main display.
Elbow deep cubby holes make up the front dash, while a 15.5 litre under seat storage area comfortably fits a regular sized helmet. A highlight feature for me on this bike were the compact leg shields that offer protection to the rider's feet in the advent of an unsavoury fender bender.
The Purple-pastel dual-tone version we rode might have more feminine appeal, but there are five other even cooler shades to pick from. We found the Blue-gray two-tone job rather dashing and this will likely be the shade of choice for strapping young lads, but the classy Burgundy Bliss was my personal favourite.
In fact, the matte-gray (or matte-black in half the colour options) lower panel contrasts beautifully with the high-quality gloss finish of the primary body panels, and really does deserve a special mention. That apart, the inclusion of a telescopic front suspension, sizeable grab bars and a hip stopper for pillion riders, not to mention the rather unconventional yet stylish tail lamp assembly with clear-lens indicators are all very neat touches to this very female focused scooter architecture. Can't think of a good reason why their male counterparts would desire to settle for anything lesser.
Ergonomics: Come as you are, ride as you will
Unlike many scooters built for a more relaxed city ride, the Ray has a much narrower footboard. This leaves little place for added baggage, especially for riders with generous feet, but should give enough room to dainty footed women on the fly.
The seat height from the footboard and the comfortable positioning of the handlebars means that riders even with varying proportions are well planted on the vehicle. Taking the backseat on this city scooter is also a rather comfortable affair. Despite carrying leaner proportions all around, the Ray does widen up matters for its pillion rider, where even fat friends settle with little fuss.
Weighing a shade over 100kgs the Ray is an ergonomic work of art justified by a unique seat design which despite the bike's 128mm ground clearance makes it easy to flat-foot the bike. Both centre and side stands are offered as standard and take little effort to operate.
Engine and Performance: Beauty with a bicep
Over the years we have seen Yamaha's rock solid racing DNA transcend into their entry level sports bikes in India the likes of the YZF R15 2.0 and hugely popular street bikes that make up its FZ range. But that being said, in the case of the Ray Yamaha has put of all that engineering experience into a tamer yet tenacious scooter which fitted with those incredible MRF Zapper tyres holds on to the tarmac effortlessly pressing you to lean into those fast corners with supreme confidence.
Much to everyone's surprise, Yamaha has gone with a displacement of 113cc for the air-cooled 4-stroke motor in the Ray, instead of the expected 125cc. But this mill adequately complements the scooter's refreshing style quotient and produces a healthy output of 7.1PS @ 7,500rpm and 8.1Nm of torque @ 5,000rpm.
Turning the throttle on this single cylinder Japanese scooter for the very first time didn't exactly throw me off balance but had my feet up on the footboard a lot quicker than I could have anticipated.
Our media exclusive test ride wasn't a particularly nomadic one; an artificially created test track put together with a dozen cones and barrier tapes behind the Novotel Convention Centre in Hyderabad was arranged more so to get a feel of the Ray's peerless manoeuvring prowess which a few laps down got me doing the sort of figure of eights on a Yamaha scooter that I'd otherwise have abstained myself from attempting even on a prepped up BMX bicycle.
This is where the Ray will completely outclass the competition. Any two-wheeler with such easy leg reach to the ground, comfortable ergonomic seating and such low speed cornering balance and on pace agility would be any city commuter's most prized possession.
The Ray is fun on the run, and for those short bursts of speed that get you past the green light just a few seconds before turning red this scooter is surely up for the task. Even better owing to its unique Throttle Position Response (TPR) system the Ray can moderate the amount of power produced by its motor to actuate your on road requirements. Even in peak traffic situations the Ray may just turn out to be among the more fuel efficient scooters to ever hit the Indian with estimated mileage figures suggesting it to be at par with the best currently in competition.
Verdict: Women should buy it! Others should at least try it
It was incidentally an overpowering majority of young male journos who attended this pan Indian launch and test ride event in Hyderabad, and while our female counterparts had only nice words to share about the scooter in general, it was in fact the guys who went absolutely gaga over what stood before them. Definitely raised some questions about the Ray being marketed as a mere female fancy as opposed to a collateral crowd puller.
As unisex looking and rider friendly as I may perceive Yamaha's latest scooter to be, it leaves little discord over the impending truth that it is indeed women who will initially if not for the long term see the Ray as their light of the day. The reasons are manifold. This is the first time in India that a company has developed scooters for women assembled by women. Yamaha has also developed a riding training program called Yamaha Female Riding Training Program for female customers, which will be implemented across the country.
Never before has a two wheeler maker indigenous or international developed a product so viscerally for female scooter riders in the country. The Pleasure from HeroMotoCorp and the Scooty from TVS come close to earning this distinction, but with the Ray Yamaha has most definitely gone over and beyond its unique product placement to ensure a smooth purchase and after sales experience for all its female customers.
Anytime on road assistance from any Yamaha dealership located within a 5km radius is huge incentive for female buyers who strive for independence but not at the cost of their personal safety. If that's not enough, for its fashion conscious young female buyers Yamaha has introduced an entire range of Ray branded apparel and after market accessories for its female customers, which include seat covers, floor mats, sporty stickers, helmets and funky T-shirts. The first of its kind Yamalube engine oil has also been specially developed for the Ray further endorsing a sense of personalisation even in matters related to the vehicle's upkeep and smooth operation in the long term.
Yamaha seems to have found an interesting balance between power, proportions, efficiency and handling with the Ray. That being said a single-minded focus on marketing such a capable machine solely to its female customers would be an ill-advised decision for the Japanese bike maker in the long term.