Riding A Bajaj Dominar 400 In Rajasthan: Impressions Of A Thunderbird 350 Owner
---
I realised quite a few things not only about the Dominar, but also the kind of experience Bajaj offers in its official tours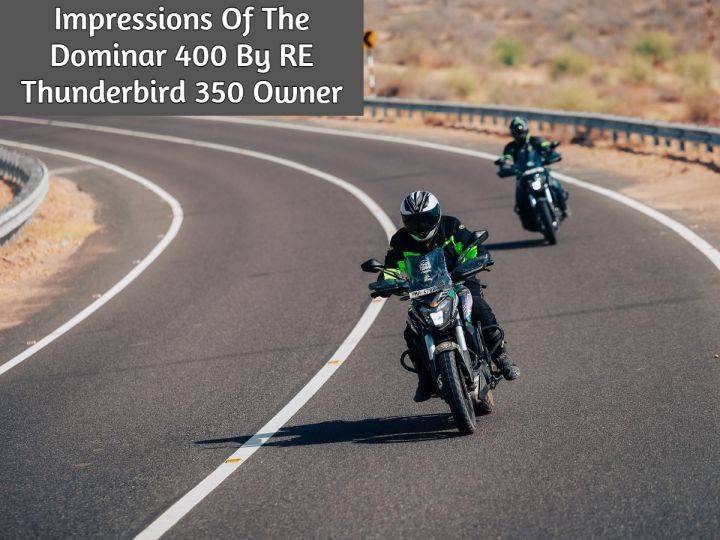 Get latest updates on
the automobile community
I recently got to explore Rajasthan on a Bajaj Dominar 400, as part of an official tour organised by Bajaj. The roads were excellent, the company was wonderful, and I also got to learn a thing or two thanks to riders from different backgrounds. You can read more about them here.
I've been an owner of the Royal Enfield Thunderbird 350 for around eight years now, and I've also been a part of several rides organised by Royal Enfield, including the Tour Of Uttarakhand. While the Uttarakhand tour was a mixture of trails, highway twisties, and the occasional straight stretches of asphalt, the roads we covered in The Rajasthan Tour were mostly well-laid blacktop running for miles on end. As a Thunderbird 350 owner, there are three major things that I learnt after riding the Dominar 400 for around 2,000km.
The Dominar 400 is a much, much better highway tourer than the Thunderbird 350:

I could comfortably cruise at around 80-85kmph on my Thunderbird, whereas the Dominar 400 felt composed even at speeds around 110-120kmph. There's nothing wrong with cruising at lower speeds, but when you're riding on straight, empty roads for hours on end, drowsiness kicks in rather quickly at lower speeds. Sure, the wind blast at higher speeds is a lot more, but that coupled with the fact that I'm going faster than I'm used to (on my Thunderbird) helped me stay alert at all times. Moreover, with the higher average speeds, I was able to reach my destinations much quicker than I would've on my Thunderbird. This goes a long way in mitigating fatigue, especially when one is riding long distances over the course of several days because I'm able to rest up for longer at the end of every day's ride.
Higher speeds on the Dominar mean more frequent fuel stops:

I used to get around 35kmpl on the highway, riding at a steady speed of 80kmph on my Thunderbird. This coupled with the massive 20-litre fuel tank meant I could cover about over 300km easily on a tankful.

A flip-side of having a potent engine is that I invariably ended up maintaining a much higher cruising speed, and that consumes a lot more fuel. Physics taught us that the difference in fuel efficiency at 80kmph and 110-115kmph is quite substantial, especially when the motorcycle's engine is a small capacity one. This is because the wind resistance at speeds above 100kmph is much higher than what it is at 80kmph. A perfect example to this is the retractable spoilers in cars. Most of them activate right at around 60mph (around 96kmph).
Taking this into account, I was getting around 24-26kmpl, and the low-fuel light kicked in at around the 4-litre mark. So, in a lot of instances, I was able to cover around 250-280km before the urge to look for the nearest fuel pump kicked in. I could eke out more, but the low fuel light made me anxious as in a lot of instances, these sensors aren't as strong a range deterrent as physical fuel taps which still give you a bit of emergency reserve fuel when the tank is almost empty.
Dominar's much better brakes complement its handling:

The Bajaj Dominar 400's 320mm front disc is a massive 40mm larger than my Thunderbird 350's front rotor. This coupled with the fact that it gets dual-channel ABS with a radial front caliper ensures that braking is progressive and efficient. There's a little bit of sponginess but that's nowhere nearly as close to feeling in my Thunderbird's non-ABS brakes. In the 'Bird, I always ran a risk of locking the front in panic braking situations, especially on gravel roads.
While the Thunderbird is properly laid back, the Dominar has a slightly sportier stance. Just like the Thunderbird's, the Dominar's ergonomics were also fatigue-free. But what made it even better on highways is the inclusion of the stock windshield. It's tall for my height, and is perfect for mitigating the wind blast while cruising at triple-digit speeds. There's no stock windshield on the Thunderbird, so the way the mini-ape hanger handlebars are positioned results in the rider's torso acting as a parachute, absorbing all the oncoming wind.
Royal Enfield vs Bajaj Tours:

Having experienced the Tour Of Uttarakhand by Royal Enfield as well as the recent Rajasthan Tour by Bajaj, several parallels can be drawn. Both tours had support vehicles for the bikes as well as the photographers. Compared to Royal Enfield, the routes were a little more flexible, as a couple of riders got to reach their destination at their own pace, without having to depend on the support vehicles. The destinations as well as the hotels were great in both tours.
The trip costs Rs 20,000 per head, and that includes breakfast, dinner and (twin sharing) accommodation. Fuel, lunch, entry tickets to places of interest are all extra. It cost me around Rs 13,000 for these, so for an average rider, the total expenses of the tour should be under Rs 35,000. However, one will have to ship their bike to the point where the tour starts. That would cost as per the distance and carrier. The most affordable way to ship the bike is by using the railways. However, if you prefer a safer way to ship the bike, some private packers and movers offer the option to secure the motorcycle in a cage and then transport. Of course, you also have the option of riding down to the ride start location, but then that's time-consuming, not to mention the effort required. But if you can afford it, there's nothing like travelling all the way as it will always reward you with experiences both in tangible and intangible ways.

Summing up, would I recommend Bajaj Tours? Well, you could probably tour a state on your own for less, so what sense does it make to go for a branded tour like Bajaj's. Well, firstly, you get to experience riding with a varied bunch of riders. Secondly, it completely frees you of the hassle of booking hotels, planning routes and figuring out other logistics. Rajasthan might not be for me as I'm more of a 'The mountains are a-calling' person, but irrespective of that, having an experienced rider lead the tour, along with good company with whom you'll make friends for life honestly sounds like a good investment.

While Royal Enfield has cemented its reputation as a seller of not just motorcycles but motorcycle lifestyle, Bajaj seems to be heading in the right direction with their Dominar rides. Granted, it isn't a profit-making activity, but it goes a long way for a brand if it's pushed in the correct way as it will not only help in gaining awareness but will also build a stronger community of riders.

Is the Dominar 400 a worthy upgrade for Thunderbird 350 owners?

Considering how things stand with respect to inflation, it is definitely a good choice. There are not many motorcycles in the sub-Rs 2.5 lakh bracket that can sustain high speeds on the highways, be comfortable as well, and have enough grunt to hit a speedo-indicated 160kmph. Sure, Royal Enfield has updated its 350cc cruiser range with the new J-Platform-powered Meteor 350, but even that motorcycle can cruise only at around 110kmph comfortably. You can read more about the Meteor in our long term report here.
Royal Enfield Meteor 350 Video Review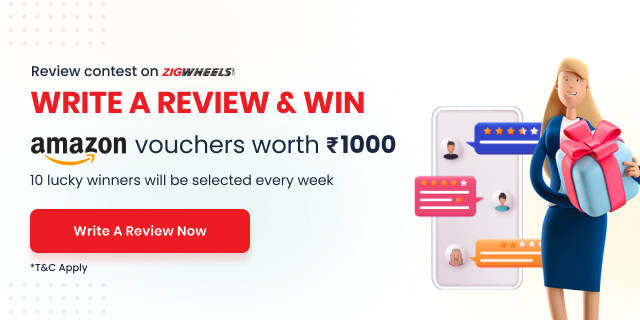 Bikes Similar to Meteor 350
See what our community has to say!
NEW
India's largest automotive community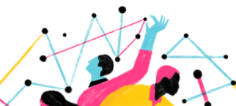 2 Other Things You Might Want To Do