Revolt RV 400 Electric Bike: First Look
Jun 21, 2019
Views : 4506
---
India's first electric motorcycle is here, and here is everything you need to know about the Revolt RV 400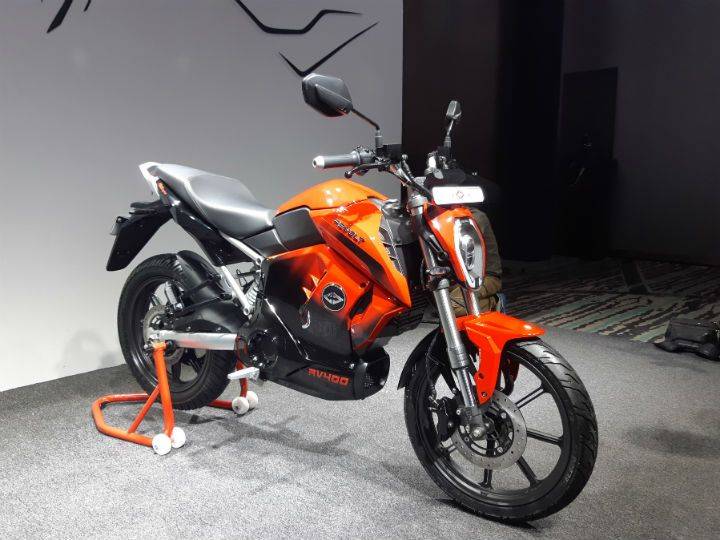 We've been hearing about the Revolt RV 400 for the last few months and it has been finally revealed. Again, it's not been launched, so we don't have prices nor do we have the exact specs. What we do have though is the bike itself and it does look quite sweet.
Design

The RV 400's final form is quite close to the original design sketch that we had seen a few months ago. It's got a sleek, flat headlight sitting ahead of chunky tank panels, while the tail culminates in pointy tail lights. Unlike a lot of other electric motorcycles, which have flat sides, the RV 400 has got lots of bulges and vents. And if it weren't for the tall handlebars, it would've had a proper streetfighter stance. But its design can be a bit misleading. In the flesh, it's a fairly small motorcycle, not much bigger than something like a Honda CB Shine. It's meant to be an urban bike after all. And for the task of taking on our "wonderful" city roads, it's got plenty of ground clearance as well.

It also packs a large LCD instrument panel, though not as fancy as the full colour TFT screen from the Ather scooters. It displays all the relevant info such as speed, battery charge, battery temperature, riding mode, odometer, tripmeter, air temperature and motor amperage.
Components

Now when it comes to components, everything does look pretty high-spec even though we don't have exact specifications as of now. Even the lighting, whether it's the tail light, the indicators or even the headlight, everything is LED all around. And then you have other components like those 17-inch alloy wheels which do look pretty sweet and come shod with MRF Zappers at both ends.

Adding to its premium flair is the upside down fork and fat cast aluminium swingarm. Granted they aren't very fat, they do make the bike look pretty premium. And at the back you get a monoshock which is preload adjustable. Apart from that, you get disc brakes at both ends and combined brakes are coming as standard. While we don't have details about the chassis, it does have a bolt-on subframe - something that you see on premium petrol motorcycles such as the KTM 390 Duke.
Charging methods

The RV400 is powered by an electric motor which drives the rear wheel through a belt drive. Again, we don't have exact specifications but what we do have is the range for the battery, which sits under where the fuel tank would've been on a conventional bike.
The ARAI-certified range for this motorcycle is 156km on a full charge which is actually pretty good. And why wouldn't it? It packs a 3.2kWh battery - among the biggest that we've seen on any indian electric two-wheeler. There are three riding modes as well - Eco, which gives you maximum range, City, for daily use, and Sport, for a bit of spirited riding, but the least range.

But the best part is that there are multiple ways to charge the battery. You can either plug the bike in directly and just charge it if you have a charging spot in your garage. Or you can open the panel, take the battery out and charge it at your home or your office. If that's not enough, Revolt will be setting up charging stations where you can go and swap a dead battery with a fully charged one. So that makes life a lot easier and Revolt says that it'll actually be quicker than filling fuel in your motorcycle.
And well, since we're living in a world of Amazon and convenience, if you just want to have a battery delivered to your home, you can do that as well. There's a smartphone app that comes with the bike. Just order a battery online, get it delivered to your place and plugged in, and you can set off riding immediately after that. And speaking of the app…
Smartphone App

And cementing the fact that the RV 400 is a motorcycle for the millennials, you can control pretty much every aspect of this motorcycle through this companion app right here.
Once you launch the app, you can check out the remaining battery percentage, as well as the predicted range in each of the riding modes. With just a swipe of your finger, you can start your motorcycle as well as stop it. One really funky, and polarizing feature is the sound generator. Using the app, you can change how your RV 400 will sound... basically what engine note it will play through the on-board sound generator if you get bored of the sound of silence.
If you want to swap your discharged battery for a fully charged one, the app can also show you where the nearest swap station is and how many charged batteries are available at that location. Once you get there, you use the app to scan a QR code at the station, which will then authorise a swap. And bringing the online shopping experience to electric motorcycles, you can choose an address and a time slot to have a charged battery delivered to you. You can even track the delivery through the app.

Finally, for added security, a geo-fencing feature will let the app alert you if your bike leaves a designated radius, from zero to 50km. Keeping track of all the trips you've done in the past? No problem... the app has you covered there as well.
Verdict

The Revolt RV 400 is absolutely jam-packed with features and looks pretty sweet too. The fit and finish is pretty good for an electric motorcycle, but the Ather 450 feels slightly superior in this department. Coming to the app, we can't really comment on the user experience as it is scheduled to go online only in July. But we have been told that there will be a lot more features on offer. Well, Revolt hasn't told us what they will be yet, but we will come to know soon when we ride the bike sometime in the middle of July.
If you want to get yourself one of these, pre-bookings are starting on 25 June for Rs 1000. And you can book it either on the Revolt Motors' website or on Amazon India. Revolt plans to target seven metro cities initially, starting with Delhi and Pune, which it will cover in a span of about four months.
As for the launch and price, that's going to happen on 22 July, so, do stay tuned for that. We think that the RV 400 will be priced somewhere around Rs 1 lakh. But Revolt Motors insists that the pricing will be highly competitive. So, could it be lesser? Well, we'll have to wait and watch.
What do you think the bike should be priced at? Do let us know in the comments below.
Revolt RV400 Video Review
More on Revolt RV400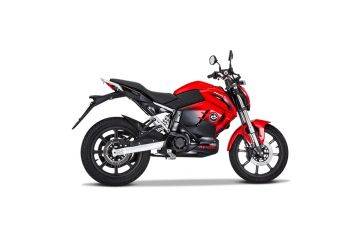 Rs. 1.03 Lakh Onwards
Ex-showroom, Delhi