A Motorcycle For the Moon? Why Not!
Nov 25, 2020
Views : 1556
---
This render will have you dreaming of taking on those craters with the 2x2 bike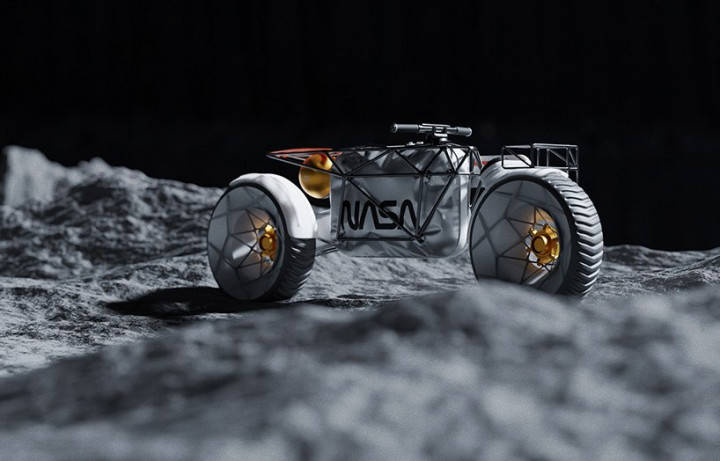 Mankind has been to the moon, and is going back again in a few years so what would be the next obvious step? Explore the lunar landscape on a motorcycle, if you ask me. Well, that isn't the case here. This electric motorcycle is not part of NASA's Artemis Mission. Nevertheless, this render envisioned by Moscow-based designer Andrew Fabishevskiy has been designed with utmost attention to detail.
It may be just a render, but the bike doesn't seem like a far-fetched dream. Space technology is all about using lightweight materials and other resources efficiently and, of course, pooling the best tech available, and this bike does just that.

It is all about the minimalist approach (so much so that even the seat has been given a miss). The battery pack and its peripherals are cradled in a trellis frame suspended on an unconventional single-sided fork and swingarm design. The 'lefty fork' is connected directly to the frame, right below the compact, flat handlebar. The rear gets a single-sided swingarm, highlighting the beautiful golden wheel hub and off-road tyres. Interestingly, the moon bike gets hub motors at both ends (perfect for the dusty terrain, don't you think?). There's no word on the specifications of the motors, but given the gravitational force of the moon, the bike wouldn't require high-spec motors.
The renders probably have you wondering how the bike would turn, given there's no visible connection from the 'bars to the tyre. Well, even we are shooting in the dark with this one, but the couple of cables running through the sides could be electronically or hydraulically connected to the hub above the front fender. One thing the render misses out on is footpegs. Guess, astronauts won't be jumping over the craters with this one.