Moto Art Show To Hold Indias First Art Gallery For Motorcycles
---
The exhibition will serve as a platform for motorcycling as an art form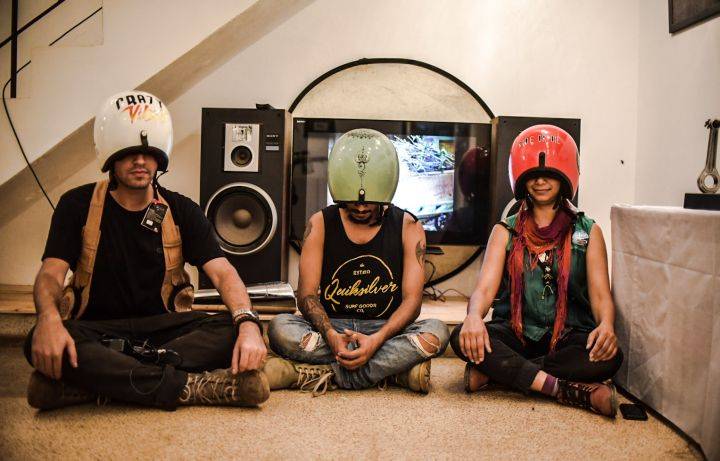 In a Nutshell
The Moto Art Show exhibition is a first of its kind initiative in India that will showcase all forms of artwork dedicated to two-wheelers. The art forms range from paintings, illustrations, metal sculptures using bike parts, film and even performance art. The exhibition is called "First of Its Name" and will be held at Peeple tree Art Gallery in Bangalore from March 31 to April 28, 2018.
It will allow 12 artists, who have been handpicked from all over India, to showcase their skills and will also have close to 80 art pieces on sale.
Among others, Triumph India is an official partner and will have some of its customised motorcycles on display at the event.

Press Release
Moto Art Show unites art and bikes to fuel India's FIRST gallery art exhibit dedicated to motorcycling.
NEWS PROVIDED BY
Moto Art Show
Bangalore, April 4th, 2018 --- Moto Art Show, a unique art initiative, has launched India's first gallery art exhibition dedicated exclusively to art inspired by motorcyclists, their machines, journeys and their stories. The debut exhibition entitled "First of Its Name" will be held at Peeple tree Art Gallery, Bangalore from March 31 - April 28, 2018. In this debut show, 12 multi-disciplinary moto artists from all across India will be showing their artworks. "Paintings, illustrations, metal sculptors using bike parts, film, performance, you name it and we have it" says Moto Art Show curator Mallika Prakash. "This is the first time such an event is happening in India with so much motorcycle art in one place. We will have around 80 unique pieces of art for sale. There's something for everyone in this exhibit if you love motorcycles" she continues.

Moto Art Show is making a statement and riding strongly through the headwinds of the Indian art world bringing with it a new genre "motoart" to the forefront. It aims to give a voice to the moto artists in the real world and breed a new wave of art appreciators, lovers and patrons. "We want to combine the artsy and the biker lifestyles and make lives a little less ordinary" Mallika points out passionately.


Who is Moto Art Show
Mallika Prakash, the founder and curator of Moto Art Show is a biker, new mom and an engineer turned moto artist aka @mallikamoto. With roots in Delhi, Mallika started riding in San Francisco towards a self-propelled art career and has shown and sold her work in various galleries in and around San Francisco. Already a show old as a curator, Mallika is entering the Indian art scene, tires smokin'.

Nidhi Agarwal, Moto Art Show's other half and Partner in Design, is an automobile designer by profession, moto artist by passion and likes to call herself a Motoholic. Currently based in Japan, Nidhi has worked with International brands like Royal Enfield, Honda 2 Wheelers and Yamaha Motors as a designer and founded Motoholic Works® in her free time.
Managing Director, Triumph Motorcycles India, Mr Vimal Sumbly speaking on this occasion commented "We are delighted to partner with MotoArt Show; it encapsulates and celebrates the same spirit - the spirit of '59 - that lives on in every Triumph Modern Classic. 1959 marked the beginning of a cultural explosion and the birth of a new attitude to live life to the full; an attitude that inspired a revolution in music, art, and culture. The original, iconic '59 Triumph Bonneville encapsulated this spirit and passion for life, and inspired legions of riders, from movie stars to teenage café racers, and a whole motorcycle movement. 59 years on, the spirit that created the Bonneville is still the same today."

Highlights
March 31, 7-10pm: On the Opening party, one can ogle at a beautiful Triumph and watch Misfit Motorcycles of Pune customize Triumph body parts with paint, marker and metal engraving. Bangalore based BBQ Ride India will be dishing out barbecue grilled on and served from motorcycles. Beverages and BBQ will be on the house and are not to be missed. There will also be a live performance by one of the artists Archana Kumar as she expresses her riding experience through dance with a Triumph as her dance partner.

April 14, 11-7pm: Local Bangalore based Inkrage tattoo studio will be in the house all day. If you've been thinking of getting a tattoo for a while, this is where you want to be. Another local business Moto Store & Cafe will be conducting a workshop on riding safety and gear at the gallery. Archana Kumar will be performing live as well.

April 28, 11-10pm: The last day of the exhibition, the closing party will be from 7-10pm. Archana will be giving her last live performance accompanied by a hand painted Bullet and a live guitarist. Grilled delights by BBQ Ride and beverages will be on the house.


Our Partners
Moto Art Show has attracted the support of Triumph Motorcycles, BBQ Ride India, Moto Store & Cafe, Inkrage Tattoo Studio and Iron Cylinder among others. "The support from the motorcycling industry has been phenomenal and is crucial to our success" says Mallika.

The Artists
The artists for the debut exhibit were carefully handpicked by Mallika. They are all established moto artists and are well known in this niche field especially on social media. There are two brothers from Hyderabad known as hamerred49 and ironic88 that will be showing illustrations and metal sculptures respectively. Ironic88 comes up with the coolest sculptures using auto parts, fabricated metal and tools. Hamerred49 is a surgeon by day and has shown his unique and eye catching illustrations in motorcycle expos in the US.

Heardrush_art from Delhi does acrylic paintings inspired by his motorcycle journeys and has been showing his motoart since the last 10 years in the NCR region. Motartcycle also from Delhi is a motorcycle designer and has worked with one of the biggest brands in India. She will be showing her colorful watercolor paintings. Pranav__95 from Dehradun does very detailed drawings of motorcycles, many of which are his own imaginary builds. Chiranjith_barui is another watercolor painter in this show. His works have delicate washes of colour that make his scooters and motorcycles look alive. Then there's misfitmotorcycles from Pune, a group of 5 that build custom bikes and are bringing custom painted helmets to the show.


Another painter in the show is known as milesoncanvas. From Bombay, he rides out to the countryside with his acrylic painting kit complete with an easel and paints his bike in the natural landscape. Biker, dancer and performer known as archkathak will be performing live at the opening party with a motorcycle as her dance partner accompanied by a guitarist. She has created a brand new piece for this show expressing the emotions she goes through while riding and the chance encounters every curve brings. Filmmaker and gallery owner Aigars known as aa_ell has been documenting all his bike journeys and will be sharing some of those with the audience. Mallika and Nidhi better known as mallikamoto and motoholicworks will be showing their acrylic and watercolor paintings respectively.

For more information please visit www.motoartshow.com.
For any questions/concerns, email Mallika and Nidhi at motoartshowinfo@gmail.com
Add Your Comments