Honda Introduces India NSF250R Talent Cup For 2019
---
The NSF250R race bike is Honda's highly-successful Moto 3-spec race bike and will be piloted by eight young riders selected from the Honda Talent Cup
NSF250R Talent Cup will be a new category in the 2019 Indian National Motorcycle Racing Championship.
The NSF250R produces 48PS of power and weighs just 84kg!
Honda Racing India will also participate in the Suzuka 4 Hour endurance race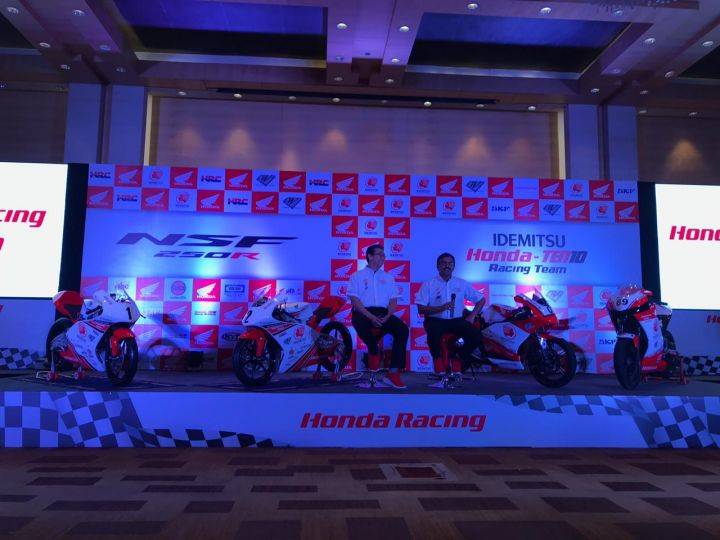 IDEMITSU Honda Racing India has laid out its plans for the 2019 season. While these include both domestic and international participation, the outfit has something phenomenal in store for us this year - it is introducing its famed NSF250R Moto 3-spec race bike in the Indian one-make race arena! The main focus for this year is to develop younger talent at an accelerated pace (hence the NSF250R) and to have a stronger presence on the Indian as well as global motorsport arena.
Also read: Honda 2Wheelers Has Big Plans For Indian Motorsport

Honda India NSF250R Talent Cup:
The NSF250R has us properly excited and for good reason. It is the bike that got Honda the constructor's championship title in Moto 3 from 2015 onwards. It is a prototype race bike and boasts power outputs of around 48PS in a frame that weighs just 84kg! Know more details about the NSF 250R here.
Honda has introduced the NSF250R Cup to give its younger crop of racers a hands-on experience of riding a world-class Moto 3 machine and prepare them for international races. For this, Honda has selected eight riders from the 20 finalists who took part in last year's Honda Talent Cup. These riders are aged between 12 and 19 years!
Also read: IDEMITSU Honda Racing India To Race At Round 3 Of ARRC

Honda Talent Hunt:
Honda will conduct their Talent Hunt this year as well. It will be held in five cities and be on the lookout for racers between 13-17 years. The shortlisted riders will then be trained as a part of the IDEMITSU Honda India Talent Cup on race-prepped CBR150R's.
Also read: Honda Racing Team Commences Talent Hunt For Under-18 Riders

Participation in INMRC:
Honda and the Ten10 racing team will be taking part in the Pro Stock 200-300cc category with their race-prepped CBR250R bikes. They will have three riders (Sarath Kumar, Anish Shetty and Abhishek Vasudev) participating in the Pro-Stock 300cc category and three riders (B Aravind, Yashas R L and K Kannan) in the Pro-Stock 165cc category.
Also read: Honda CB300R: Road Test Review
Participation In Asia Road Racing Championship:
Honda India Racing Team is already a part of the ARRC 2019 season and after three races, they are seventh overall on the points table. The Indian racing contingent is represented by Rajiv Sethu and Senthil Kumar.
Participation in Suzuka 4 Hours:
Honda Racing India will be participating in the famed Suzuka 4 Hours endurance race. For this, it will be teaming up with Auto Technic Japan and will field its top riders Rajiv Sethu and Senthil Kumar. The 4-hour endurance race should give the riders enough exposure and time on track before the next round of ARRC in Suzuka.
Honda CBR250R Video Review