Honda India Racing Team Finishes In Top 15 At Suzuka
---
The Asia Road Racing Championship's 4th round at Suzuka was a wet race filled with crashes
Rajiv Sethu finished the two races in 14th and 15th positions.
Senthil Kumar finished 28th and 21st in the same races.
The IDEMITSU Honda Racing team notched up a total of 3 points but dropped down one place to 9th in overall team standings.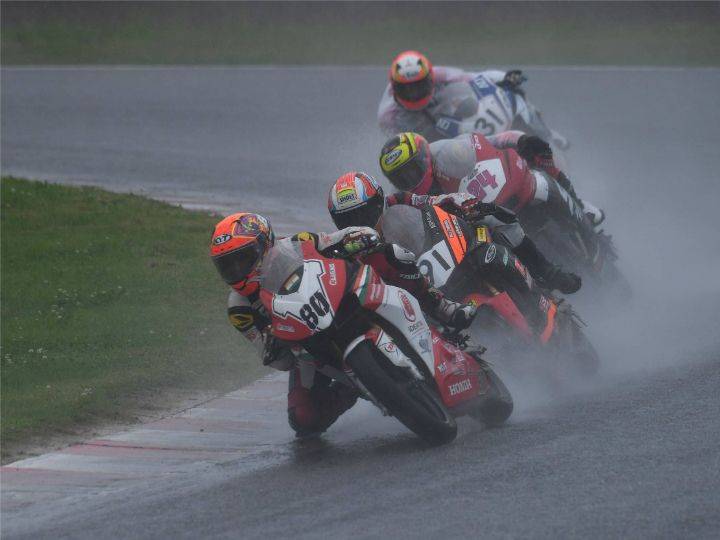 The fourth round of the Asia Road Racing Championship at Suzuka turned out to be a wet and challenging race for competitors. Race 2, in fact, had a lot of riders crashing out due to the tricky track conditions. The Indian team on the grid, IDEMITSU Honda India, had two Indian riders on the grid. Rajiv Sethu finished the Suzuka round with 15th and 14th place finishes in Race 1 and Race 2. Senthil Kumar meanwhile managed to complete the races in 28th and 20st places.
Also read: Honda NSF250R: 5 Things To Know
Rajiv Sethu had a disappointing qualifying session, starting a lowly 13th for race 1. While he kept the position at race start, a mistake in the race saw him slip down to 16th during the course of the race. Nevertheless, he was able to gain a position and finish in the points by the end of the race. In race 2, Rajiv suffered with visibility issues as his visor started fogging up. He was up to 7th by the end of lap 1, but due to the reduced visibility, Rajiv fell down to 16th place. A strong end to race saw him climb up to 14th.
Also read: IDEMITSU Honda Racing India To Race At Round 3 Of ARRC

Youngster Senthil Kumar is still relatively new name on the international scene and hence his 24th position in qualifying is quite commendable. The challenging conditions troubled Senthil in the first race of the weekend, where he could only climb up a spot. However, he crashed at the final corner on the last lap. He did restart and rode his bike past the finish line in 28th. Race two was better for Senthil as he was able to overtake 4 riders and finish the race in 20th position.
Also read: Rajiv Sethu, Senthil Kumar Earn Honda India Crucial Points In Round 1 Of ARRC
Overall, team IDEMITSU Honda Racing India managed to secure 3 points during the race weekend, bringing their overall kitty to 25 points. They currently are in 9th place in overall standings. The next race is in Zhuhai in China on August 9.
Honda CBR250R Video Review