INMRC 2018 Round 2: Honda Racing's Rajiv Sethu Scores Double Win
by Saeed
Jul 8, 2018
Views : 1258
---
The race weekend at the Madras Motor Race Track also saw impressive performances from Hyderabad rookie Karthik Meteti and Honda Talent Hunt find, 14-year-old Mohamed Mukail.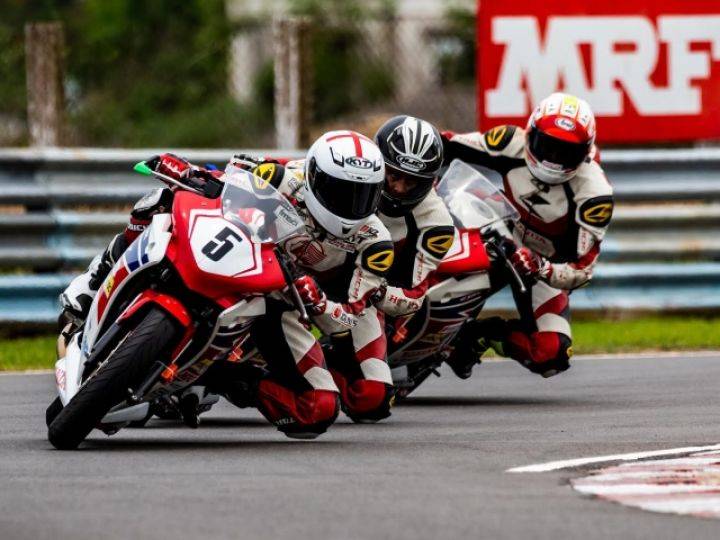 Round 2 of 2018 MRF MMSC FMSCI Indian National Motorcycle Racing Championship held at the MMRT in Sriperumbudur saw local racer Rajiv Sethu of Idemitsu Honda Ten10 Racing establishing his dominance on his home track with double wins in the premier Super Sport Indian 165cc class.
However, the biggest surprise of the weekend was the latest discovery of Honda's Talent Hunt, 14-year old Mohamed Mukail. On day 1, the schoolkid from Chennai stormed the circuit in just 13:10.085 seconds, finishing a whopping 17 seconds over 2nd placed Akshay Murali in the CBR150R class of the Honda Talent Cup. Anandhu KK rounded up the podium while in 4th place came the youngest racer on the grid, 13-year old Emmanuel Jebaraj.
Here's all that happened on the weekend.

Day 1
A heavy crash involving 21-year old Prashanth Kumar (Sparks Racing) from Karimnagar, Telangana, just before Turn 3 of the Irungattakotai racetrack resulted in a red flag in the very first lap of the Super Sport Indian and Pro-Stock 165cc combined race. Prashanth was immediately rushed to the hospital where he is said to be in a "critical, but stable" condition after suffering multiple injuries.
Upon restarting, defending champion Jagan Kumar put up an impressive fight against Rajiv Sethu, who started second behind the TVS Racing rider. Sethu rode close to his heels for the entire race, waiting for an opportunity to strike. He finally got it when Jagan ran wide in the penultimate lap, gifting the Honda rider his first win of the season. Jagan crossed the finish line in second position, followed by Sarath Kumar (Idemitsu Honda Ten10 Racing) to complete the podium. Meanwhile, championship leader KY Ahamed (TVS Racing) fell while he was running in the front bunch and eventually managed a sixth-post finish.

Likewise, Anish Shetty was involved in a four-cornered fight throughout the four-lap race with lead changing hands before he broke through to win a tight contest, pipping team-mate Senthil Kumar and Naresh Babu (RACR).
In the Girls (Stock, 165cc) race, Ann Jennifer of Sparks Racing notched her second consecutive win while Alisha Abdullah of her eponymous team Alisha Abdullah and Sruthi Nagarajan (Apex Racing Academy) finished second and third, respectively.
Anish Shetty won the CBR250R class, followed by Abhishek V and Amit Toppo in 2nd and 3rd places respectively.

Day 2
Like the previous day, Day 2 dawned to an overcast Sunday. However, the absence of sun had little effect on the ambient temperature, which swiftly rose as the race got underway with the Honda Talent Cup (CBR150R). Mukail again demonstrated that his blitzkrieg on the previous day was not a fluke, smashing his own record of fastest lap with a new timing of 2:11.557. Kartik Vasan Habib and Akshay V Murali came 2nd and 3rd respectively.
In the CBR250R category, Anish Shetty also kept his winning streak alive, setting a time of 16:48.671 minutes. Amit Toppo got his second podium of the weekend after an intense battle with Abhishek V, who settled for 3rd.

In the premier Super Sport Indian 165cc class, it was a virtual repeat of the previous day as Sethu scored another win over Jagan who, after leading for much of the eight-lap race, yielded and finished second ahead of Sarath Kumar (Idemitsu Honda Ten10 Racing). The double win took Sethu to the top of the championship standings with 70 points, well clear of defending champion Jagan (62).
Also scoring wins today were Kozhikode's Amarnath Menon who led a 1-2 finish for Gusto Racing in the Pro-Stock 301-400cc class, Naresh Babu of RACR (Pro-Stock 165cc) and Karthik Meteti who headed a Sparks Racing podium sweep in the Novice category while also setting a lap record in this class.

Round 3 of the 2018 MRF MMSC FMSCI Indian National Motorcycle Racing Championship is set to take place at the Madras Motor Race Track on 10-12 August, 2018. As always, Team ZigWheels will be there on the ground to bring you the latest on the Indian motorsport scene as and when it happens, so stay tuned.
Honda CBR250R Video Review
See what our community has to say!
NEW
India's largest automotive community