Honda's Young Racer Program Concludes Pune Round
---
The youngest participant was 13 years of age
Aimed to unearth new talent.
Pune hosted the sixth round of the series.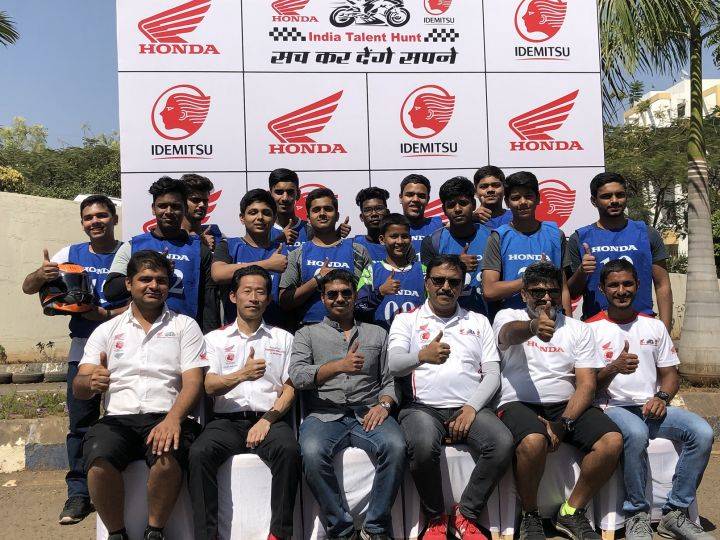 One of the few manufacturers who are seriously looking to nurture and support the sport, Honda's young racer program recently held its sixth round in Pune. The Idemitsu Honda India Talent Hunt has taken place in five cities so far (Bangalore, Hyderabad, Chennai, Aizawl and Delhi), with only riders who are between the ages of 13-17 years eligible to take part.



The Pune round's youngest participant was a 13-year-old kid. Honda is looking to tap these young guns so that they can fill up the CBR 150 R one-make series grid with new fresh faces. The selection process will move to Coimbatore from Pune. While the talent hunt will continue to take place all over India, 12 riders will be shortlisted initially after the Coimbatore round to begin the series with. Post that there will be several inductees into the system.

Here's the official company release on the same:


'IDEMITSU Honda India Talent Hunt' comes to West
Honda hunts for Next-Gen racing talent in Pune
Platform for budding riders to explore opportunities in Indian & International racing

The talent hunt aims to identify iconic riders across India

Special selected riders to be trained at Honda Ten10 Racing Academy
Pune, February 16, 2019: After identifying the next racing talent from the east, south and north region, the one-of-its-kind 'IDEMITSU Honda India Talent Hunt' starts its 2019 journey from west in Pune.
The IDEMITSU Honda India Talent Hunt is Honda's unique initiative which aims to identify young racers starting as early as 13 years of age. Through this platform, Honda 2Wheelers India will groom the best of young riders from Pune for a racing career spanning national and international championships.
After the last five rounds in Bengaluru, Chennai, Hyderabad, Aizawl and Delhi, round 6 of the Hunt today saw overwhelming participation of 13 youngsters with the youngest being only of 13 years of age.
The candidates had to go through 3 levels of tests. First being their physical fitness, second their race orientation and riding skills especially for the race track. This was followed by a Jury interview wherein the candidates and their guardians were interviewed to understand both their motorsport passion and family support to making this a career.
Representing the jury were Mr. Prabhu Nagaraj - Vice President, Brand & Communication, Honda Motorcycle & Scooter India, Mr. Chandan Burdak - Division Head, Motorsports, Honda Motorcycle & Scooter India, and Mr. Ramji Govindrajan, Director- Ten10 Racing.
After shortlisting in phase 1, the top candidates of the Talent Hunt of Pune will be trained at Honda Ten10 Racing Academy and given opportunity to ride on the track in Phase II. It is from this pool of talent that Honda will pick up the best riders. Further they will be nurtured through 360-degree training which will focus on their physical fitness, mental strength and stamina, over and above experts working on their race craft. These final riders will then join the 12 selected riders to race in the Honda Talent Cup CBR 150R category in the 2019 season.
Speaking on the occasion, Mr. Prabhu Nagaraj, Vice President – Brand & Communication, Honda Motorcycle and Scooter India Pvt. Ltd. said, "The IDEMITSU Honda India Talent Hunt is a part of our new motorsports direction and building a structure to develop young talent in the country. Committed towards developing an iconic India rider, our talent hunt stars Mikail bagged the 1st spot and Kritik Habib the 3rd spot at the IDEMITSU Honda Talent Cup 2018 season. Moving forward with this round in Pune, we are delighted to see the passion towards motorsports among these young participants and I am confident that these budding riders will change the scenario of motorsports in India and make the nation proud at the international podiums as well."
After this leg, Honda's Talent Hunt will travel to Coimbatore (Tamil Nadu) on February 23, 2019 to identify India's next big racing sensations.
Honda CBR250R Video Review