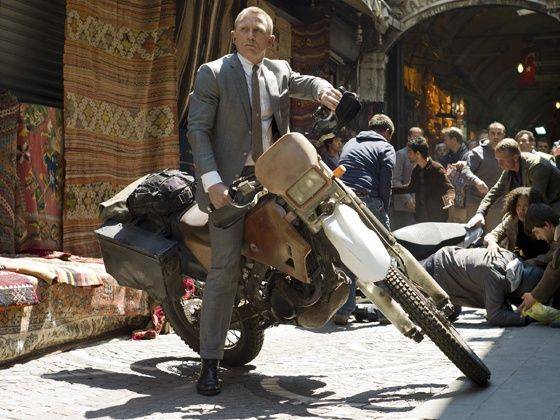 In the latest Bond movie, Skyfall, Daniel Craig rides a Honda CRF250R motorcycle in a thrilling opening chase sequence that he 'borrowed' from a Turkish street merchant. Riding through narrow alleys, staircases and archways while pulling off some neat stunts, Skyfall gave the Honda bike an image worthy of its character.
Honda UK has decided to donate the celebrity motorcycle through the BBC Children in Need annual fundraising auction that campaigns to make a positive difference to the lives of disadvantaged children and young people in the UK.
The modified Honda CRF250R Bond bike is one of the top items at this year's BBC Children in Need Auction that gives a chance to thousands of Bond fans to own an actual 'street merchant' bike that Daniel Craig has been filmed with. Honda expects the CRF250R Bond bike to raise tens of thousands of pounds for the charitable cause.
Two examples of the Honda CRF250R were used in Skyfall, both of which were modified for the stunts by Chris Corbould's award-winning special effects team. One of the bikes was modified to represent a Turkish police motorcycle while the other was done up to be a street merchant's bike.
"We are very pleased to be able to support BBC Children in Need and with such an exclusive, unique and exciting item," ," said Fiona Cole, Manager, Honda (UK) Corporate Communications. "Original items such as this are usually highly sought after and with the Bond films having incredibly broad appeal, we hope that 007's 'street merchant' bike will raise a significant amount of money and awareness for such an invaluable cause. At Honda we like to look for innovative ways to raise money for charity and we are so pleased that our exciting association with Skyfall has enabled us to do this for BBC Children in Need."
Place your bid before midnight on November 22, 2012, at the BBC Children in Need website www.bbc.co.uk/pudsey to stand and you may stand a chance to win the Honda CRF250R from the latest Bond movie, Skyfall.
Also read: Bond to ride Honda CRF250R in Skyfall