This Harley Davidson Took Shark Cosplay A Bit Too Seriously
by Gaurav
Jun 21, 2020
Views : 2766
---
This is probably the weirdest custom Harley we've seen so far, and we've seen quite a few
The Harley-Davidson Marrajo has been built by custom shop El Solitario MC.
It's inspired by a shark.
Based on a 1998 Harley-Davidson Sportster 1200.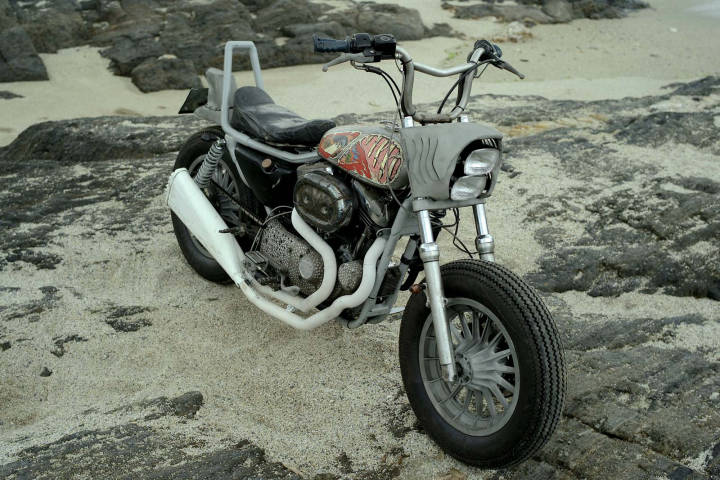 Harley-Davidsons are known for being one of the most widely used platforms for custom builds. There are some that look extraordinary and then there are those that leave you scratching your head. The Harley-Davidson 'Marrajo' (meaning shortfin mako shark in Spanish) is one such bike. It's built by custom shop El Solitario MC.

The idea was to take a 1998 Harley-Davidson Sportster 1200 which had run about 16,000km and turn it into a custom build inspired by a shark. Now, you're probably thinking these folks would try and capture the sleek lines of a shark and incorporate it into the design. But that's far from it. The bike is a Harley-Davidson that lost its way and is trying hard to play the role of a shark.

Don't believe us? Take a closer look. The headlight, for instance, looks like a shark's snout and gills (no, the gills are not meant for aerodynamic efficiency) that wrap around two vertically stacked squarish headlights. This we believe is meant to mimic the aggressive face of a shark. Also, there's no housing around the headlight which means water is bound to seep in.

The tall handlebar features unfinished welds for a corroded look. The fuel tank imitates the body and the subframe that runs from under the crudely finished seat looks like the dorsal find. The tail light, on the other hand, loosely resembles the caudal fin while the fenders have been chopped to give the bike a bobber look.

Pan lower and you'll notice that the engine crack case is finished with multiple holes and dots -- elements that emulate a whale shark. Even the exhaust echoes features of a shark. Last but not the least, the entire bike is finished in a grey paint scheme with the air-filter cover illustrating several scars. The only colour that's seen on the bike comes in the form of some neat artwork on the fuel tank. El Solitario could run the engine without any major work since it hadn't seen many miles on the odo.

The Harley-Davidson Marrajo sure is an odd-looking motorcycle, but we can appreciate the thought behind the custom build, which we think would fit perfectly well in an apocalyptic world.
Add Your Comments