From Activas to Aviation: Meet The HondaJet Elite!
---
The HondaJet is the only aircraft built by Honda's aviation subsidiary, Honda Aircraft Company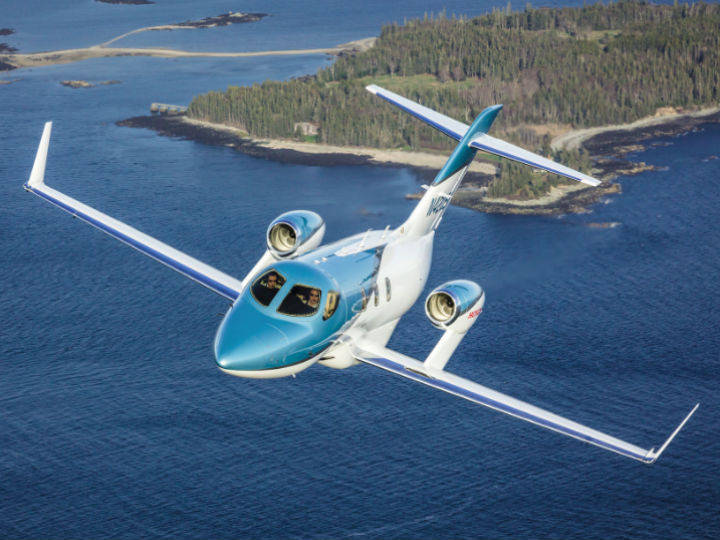 We've all known Honda Motor Company as a manufacturer of cars and two-wheelers. A little known fact is that Honda also has a wholly-owned subsidiary called Honda Aircraft Company, founded in 2006 - the same year Honda India launched the humble Shine, a 125cc commuter in India. The HondaJet Elite replaced the standard HondaJet last year. It is priced at USD 5.3 million, which is around Rs 40 crore! But in the world of aviation, this is actually one of the most affordable private aircrafts under the Very Light Jet category. If you're an automobile and aviation enthusiast like us, check out some of the juicy details about the HondaJet Elite Private below:
What's so special about this aircraft?

The HondaJet is well known for its over-the-wing engine configuration. This setup has been developed by Honda after over 20 years of research and development. This layout not only improves the aerodynamics significantly but also reduces drag at high speeds, thus improving fuel efficiency and reducing NVH levels inside the cabin as well. Consequently, this engine mount setup also eliminates the need to design the fuselage to accommodate the engine, and thus, it helps in optimising interior space.
The GE Honda HF120 twin engines have been developed in joint venture with GE (General Electric) Aviation. It is capable of generating 2,050 pound-force of thrust and a maximum cruising speed of 782kmph. The aircraft is capable of climbing at the rate of 4,100 feet per minute. Honda says the engine is so environmentally friendly that it complies with emission regulations that are not even obligatory for its class.
Technology galore:

The HondaJet Elite is built on a carbon composite fuselage with a combination of two types of panels: honeycomb sandwich and stiffened panel. The company says this setup ensures a good balance of lightness, rigidity and sleek looks.

Since most of the aircraft's capabilities are dictated primarily by aerodynamics, it is imperative that an aircraft should be spot-on in this department. So, Honda has developed Natural Laminar Flow (NLF) wings and nose. Laminar flow is a type of flow where there are no disturbances on the surface over which the fluid flows. This is extremely crucial at high speeds as even the minutest ridges and rivets can disturb the flow of air, making it turbulent. We all know what turbulence does to an aircraft! So, Honda has optimised the number and positioning of panels and rivets and has used an external panel of integrally machined aluminium over the main wings and nose cone. This slippery design coupled with the twin engines ensure the aircraft can cruise at 43,000 feet, which is claimed to be the highest in class! As far as range is concerned, the HondaJet can cover 2,661km.
Loaded with luxury:

The HondaJet Elite can accommodate two crew members and five passengers. Thanks to the over-the-wing engine mount configuration, the rear baggage compartment is spacious enough to accommodate six large golf bags, according to Honda. There's a partitioned lavatory, with, for some reason, seatbelts. We doubt there will be instances of such overcrowding where one will have to sit in the loo! But Honda has accounted for even the lavatory seat in the aforementioned passenger capacity. There's WiFi, and the captain seats get a two-tone leather treatment and there's a full-service galley too.

Plus, the aircraft comes with the Bongiovi Aviation speakerless in-cabin sound system. Transducers with patented Bongiovi DPS signal processing technology are attached to the aircraft interior panels, practically turning the panels themselves into a speaker. It is claimed to be capable of adapting to various flight conditions, thus resulting in an immersive audio experience.
Overall, the HondaJet Elite seems to be properly loaded for an entry-level jet. Honda's pursuit of refinement is apparent even in such a sophisticated field such as aviation, really bringing out the some interesting innovations made around the aircraft.
Add Your Comments