This Little Harley Wants To Be A Lambo
---
It's powered by a 1,966cc V-twin motor!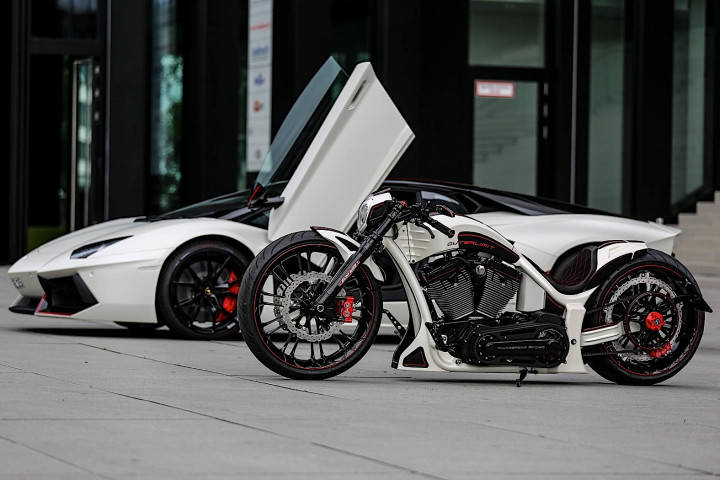 A matching set of anything is quite pleasing to own -- to us mere mortals it means having cutlery that goes well with our dinner plates or socks that match a tie. To a certain German millionaire, it meant having a Harley-Davidson custom to match his prized Lamborghini Aventador. He took this request to reputed local chop-shop Thunderbike, and this is what they managed to come up with: the Harley-Davidson Outerlimit.

Polarising, hugely impractical, and largely dysfunctional? Yes. But also so very tasteful and desirable. Let's be honest, if we could afford it, most of us would want one of these parked downstairs. It's got the go to match the show, too. Yes, that big V-twin comes from American cruiser specialist Harley-Davidson but it's their twin-cam 120R crate engine, so the output is a monstrous 140PS and 190Nm. That's only about 17PS less than a Ducati Diavel and 61Nm more than the Italian!

All that firepower is housed in this gorgeous chopper-esque custom frame built by Thunderbike. The overall stance of the bike is long, low and mean, and the design is a well-judged balance between gentle curves and sharp-edged straight lines. That massively scooped-out seat looks like you wouldn't want to be in it for anything longer than a small photoshoot, but at the same time, you could admire the stitching on it for hours on end.

The Aventador connection comes mainly from the colour matching: the predominantly white paintwork with a dash of black thrown in and everything held together by bright red accents.
The handlebars are low, stubby and angled downwards clip-on style, exuding a cafe racer vibe. This, along with the massively forward-set footpegs, means you'll have to contort yourself into all manner of weird shapes if you're mad enough to ride this thing. We're also big fans of the short and sweet exhaust system, especially the sharp end-can design.

And when you finally come around to the rear of the bike, you can feast your eyes on the beautiful dished-out rear wheel, proudly on display thanks to a single-sided swingarm. The rubber globe it calls a rear tyre looks more fit for a Boeing than a Harley, and while we don't have an official figure, we're sure it's well north of a 250-section tyre, probably closer to 300.
It may not be something you'd like to take to the shops every day, but this Lambo-inspired Harley sure is an exquisite work of art. Kudos to Thunderbike and congratulations to the lucky owner!
See what our community has to say!
NEW
India's largest automotive community