BharatBenz reveals 'Made in India' truck
---
Almost a year after Daimler unveiled the BharatBenz truck brand in India, the company today revealed the first look of its 'Made in India' truck. The new BharatBenz Heavy Duty Truck (HDT), built on the Mercedes-Benz Axor platform is a synergy of Indian engineering and German DNA. Along with discussions on the strategies for the company, BharatBenz will start production and market launch of the truck by the third quarter of 2012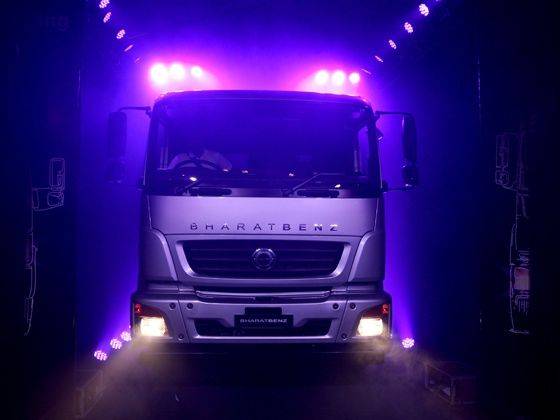 Speaking at the preview in New Delhi, Marc Llistosella, Managing Director and CEO, Daimler India Commercial Vehicles, said, "The design is a glimpse of what's to come. We didn't need a truck that's me-too. We need a truck that's changing the game."
Going by the BharatBenz HDT's first impressions, the company sure seems to be on track to revolutionise trucking in India - but there's more to the story than just the product. The truck has been developed at BharatBenz's new plant at Oragadam, near Chennai. The plant is 88% ready and will be inaugurated on April 18, 2012. The factory, built with an investment of Rs 4,400 crore, is spread across 400 acres and has a capacity to churn out 36,000 trucks per year, which can be further expandable to 70,000 units. BharatBenz will also be building its Medium and Light Duty trucks, built on the Fuso Canter and Fighter platforms, at the same plant in the future. The company will showcase its entire portfolio in the 6 to 49 tonne range during the BharatBenz Premiere from March 2 to March 7, 2012.
To ensure high reliability of the vehicles from the start, all the trucks have undergone 40 lakh kilometres of testing on Indian roads including strenuous driving cycles on DICV's state-of-the-art test track in Tamil Nadu. To keep costs in check, DICV has partnered with more than 450 suppliers in the Indian market. An 85% localization level has been achieved and BharatBenz has set a target to take that number to 90%. BharatBenz has already brought on board dealerships in 70 locations across India and the plan is to expand the sales and service network to cover 100 locations by 2014.
"The pricing of the BharatBenz trucks will be revealed on a later date but the trucks will be priced competitively", assured, V.R.V Sriprasad, Vice President, Marketing, Sales and After Sales, Daimler India Commercial Vehicles. "The BharatBenz brand stands for superior TCO (total cost of ownership) and, hence, this product will be all about value for money to the customer." The trucks promise to offer excellent return on investment as they have been designed to lower turn around time and have a direct impact on a fleet's efficiency.