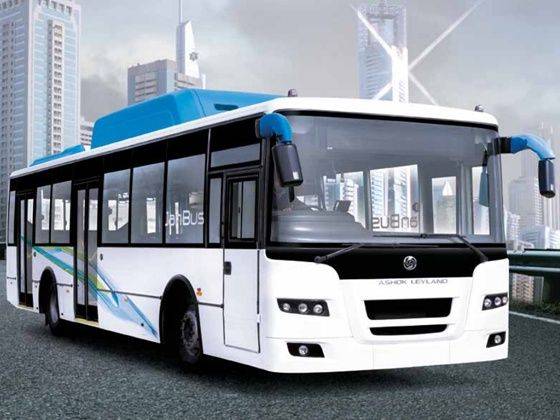 Ashok Leyland was present at the 2013 International Bus and Utility Vehicle Show that took place at the India Expo mart, Greater Noida with its two modern buses that are aimed at offering convenient urban public transport at a reasonable cost.
The Janbus is a full sized 12 meter long bus that has a flat floor with a height of 650mm to accommodate more passengers. The Janbus sets itself apart as it is a front engined bus that has a flat floor from the driver's work station to the rear of the cabin allowing for hassle-free passenger movement.
The Janbus's practicality is further enhanced by its highly customisable nature that allows multiple options for door placement and seating arrangements to suit various applications such as BRTS, airport use or normal urban commuting. Air conditioning is an option.
The Ashok Leyland Janbus is powered by a BS IV turbocharged common rail diesel engine that generates 228PS of power.
The front engined layout saves costs and Ashok Leyland claims that at the price of three rear engined buses five Ashok Leyland Janbuses can be procured.
The Ashok Leyland Janbus Midi has been designed to serve the purpose of a feeder bus for last mile connectivity in urban conditions. It is 8 meters long and has a uniform floor height of 650mm. It's powered by an H series BS3 four cylinder turbocharged engine that develops 121PS of power.
LED interior lighting, power steering, tilt and telescoping adjustable steering and a soft suspension set up make it ideal for use also as hotel shuttles, staff buses and school buses.
Also read: Ashok Leyland Introduces fuel efficient trucks