Tata Nexon Overview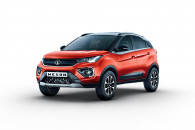 Mileage

Comfort

Performance

+ 3 more
Maintenance Cost

Safety

Features & Styling
Preferred For : Daily Commute & Family
62% of users have given a rating of 4.5 and above
Filter by :

All

Mileage (42)

Comfort (40)

Safety (34)

Performance (32)

Looks (17)

Service (16)

Engine (13)

Power (12)

Experience (9)

Compact Suv (8)

Interior (7)
3.7

Car mileage is only 9 in city on eco mode, If you are looking for good mileage i would suggest never buy tata naxon car.

3.3

Mileage is very poor. How to overcome? Pls advise

5.0

Best car hai tata moters ko thank you kahana chahuga aisa praduct banane ke liye apne anubhav ke hisaab se hum bata rahe hai safety me 5star hai humne apni gadi se off reading bhi ki hai har mayne me best hai

4.7

The car is awesome.I buyed xzplus (s)variant and i am very satisfied and proud to own a tata nexon.But the only problem i facing is mileage is little bit low for petrol variant now.The showroom assistants says that after all services i becomes ok.Only first is done on my nexon.I had a santro xing gls 2014 for my local uses.So mileage problem is not very big problem.My friend get 16km mileage on his nexon petrol which is 1year old.So after some time i also get a good millage.Thank you.

3.7

Ac should improve.But nice car.Powerfull engine.Good grip on road.Heavy body nice design.Happy to be a part of nexon.
All Nexon User Reviews
5.0

Approaching 2½ years and completed 23k kms and countings I'm in love with the diesel motors the grunt, it pulls easy, put in 3rd and drive within city with zero efforts as if you're driving an automatic minimum gear change. In 3rd it can move the car from standstil and pull from as low as 25kmph that's the level of torque it has. Also own a swift vdi and an aspire titanium dragon series but trust me nexon is my fav daily car love driving around with it all in all am happy with my purchase apart from few niggles being an early bird got it within 3 months of launch which were rightly taken care by the TASS guys. Before buying one i had shortlisted nexon and ecosport after test driving one i never looked back at ecosport. Nexon striked all the checklist and its not that am compromising anywhere it being a Tata. Its a myth many carry around about a Tata product. The only thing I'm dissatisfied is the professionalism shown by the service advisors nothing sort of a deal breaker for the potential buyers if one knows how to deal with them. I know how to get things done for me. But, Tata should concentrate on training their staffs basic professional approach on handling customer. Otherwise a thumbs up. Initially got it for my highway drives after driving a dicor for a decade but seems like it has become a daily car now.

4.3

Buying experience: Booked it on 10th Feb got it on 20th May. 1st white Nexon 2020 in chennai / covid19 are reasons. Dealership experience is ok, could be lot better. Riding experience: Engine is refined, ride it slow forget the word mileage. Keep it above 2000 Rpm, you will see a great difference. Engine likes you hard on its accelerator. Exteriors: all good with word compact SUV, other than the curvy back, which makes it's a hatchback. Interiors: plush finish looks decent gives German car finish in the interiors, all good with Audio- it's Harman nothing much to say.Pros: solid bulit you will feel l seat height l comfort l Anywhere Driveability l Space l last but not least you will feel you are in a safe placeCons: mileage l Tata software technology. My Breakdown experience on the 10th day: Major software glitch caused vehicle to stall in main of chennai. After using 4 cars for over a decade never had a breakdown but my 1st Tata gave it to me on the 10th day. Reason for the glitch nobody knows even in service or direct technical team. They splashed the software gave it back. There hasn't been a issue since then. So future Nexon buyers think twice. But buy an Indian not just in name, but in heart. It's definitely a better car at the cost.

4.3

Other than luxury and sheer performance i wanted everything in a car. Among those good amount of ground clearance, decent angle of approach and departure, safety, space, comfort, fuel economy, price were my main points which I was looking for. My budget was stricktly under 10lakh. So there was only one car that was fulfilling all my criteria and that was Tata Nexon XM, petrol manual. I considered Ford ecosport and Hyundai Venue also. Ecosport i rejected it because of the tiny tyres and overall space. Didn't go for venue because it more looks like a soft roader than a muscular SUV. This is my personal opinion only and looks are highly subjective. Did a lot of comparison between Venue and Nexon as Venue had an upper hand in terms of quality, fit and finish but it could not match the Nexon's build quality and driving dynamics, ride and handling. On top of all these things, I am a very big fan of Mr. Ratan Tata and its an Indian brand. So decided to go for Nexon. 🙂

2.3

The new 2020 model looks very good in its face.Also the car is equipped with most of the feutures as well as safety equipments.However the fit and finish is very bad for the amount we pay.I paid around 12 lakhs on road for the xza plus.But the finishing is very poor for what we pay.In my car the left front door was not aligned properly and even after first service they were not able to fix.Also the engine vibrates more as it is a three cylinder unit.After 3 months of very minimum use itself the dash board and steering console started rattling which is quite irritating.After 10 months of use the car developed rusting of all four door panels near the handle area for which tata provided just repaint instead of a full replacement.Don't fall for the social media hype.Stay away from tata cars because they have several quality issues.They are safe because most of the time the car is safely kept at service centres.

5.0

I bought the nexon xm after thorough research and it is the best compact suv under 10 lakhs.I got it for 9.20 lakhs.But i would prefer others to go for the xms variant if they have an extra 60, 000 (also if you need the sunroof) in their budget.It lakhs some features like touchscreen infotainment and armrest.But no one would prefer these features over the build quality.I mean, These are parts that can be installed in the future when you have enough money but the safety features and build quality can't be installed like that.So nexon provides all safety features including traction control which is a luxury under 10 lakhs.
All Nexon User Reviews