Triumph Bonneville Street Twin: India review
May 12, 2016
Views : 49583
---
The Triumph Bonneville is one of the biggest icons in the motorcycling world. The simple yet brilliantly put together British bike is hard to falter and with the street twin things have only gotten better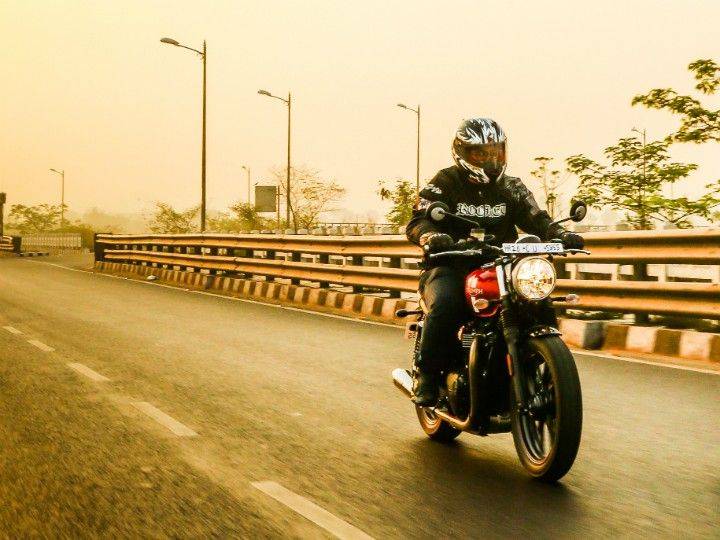 If there's one bike that close to perfectly blending retro styling with modern technology, it has to be Triumph's Bonneville. There are several other motorcycles that are a combination of the two but none of them display as much character or have as big a following as the Bonnie. When the bike went out of production in 1988 it was a major loss to motorcycle enthusiasts around the world. But then the icon resurfaced in 2001 and brought with it, classic styling with modern technology. And like a great movie series, cough… Captain America… cough, the new 2016 Street Twin picks up right where the old Bonnie left off, with a few key differences though.

For starters, almost everything on the Street Twin is brand new. The chassis is brand new, so are the engine, instrument cluster and ride by wire throttle. Heck, it even gets a traction control system now! A look at the bike will tell you absolutely nothing though, as all these changes are neatly hidden away and are meant to be felt rather than seen. It is still every bit retro as the old one was and then some more. Where the old Bonnie looked straight out of the seventies, this one looks like it was built for today by the people from the seventies but with utmost care and attention to detail. That is a lot of kit for motorcycle that comes with a price tag of Rs 6.9 lakh ex-showroom and over 50 years of heritage.

The design is pretty simple and straightforward, as a visibly large-ish flaming red tank with an offset fuel filler cap dominate the view, with pinstriping just above the Triumph name. The Triumph logo-shaped headlight bulb adds a bit of flair to the front, while the cast headlamp bracket assures you that this is a modern motorcycle. The seat contours beautifully and ends in no grab handles and an oblong houing with a circular standalone LED brake lamp. And under that scarlet tank sits the first ever liquid cooled Bonneville parallel-twin motor, finished in black with twin exhausts. The whole design is ridiculously simple yet beautiful. And the appeal is down to the attention to detail and feel of quality, it feels like a well put together machine.

The liquid-cooled parallel twin engine now displaces 900cc as compared to the 865cc of the old bike. Ironically, peak power is 13PS less compared to the old model. Where the old Bonnie made 68PS the new Street Twin makes 55PS. But that little 'HT' tag on the engine stands for 'high torque', nice. And what it lacks in power it more than makes up in torque, offering 80Nm now as compared to 68Nm earlier. Swing a leg over, and you realize the seating is quite low. At 750mm it feels apt and even shorter riders can sit on this bike with their feet firmly on the ground. The handlebars are slightly low set and an arm's length apart and all of it combined offers a very comfortable seating position. You immediately know you can ride this thing all day without a single complaint from your hindquarters. The instrument cluster is devoid of a tachometer but the digital screen housed in the speedometer tells you all you need know, even housing a fuel gauge unlike its nearest competitor, the Ducati Scrambler, where tells you absolutely nothing about fuel levels. Oh, and you also get a gear indicator, two tripmeters, distance to empty and average fuel consumption.

The bike we had for our review came with the optional Vance & Hines exhaust system. Fire the bike up and the engine wakes up with the quintessential British parallel twin rumble and the exhaust note from the Vance & Hines exhaust makes Mozart feel like Justin Bieber. The stock exhausts emit a great sound track too but these are on a different level of British. They're not loud, but have a nice purr which is pleasing to the ears. When you're done admiring the exhaust note just prod the gear lever and it slots into gear, it's that smooth and easy. The lever itself has very little travel and shifting gears is a treat. The travel is so short that sometimes you could hurt your toe if you prod the lever a little too hard. The moment you take off from standstill you realize there's ample torque available at a simple twist of the wrist. The Street Twin is not built for top end performance and it makes that extremely clear. It's the torque it plays with and plays with it brilliantly. There is ample mid-range torque to potter around in third gear at 40kmph. Even taking off from standstill in second gear is not a problem. The assisted clutch ensures twin-finger shifts and helps you look smug as people pass bewildered stares as to how you can be so comfortable on a 900cc bike in Delhi traffic.

Speaking of traffic, the liquid cooled engine does a great job of dissipating heat. Although, it gets pretty warm but is rarely ever uncomfortable as nothing feels like it's on fire. The 41mm Kayaba front forks and twin rear shocks provide 120mm of travel which means even bigger undulations don't faze the Bonnie nor do our awkwardly oblong speed breakers. Although, with a pillion on, you do need to be weary of the said oblong speed breakers for the undercarriage does tend to scrape with a full load. Once you hit the open road, open the taps and the Street doesn't hold back, not one bit. The bike surges forward with purpose and gives you a reassuring jolt of torque past the 3200rpm mark. The suspension keeps up well with Indian road conditions and the bike feels surefooted and confident even when gathering speed quickly.

Throw it into a corner and it complies without any hesitation, don't get me wrong here, it doesn't handle like a superbike but is probably one of the best handling modern classic out there. The slightly low set handlebars mean you can hang off without feeling awkward and though the grip from the Pirelli Phantoms is adequate, it could've been better. A set of Metzelers would work wonders for the Street Twin's handling, though they will spoil the classic look, so in that sense the Phantoms are the best compromise. The brakes work well too and provide plenty of stopping power despite the Street Twin employing a single disc up front. The feel however is less and you really need to squeeze that lever if you want to brake hard.
But then again, this isn't that sort of a motorcycle. It's the kind that you can ride to work every day and when you get tired of that slap on saddle bags pick up your rucksack and hit the road. This bike is meant to be ridden all day and it does that with a smile on its face and dead insects in its teeth. In other words it's a true Bonneville.
More on Triumph Bonneville T120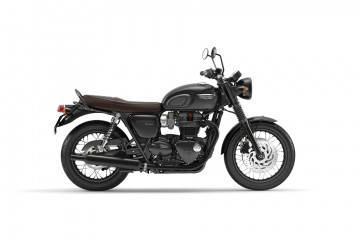 Rs. 9.97 Lakh Onwards
Ex-showroom, Delhi
Get Loan starting @6%
View On Road Price
Triumph Bonneville T120 Alternatives