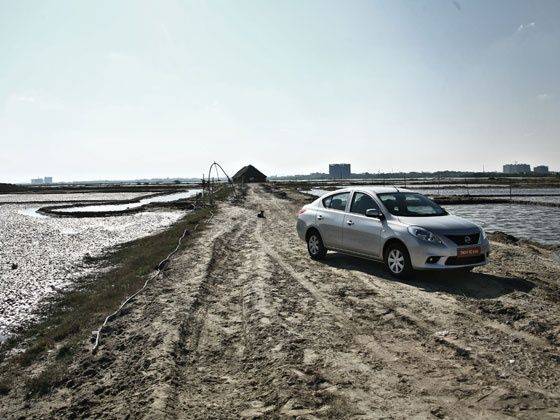 Self-shifting transmissions are a good thing – regardless of whether they're proper automatics or of the constantly varying gear ratio type. They help us be better human beings, especially when you're stuck in the worst traffic jams on this planet and you're slowly inching forward by a few millimetres or so every fifteen seconds. In that sense, a well-tuned automatic can actually offer up the best anger management therapy to deal with road rage emanating out of overheating engines and rising tempers.
The only problem with most automatics has been that they've generally been perceived to be less efficient than their manual counterparts up until recently, but quite frankly, modern technology has changed all that. So what would you think of a mid-size sedan with enough space in the rear to let a camel stretch its legs comfortably, the convenience of a CVT and an expected sticker price lower than most of its competitors? That just about sums up the Nissan Sunny CVT then!
By now almost everybody who reads an automotive magazine or website knows what a CVT is and how it works, so we're going to leave that piece of gyaan alone. But Nissan's Continuously Variable Transmission is a little different than most of the other ones out there. This isn't the first time India has seen it though – Renault managed to trump its sister company when they launched the Scala CVT a few months back, which essentially is the same car as the Sunny under the cosmetic surgery on the outside.
Nissan's Xtronic CVT boasts of having the highest transmission ratio in the world (currently) at 7.3:1, achieved by employing an auxiliary gearbox on the driven side pulley. That actually gives this particular gearbox more than just bragging rights – it turns out to be 10 percent smaller in size, quite a bit lighter and also 30 percent better at reducing friction than conventional CVTs. All that sounds good on paper, but it translates into some great going in the real world too.
Firstly, Nissan's Xtronic turns out to be faster in the 0-100 km/h by all of 2 seconds compared to a 5-speed auto'box on a comparable car. And then there's the improved fuel efficiency too – the Sunny Xtronic rated at 17.97 kmpl, 20 percent higher than its manual counterpart.
Of course, those figures are what Nissan is using in its marketing campaigns so we will put them to the test once we get to strap on our own data logging instruments to the car sometime later. What we can tell you for certain though, is that the Nissan Sunny Xtronic CVT is a breeze to drive with its super-refined engine no matter how choc-o-bloc the traffic might get. The car revs smoothly up the tachometer and with what Nissan likes to call Adaptive Shift Control, the car assesses driving styles to automatically adjust the CVT for the best efficiency in any given situation.
In-city driving will see the Sunny CVT keep its revs between 1200-2000rpm making things stress-free. One bit that does take getting used to, especially if you haven't driven a CVT before is when you floor the pedal to overtake on the highway. All the computer chips on board keep the engine revving at higher revs (around peak power figures) while the CVT adjusts its ratios to get you moving swiftly ahead.
This almost feels like a slipping clutch on a manual gearbox, but rest assured, everything's normal! Throttle response is good though and there's no guessing required when making your move in traffic. Coupled with the Sunny's already well-weighted steering that is apt for maneuvering in city traffic, this is quite the sedan to commute in. Take it out on the highway and it stays fairly stable at faster speeds as well.
Nissan is yet to formally launch the Sunny with the Xtronic transmission, which means the price is still unknown at the time of going into print, but judging by trends in the past expect it to cost around Rs 8.2 lakh (ex-showroom Delhi) for the petrol XL variant – the only one which will get the CVT for now.
For the amount you're getting a spacious sedan, though the interiors could do with a little more livening up, and convenience that has to be experienced to be believed thanks to the CVT. It also manages to undercut its competition on the price lists and all that considered, it certainly turns out to be quite the value for money prospect. Or you could settle for some other manual car and keep complaining about the pain your left foot, while all that traffic around you keeps getting to you head. The choice is ultimately yours.