KTM 390 Adventure Spoke Wheels & Adventure X First Ride Review: Same Flavours, Different Appeal
Jun 3, 2023
Views : 2599
8 min read
---
One's super affordable and the other more capable. But which one's more desirable?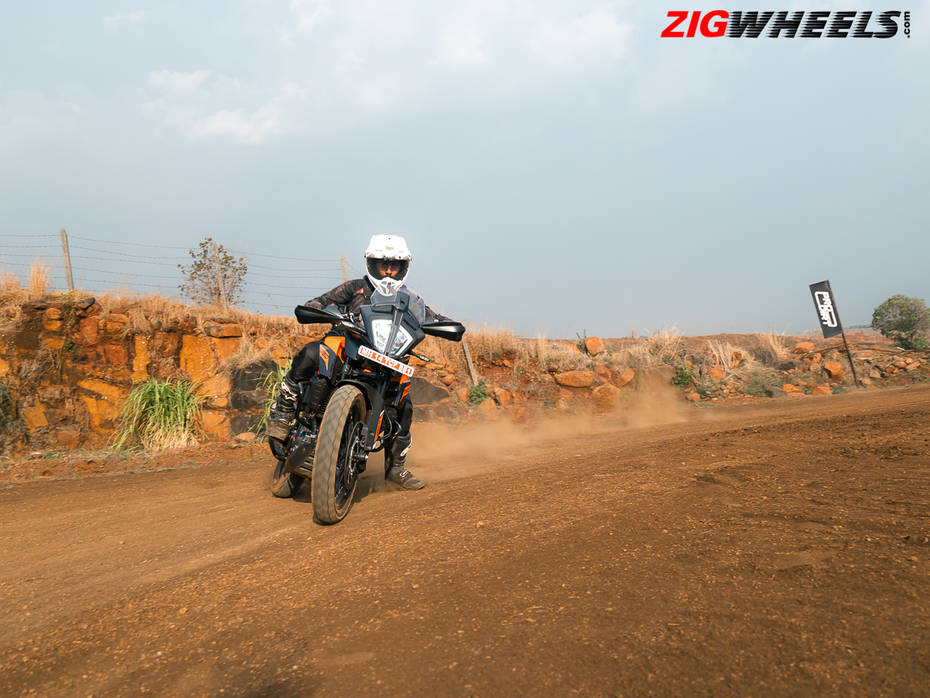 The KTM 390 Adventure is a hardy adventure tourer. But until now its Achilles heel has been the lack of a pliant suspension, and you could also maybe ask for spoke wheels. But now, KTM is offering the 390 Adventure in three new flavours. The first is an affordable variant called the 390 Adventure X. This barebones version undercuts the standard by almost Rs 60,000. The second is a low seat variant called the 390 Adventure V, which costs the same as the standard. And finally, there's the top-spec variant with more off-road focused hardware like adjustable suspension and wire-spoke rims.
In this review, however, we'll be focusing on just two variants: - the 390 Adventure X and the 390 Adventure spoke wheels variant. We'll explore how different they are to the standard variant, and how much more or less adventure can be had on these.
KTM 390 Adventure X: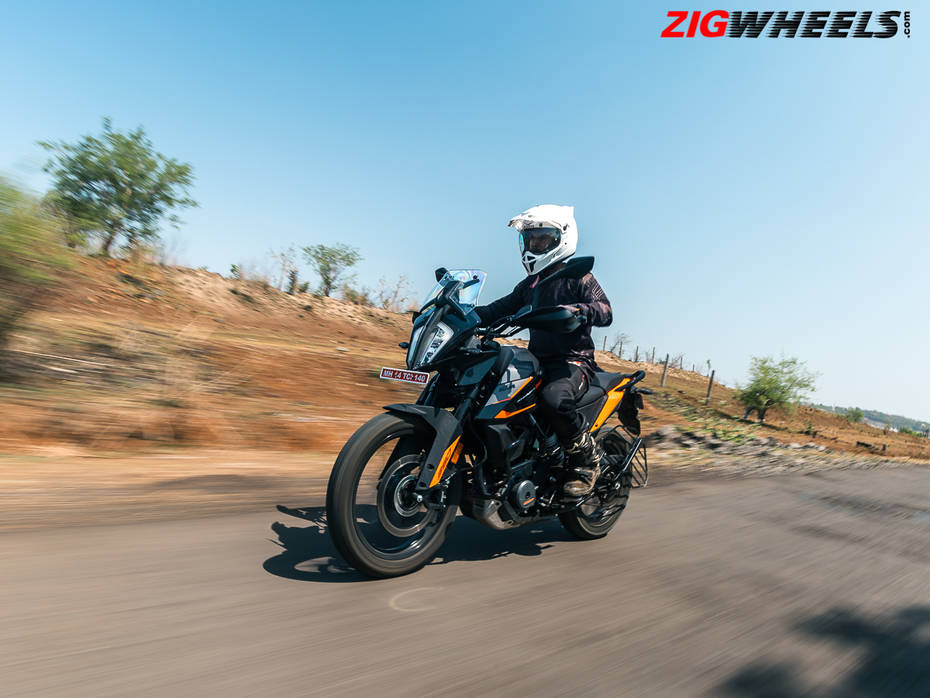 Some of the best adventures in life do not cost a lot of money. KTM too believes adventure should be made accessible. Hence the 390X, which is Rs 60,000 cheaper than the standard variant! That's a huge price difference! You already know that it lacks the colour TFT screen, a slew of rider aids, and the Metzeler dual-sport tyres. But that is how KTM has managed to price it at Rs 2.8 lakh (ex-showroom Delhi). That said, there's more to the 390 Adventure X' affordability than meets the eye.
Not Many Features & Electronics:
Let's tackle the changes one by one. First, the most critical bit: electronics, which it majorly misses out on. It only gets dual-channel ABS with an Off Road mode (basically no intervention at the rear) and a slipper clutch. But If you're simply puttering down an open highway, the absence of stuff like traction control, cornering ABS and quickshifter isn't as evident. And the experience feels very KTM 390-like.
| | | | |
| --- | --- | --- | --- |
| Features | 390 Adventure X | 390 Adventure Standard | 390 Adventure Spoke Wheels |
| Ride-by-wire | Yes | Yes | Yes |
| Switchable Dual-Channel ABS | Yes | Yes | Yes |
| Slipper Clutch | Yes | Yes | Yes |
| Ride Modes | No | Yes | Yes |
| Traction Control | No | Yes | Yes |
| Quickshifter | No | Yes | Yes |
| Cornering ABS | No | Yes | Yes |
Not The Grippiest Tyres: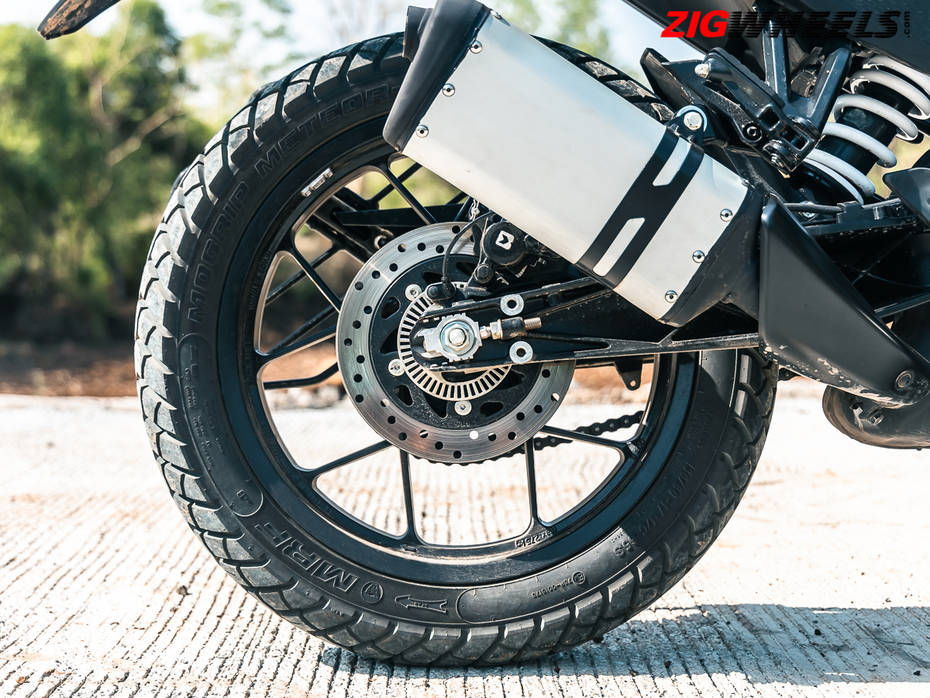 With no changes in displacement, power and torque across all four variants, the MRF MoGrip Meteor dual-sport tyres on the 390 ADV X falls under the spotlight. On arrow-straight highways, they hold their own rather well. In fact, they felt pliant enough over rumble strips and minor undulations, making the ride quality a bit more easygoing.
All 390 Adventure Variants

Power

43.5PS

Torque

37Nm

Gearbox

6-Speed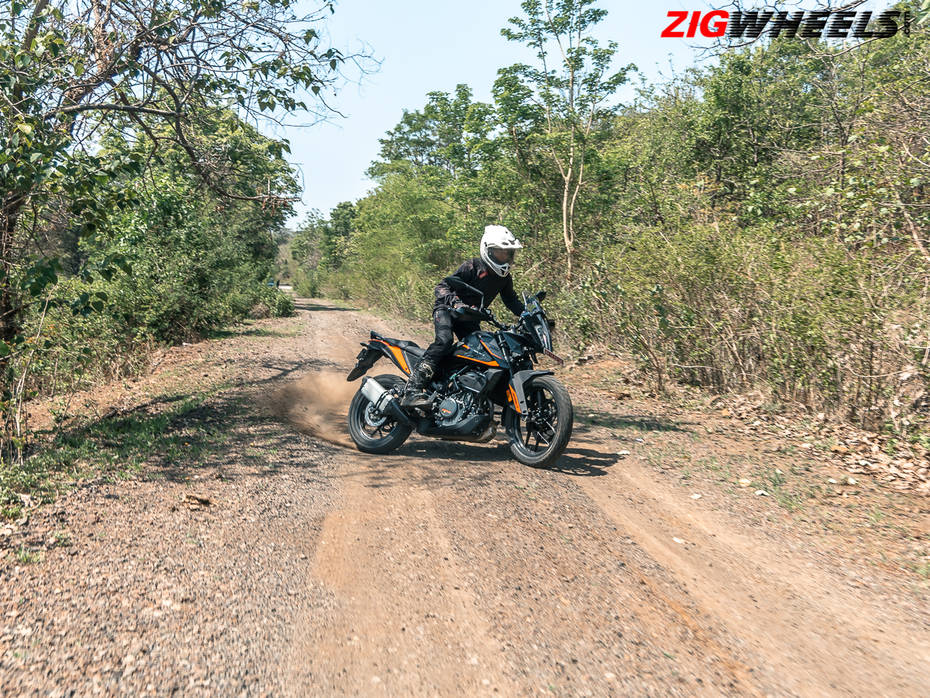 Get latest updates on
the automobile community

Login Now



But things start to get a little funny when you hit a dusty trail. In the standard variant, which I own, if I pull on the throttle hard enough, the bike steps its tail out energetically, before the traction control kicks in to stop my dumb butt from overcooking the slide. On the 390 ADV X, there's no divine intervention, so you've gotta know what you're doing to avoid hustling 44 horses the wrong way.
The lack of grip amplifies the lack of electronics which keep things in check around corners and over wet roads. In that regard, I do miss the Metzeler Tourance, though; they're just better and swapping them – or something equally grippy – for the MRFs would be the ideal thing to do.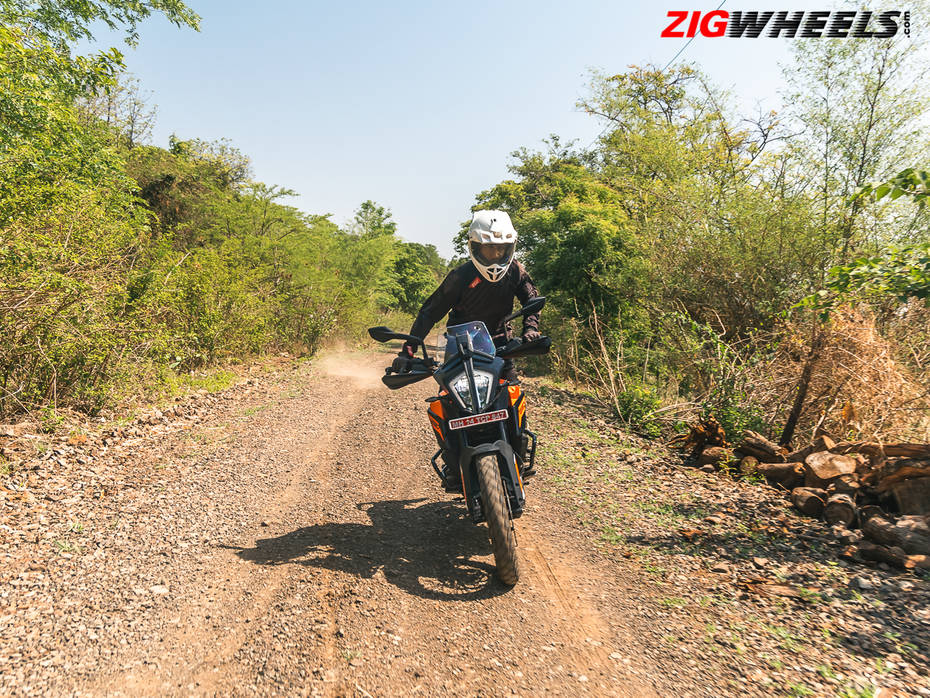 Hence, this variant should allow experienced riders to push the bike harder around trails without letting the computers decide what's dangerous and what's not for your well being. While the brakes and the dual-channel ABS on the 390 X are the same as the other variants, what needs to be seen is if the new MRF tyres have had an effect on the overall braking performance. A proper road test should give us a clearer answer.
Basic Instrument Console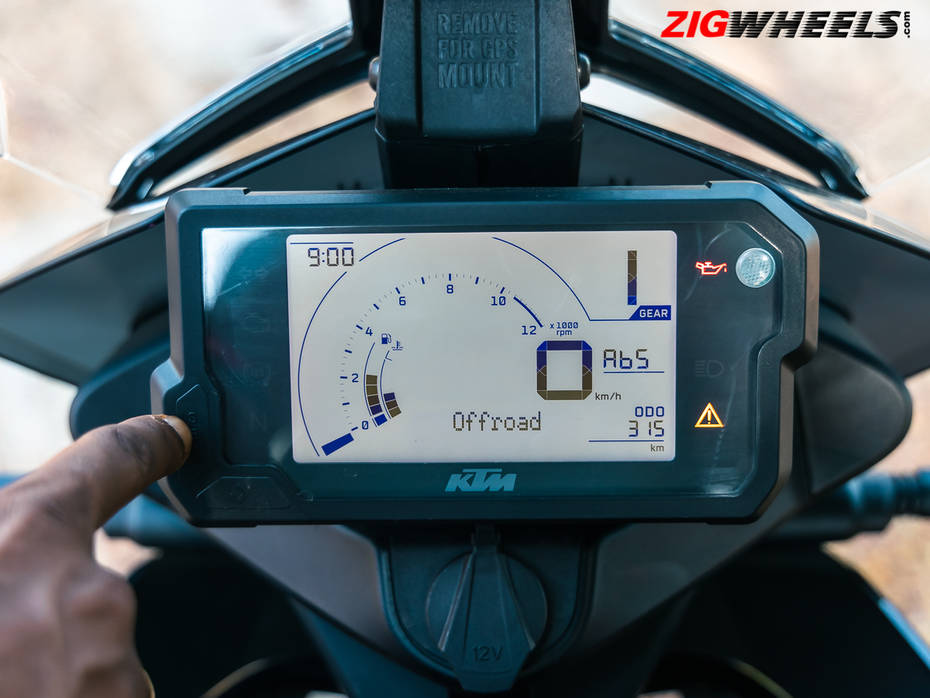 The LCD console may seem a little basic compared to the colour TFT on the standard variant, but everything that you need is spread out well and is easy to read. I actually prefer this a bit more than the standard TFT because that console seems overcrowded with information.
The finer details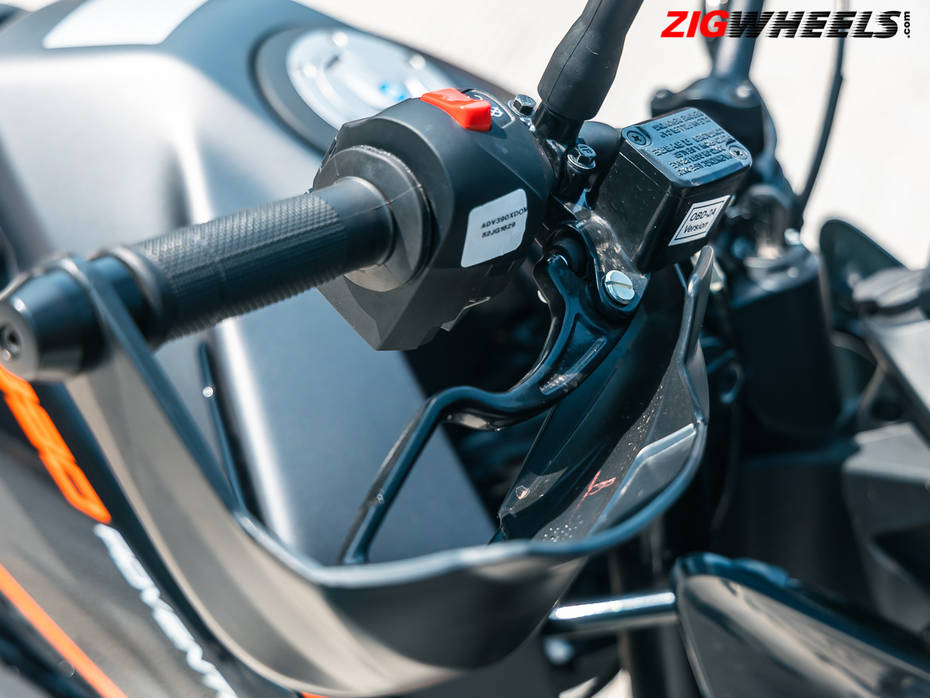 Lastly, you do not get adjustable levers on the 390 ADV X like you do on the other variants. I don't have very long fingers, hence reaching for the spanned-out levers is heavy on the forearm. But these basic levers are easy to reach and grab. And, honestly, I don't miss the adjustable levers on the 390 X, these ones do just fine. That said, had KTM thrown in the adjustable levers on the 390 ADV X, it wouldn't have affected its affordability by a huge margin.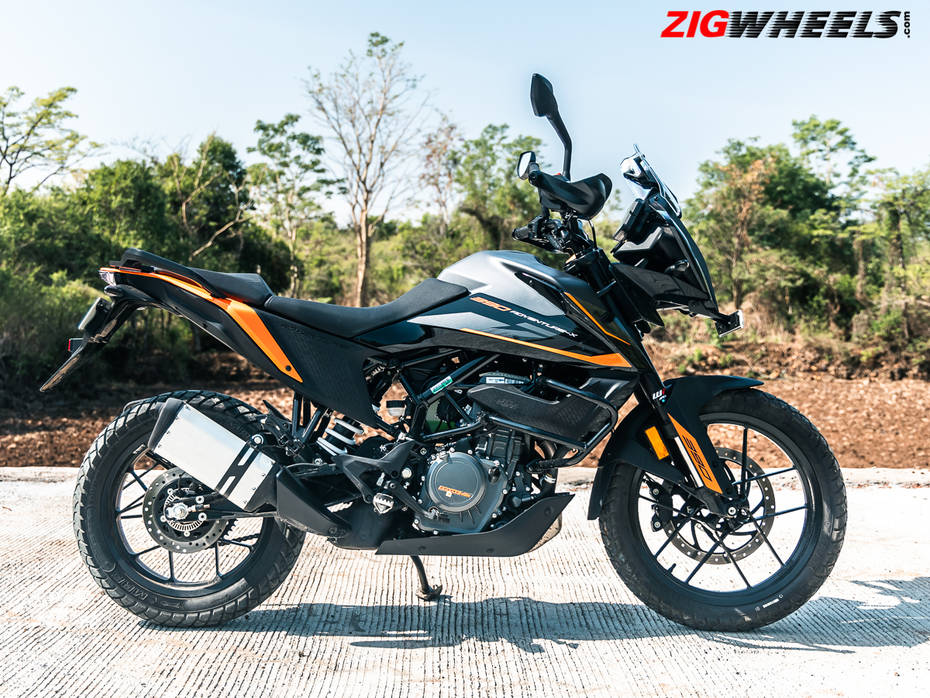 The KTM 390 Adventure X offers a sense of rawness, like the early KTM 390s did back in 2014-2015, but in a refined manner. But what if you want something more specialised, something with all the thrills and the frills, and no compromises?
KTM 390 Adventure Spoke Wheels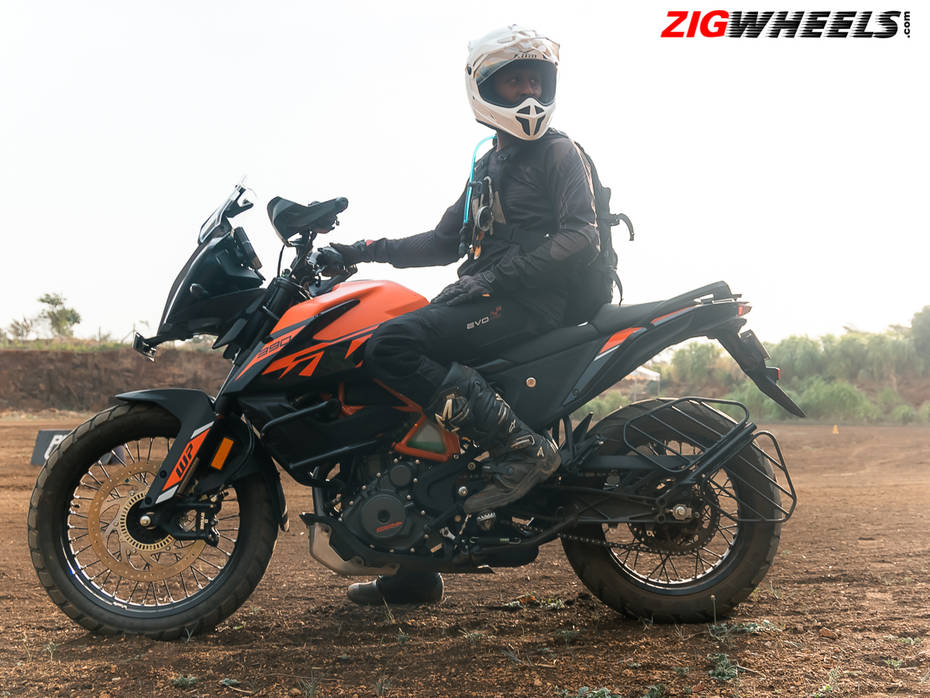 Then you get this - the 390 Adventure Spoke Wheels variant. It's Rs 80 thousand more than the 390 Adventure X and Rs 21 thousand more than the standard variant. This top-spec variant finally gets fully adjustable suspension front and back, and wire-spoke rims for more off-road credibility.
Fine Tuning The Experience…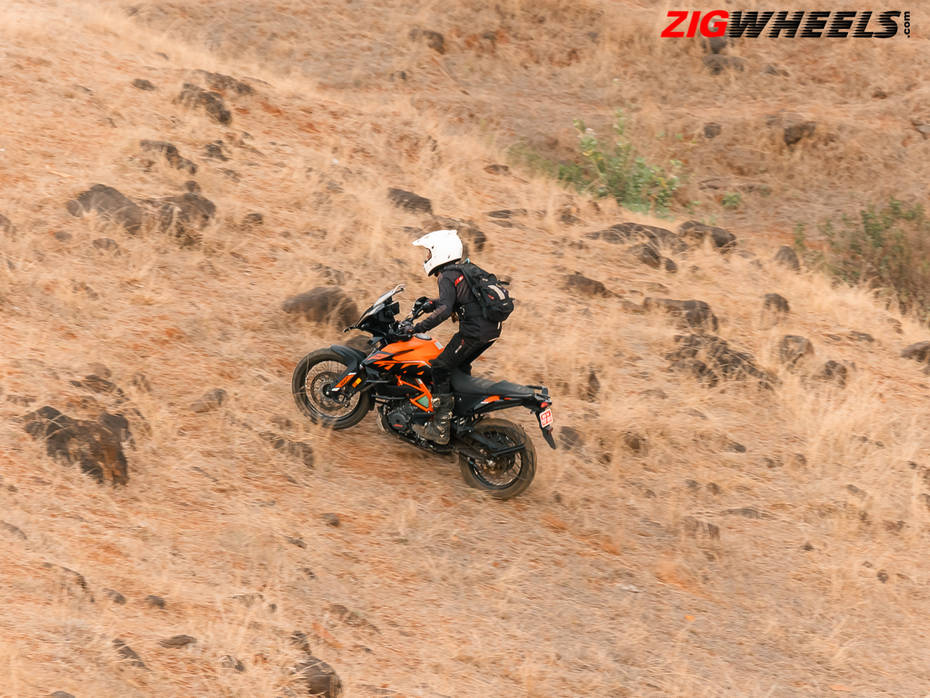 'One-size-fits-all' is a great philosophy to have if you want to democratise something. But on adventure bikes, especially touring ones like the 390 Adventure, a fixed suspension tune means not all riders will have the same experience with the same machine. KTM says the stock suspension setup off the factory line is set for riders between 75-90kg. I weigh around 62kg, so what's pliant for heavier riders is tossy and firm for lighter riders like me.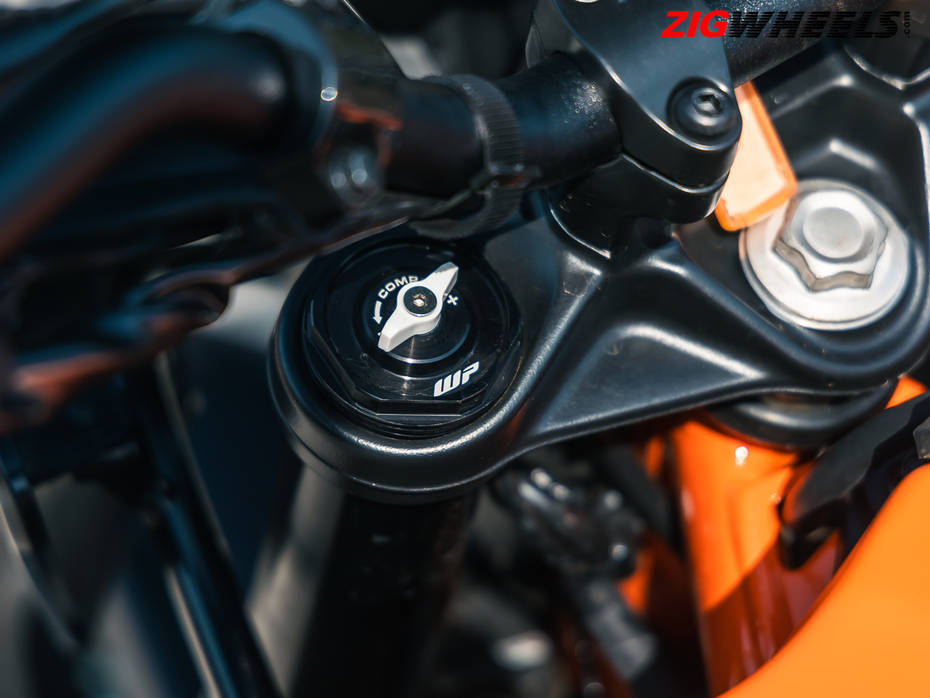 Therefore, while both the standard variant and this top-spec variant have open cartridge forks, the option to manually adjust compression and rebound (at the front) on the top-spec variant increases the confidence levels I get from the front tyre on dirt.
| | | | | |
| --- | --- | --- | --- | --- |
| Suspension | 390 Adventure X | 390 Adventure V | 390 Adventure Standard | 390 Adventure Spoke Wheels |
| Front | 43mm USD Big Piston Fork | 43mm USD Big Piston Fork | 43mm USD open-cartridge forks | 43mm USD open-cartridge forks |
| Rear | Monoshock | Monoshock | Monoshock | Monoshock |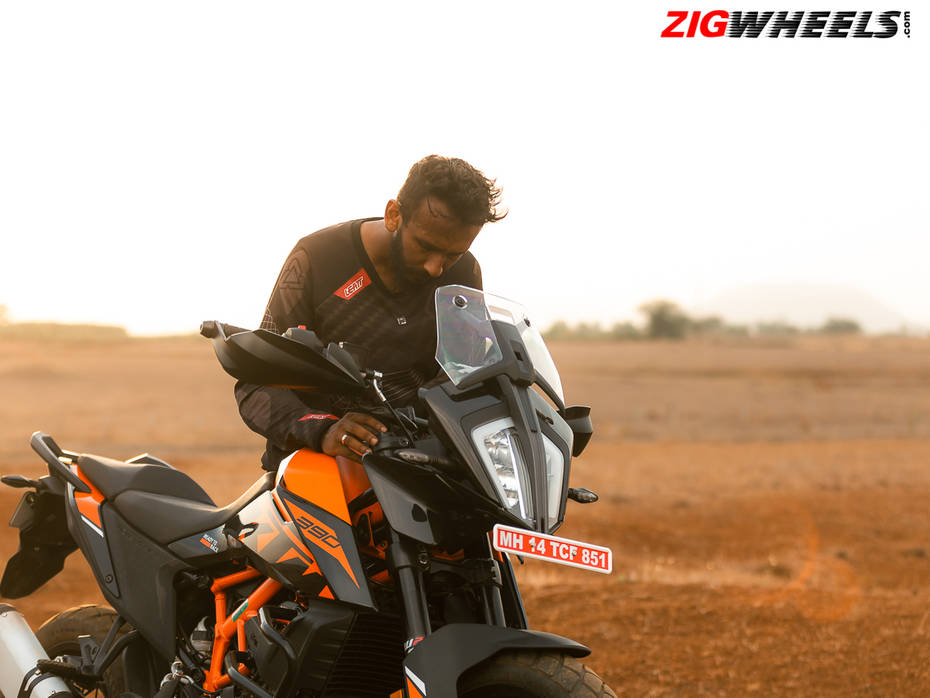 The fork allows for 30 clicks of compression and rebound. At the rear, besides preload, you get 20 clicks of rebound adjustability. KTM experts suggest you start with 15 clicks of compression and rebound at the front, and 10 clicks of rebound at the back. This is ideal for your daily road use for that weight group. But over the weekends if you're hitting a rocky trail, you can now bump up or down the settings to get that sweet spot which works best for you.
This is a big boon for not just off-road riders, but also touring guys. This feature is super useful because on a tour you end up experiencing all sorts of terrain. Be it riding solo, with or without luggage, or with a pillion, you can quickly set the bike up for what you need and head back out.
| | | | | |
| --- | --- | --- | --- | --- |
| Suspension Travel | 390 Adventure X | 390 Adventure V | 390 Adventure Standard | 390 Adventure Spoke Wheels |
| Front | 170mm | 143mm | 170mm | 170mm |
| Rear | 177mm | 151mm | 177mm | 177mm |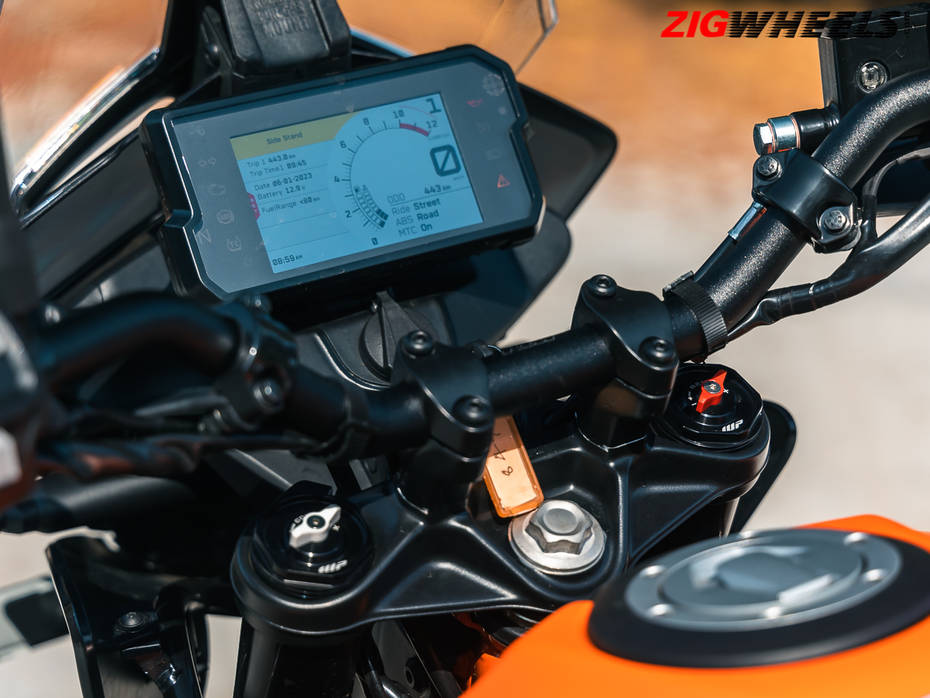 While the fork is super easy to adjust with these thumb screws, at the back you'll need a flat head screwdriver to adjust the rebound. It isn't a problem, though, as there is one in your tool kit.
Finding The Sweet Spot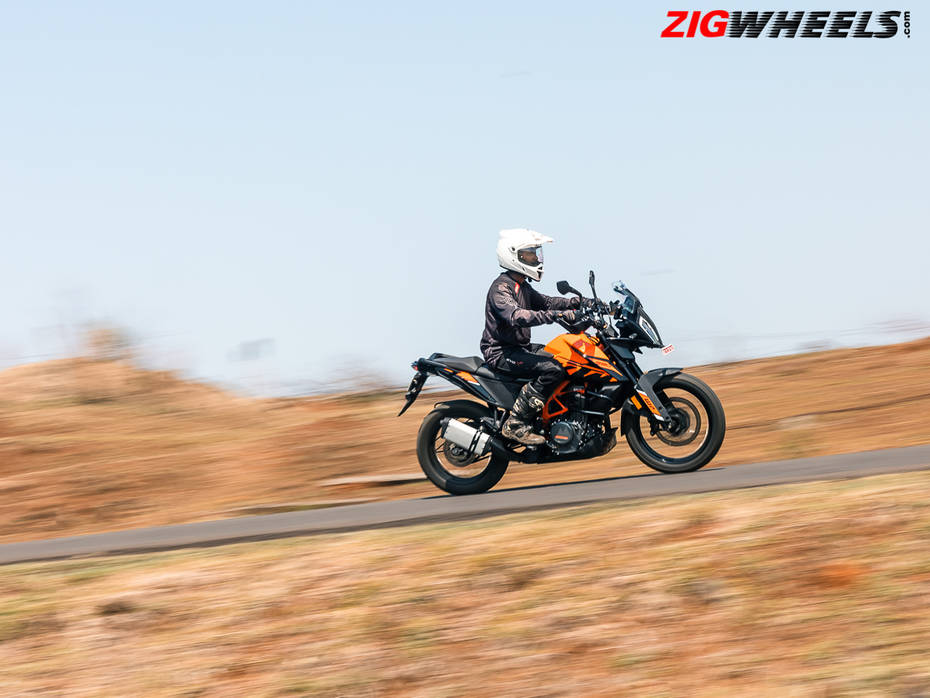 At the median setting, the suspension setup, especially off-road, felt a little firm and unsettled. But after quickly dropping my tyre pressure, making the compression a bit softer and rebound a bit quicker, the front end felt a lot more settled on dirt. But this was just after a few minutes of tinkering. We should have better suggestions for riders in our road test review on how to get the best setting for your weight and riding.
Can It Handle A Hardcore Trail?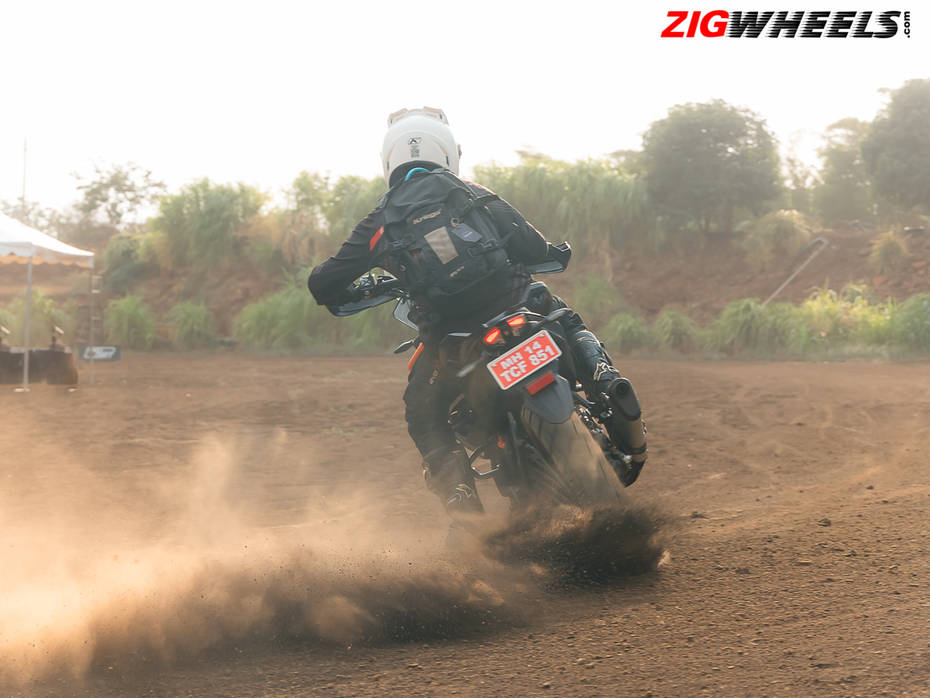 Now, let's quickly look at the wire-spoke rims. These are great for off-road use because unlike alloy wheels, spoke rims flex and soak up bumps and shocks a wee bit better. This isn't just noticeable here on dirt and broken roads, but also on highways over stuff like rumble strips.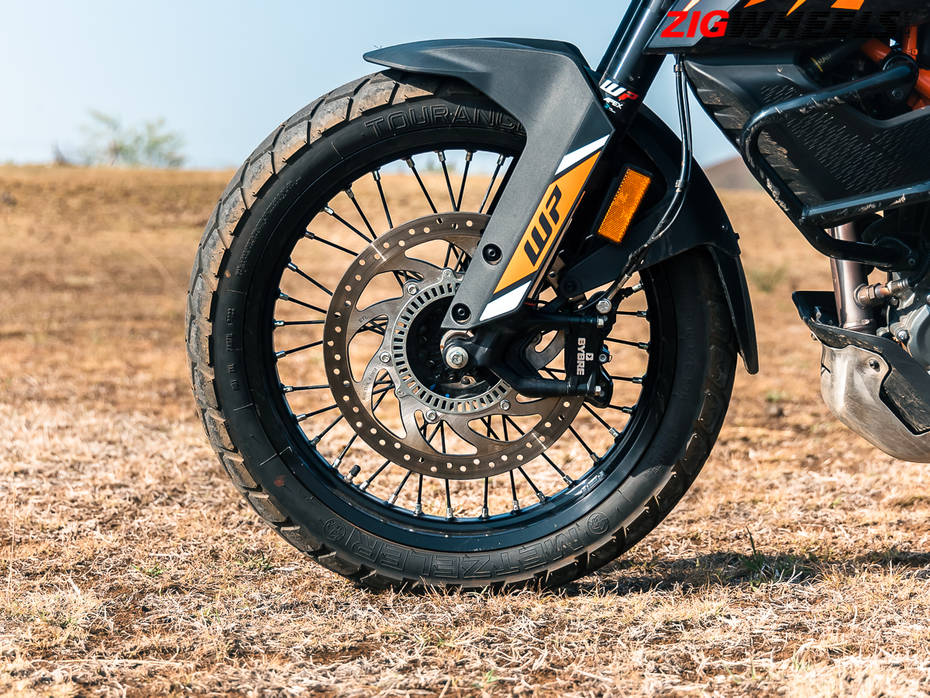 That said, these rims aren't tubeless and if you catch a puncture in some remote corner of the world, good luck finding a mechanic who'll be willing to open the wheel for you.
A firm front end has been an issue with the standard 390 Adventure, but this new hardware changes that experience considerably. Even in its most balanced suspension settings, the spoke wheeled 390 ADV felt a lot more pliant on the road. Off tarmac, it has opened a whole new range of ability, demanding you to up your skills.
Verdict: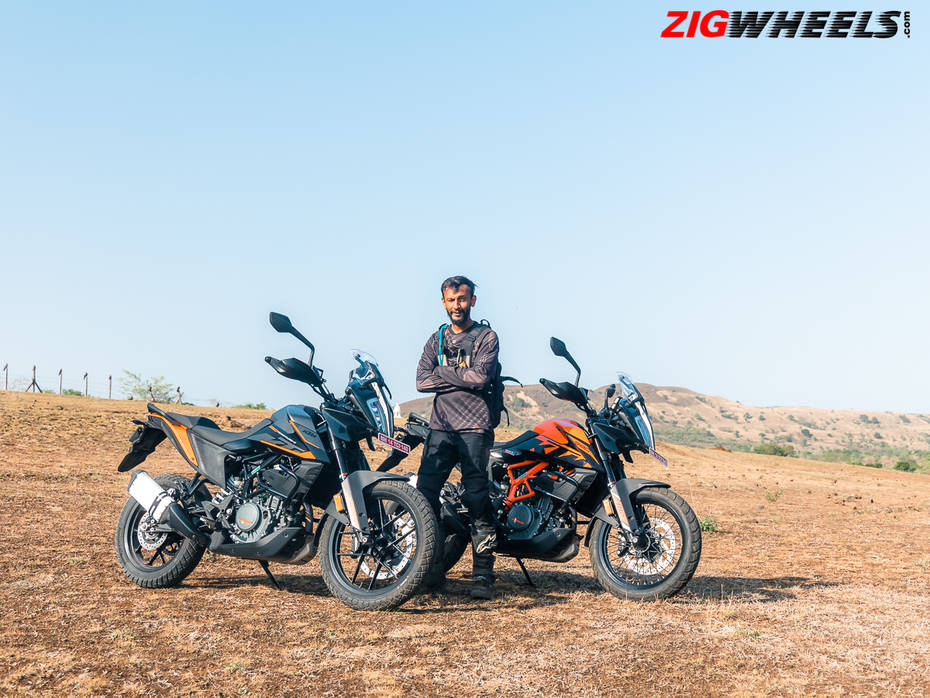 The 390 Adventure X and the spoke wheel version sit on two opposite ends of the spectrum. But strangely, despite the differences, both appear to be allowing noobs and experienced riders to get a bit more from this platform. The rawness of the 390 Adventure X allows you to let loose without anything holding you back, and the spoke wheeled variant allows you to push further ...better.
| | | | | |
| --- | --- | --- | --- | --- |
| Price | 390 Adventure X | 390 Adventure V | 390 Adventure Standard | 390 Adventure Spoke Wheels |
| Ex-showroom Delhi | Rs 2,80,652 | Rs 3,38,746 | Rs 3,38,746 | 3,60,880 |
But as this is the first ride, the extent to which these changes have impacted the 390 Adventure's real world performance is yet to be seen. But that's something we'll be exploring in a detailed road test that's coming soon.
KTM 390 Adventure Video Review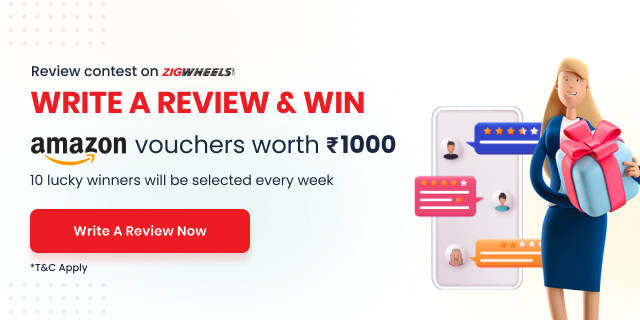 Bikes Similar to 390 Adventure
See what our community has to say!
NEW
India's largest automotive community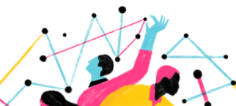 3 Other Things You Might Want To Do