Kawasaki Ninja 300: First Look
---
The affable Ninja 300 is now BS IV compliant and gets a new paint scheme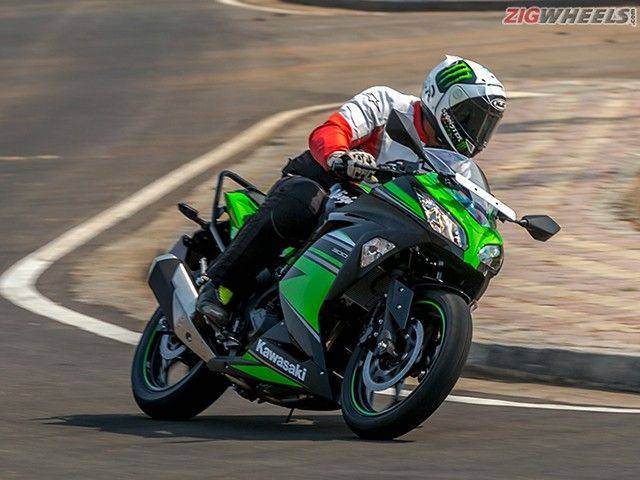 Kawasaki is always known to surprise us with multiple launches at its events, and an added bonus at the launch of the new Z650, Z900 and Ninja 650 was the refreshed 2017 Ninja 300. The 300 sits at the base of Kawasaki's enormous sportsbike pyramid, and is a great stepping stone into fully-faired territory. For 2017 it does not get mechanical changes that affect its performance or handling, though the motorcycle is now compliant to stricter BS IV norms.

The bike you see here is the KRT edition, wearing special stickering that gives it the appearance of Kawasaki's WSBK machine, and looks better than the plain 'Ninja' green colour offered earlier. The rear grab rail on our bike was big enough to resemble a wheelie-bar and looked pretty odd. A set of accessories are now on offer for the bike, including a lighter, sportier sounding Akrapovic exhaust.

The Ninja 300 continues to offer 39PS of power produced at a rather high 11,000rpm along with 27Nm of torque produced at 10,000rpm from its 296cc, liquid-cooled, parallel twin motor, and power delivery is peaky in keeping with the nature of typical sportsbikes. The launch event was held inside Aamby Valley, a resort for the uber-rich near Lonavala, a hill station that's an hour's drive from Pune where Kawasaki allowed us to swing a leg over the bikes, including the Ninja 300, albeit just for a couple of minutes each.

The test 'track' was a 2.5km long section on one of the narrow, two-lane roads inside the resort. It included a couple of fast downhill bends and a slow left hand corner followed by a narrow and curvy, gravel-strewn stretch before we turned back. Given that the 300 is an entry-level machine that sees more action on city streets and hill roads rather than racetracks, we would have liked to see bottom-end and midrange grunt get a bump.

In fact, it wouldn't be a bad idea to alter the bike's power and torque curve in a way that power is concentrated lower in the rev range than it is currently. The parallel-twin engine is a sheer delight to rev – it feels extremely refined, is quick to build revs and sounds sweet as revs go up. And given that there's good reserves of power at the top, I ended up, like on several occasions before, wringing the little sportsbike by its neck.

A handful of laps would have been nice, but all we got was just one solitary lap. With its peaky output and 172kg kerb weight the Ninja 300 was fun to throw into tight chicanes, proving yet again that it is confident, nimble and engaging as an entry-level sportsbike. The Ninja 300 continues to use IRC tyres and we feel that a better set would offer more confidence in terms of grip levels.

At 3.64 lakh rupees ex-showroom New Delhi, despite the slipper clutch, the pricing is steep for what the bike offers. Also, ABS is a big miss in today's day and age when motorcycles costing half as much offer this technology in India. And that's besides the fact that Kawasaki offers an ABS version of the Ninja 300 in markets abroad. The new Ninja 300 is as admirable as before, but the price tag ensures that it remains a choice for a select few.