Honda Africa Twin: Road Test Review
Aug 14, 2017
Views : 38637
---
What does the Africa Twin have to offer in a world of highly capable adventure tourers?
Words by: Benjamin Gracias
Photography by: Vikrant Date and Eshan Shetty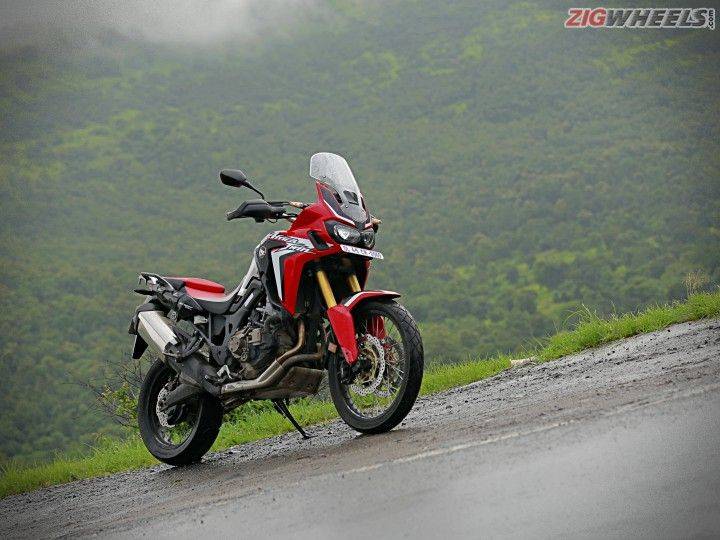 In the world of two-wheeled overlanders, few names are as evocative as the Africa Twin. The Dakar-winning legend from Honda had carved a niche for itself in the world of off-road adventure motorcycling. In fact, the Africa Twin is to adventure touring what the Hayabusa is to hyperbikes and the Fat Boy is to cruisers.
It has been twelve years since the last one and the new Africa Twin has big shoes to fill. And this time, it has more formidable rivals to go up against. Opponents that weigh less but have more horsepower and rider aids. On paper, the Africa Twin is outmatched. But let's not jump to conclusions just yet.

Built to survive the apocalypse:
Honda used a lot of learnings from its Dakar veteran, the CRF 450 Rally, while developing the CRF1000L Africa Twin. The result looks like a Dakar-ready overlander. It looks like nothing else on the road and is one of the biggest ADVs out there. Despite the size, it does not look bulky.
There is minimal use of plastics and there is a feeling of solidity to the build quality. The Africa Twin looks hardy enough to survive spills like a dirt bike. No, we did not drop it. That would lead us to immediately committing seppuku.

The 21-inch front and 18-inch rear spoked wheel sizes are from the CRF 450 Rally and can climb over most obstacles with ease. Seat height can be adjusted to either 820 or 840mm. It is narrow at the front and should allow a 5'8" tall rider to comfortably place both feet on the ground while seated. You sit upright and have a commanding view of your surroundings.
Ahead lies a large windshield and a vertically stacked instrument cluster. Information is divided into segments and displayed via a blue backlit LCD screen. It is easy to read on the move and besides the de rigeur information displays traction control and drive and sport mode levels. The rear has a decent sized aluminium rack with large grab rails running along the side of the rear seat.
The pillion seat is long and the rear footpeg is set low so seating position is comfortable. Big wheels, long travel suspension and rugged built make it an ideal bike to survive the apocalypse.

Heart of the matter:
While the previous Africa Twin used a 750cc V-twin, this one has grown in size and employs a parallel-twin layout. The big motor has two 500cc cylinders pushing out 91.9Nm of torque at 6000rpm. Well, it makes 98Nm overseas but the 'assembled-in-India' Honda has been detuned for Indian fuel quality. Power output suffers the same ignominy, making 88.2PS at 7500rpm instead of 95.1PS. The motor then isn't cut out for performance. What it offers instead is usability. 68Nm of torque is available 2000rpm onwards and all the way to its 8000rpm redline. It has a 270-degree crank which gives the motor the characteristics of a V-twin, which is an abundance of low down torque - enough to pop power wheelies, and sound like one.

The highly tractable motor pulls cleanly in higher gears from as low as 2000rpm. Instead of a heady top-end or a manic midrange, there is a smooth spread of power and torque all across the rev range. This would help new riders to get comfortable with the bike and is a boon on the off-road trail as there are no hidden surprises in power delivery. Like an ADV bike, there are two cables for the throttle - for a positive return. It is a safety feature that will bring the throttle to zero in case you have a spill.

Our performance runs had the Africa Twin do the 0-100kmph run in 4.88 seconds, a respectable figure considering its 245kg kerb weight and choice of transmission. The quarter mile came up in 13.43 seconds at a speed of 162.42kmph. Roll-on tests had the bike do the 30-70kmph run in 3.17 seconds and 40-80kmph in 4.05 seconds. The performance isn't breathtaking but will allow you to cruise at triple digit speeds without fuss.

Break from routine - Datsuzoku:
Yes, the India-spec Africa Twin comes with a DCT gearbox. And no, it does not suck. In fact, it turned into an asset while riding off-road! A break away from the convention of using manual boxes on ADVs can be termed as a first though Honda has been perfecting the use of dual-clutch transmissions on its bikes for years. The six-speed DCT gearbox on the Africa Twin, as a result, is more refined and intuitive. The mode selector switch is located on the right side switchgear and below it is a button to switch into manual mode. Click the selector once for Drive and twice for Sport mode. The gearbox will not slot into Drive if the side stand is down. The Drive mode is the more relaxed mode. In it, the gearbox will try to slot in the highest possible gear. However, at speeds below 20kmph, it will switch to first gear so you are not left balking in slow-moving traffic.

The system is quite attuned to your throttle. If you open the throttle more, the gearbox will hold to lower gears and allow a quicker getaway. The system will also drop down a couple of gears if you open the throttle midway. The gearshifts are seamless, especially at higher revs. Occasionally though, between 2,000 and 3000rpm, you tend to feel a soft jerk during gear changes.
Drive mode is good for relaxed riding and eking out better fuel efficiency but for anything faster, you will have to switch to Sports modes of which there are three levels. Sports mode holds the gears for a longer duration, with S3 being the longest. There is not much perceptible difference between S1 and S2 modes.
S3 was my favorite mode as it keeps the motor in its mid range. In S3, you will be in the first two gears most of the time. The Africa Twin's first two gears are tall. Our max in-gear tests had the bike reach 84.5kmph in first gear, 122.3kmph in second and 155.6kmph in third.
While the system works well you have to be a tad careful while going into corners. In order for the bike to drop gears before entering a corner, you have to brake early and more often you enter the corner one gear higher than preferred. There is a way around this though. The system allows you to manually downshift even if you are in Drive or Sports mode.

Manual mode is easy to use. You shift gears via buttons on the left side switchgear using your index finger and thumb. Even if you forget to downshift, the system shifts a gear for you without switching over to Auto mode. It will however not upshift for you.
Overall, the DCT is very intuitive and is easy getting used to. Almost as easy as riding an Activa.

Simplicity or elimination of clutter - Kanso:
Honda has kept electronics simple for the Africa Twin. It gets 3 levels of traction control which can be switched off. While there are no ride modes, the DCT gearbox relies on inputs such as wheel speed, engine speed, load and throttle input.
While the system is simple and effective, it lacks the sophistication of the competition's IMU-based rider aids. The Sports mode, for example, would have been better with lean angle sensors, as currently, the DCT has no way to know whether you are approaching a corner. Which means you have to be careful while cornering as the DCT can upshift mid-corner when you expect it to hold gears.

The Africa Twin has two dedicated buttons on the dash for off-road riding. The 'ABS Off' button cuts off ABS to the rear wheel. The 'G' button for gravel mode reduces clutch slippage for a more direct connection between the throttle and rear wheel. It affords you better control of the bike by allowing you to better gauge metered throttle inputs. While the modes are easy to change, they revert back to default once the engine is turned off. This simplistic approach allows the rider to focus on other more important things. Like riding.

On the road:
The Africa Twin is built on a narrow dual-cradle frame similar to the one on the Honda CRF 450. It gets fat 45mm fully adjustable Showa upside down forks with 230mm of wheel travel. The rear gets a Pro-Link Showa damper that is fully adjustable with a remote preload dial adjuster and offers up to 220mm of wheel travel. The Africa Twin simply glides over bad roads.
The bike has a lot of road presence. People give you way in traffic. You sit high above most motorists, almost eye to eye with SUVs. The refined motor and comfortable seating position make it a true mile muncher. The windscreen needs to be a tad higher and adjustable. You can feel air turbulence at speeds above 110kmph on the top of your helmet (I am 5'8"), but it didn't feel so for shorter 5'6" riders. The windscreen does a good job of deflecting windblast from the sides. Visibility is a problem once the windscreen gets dirty. It has a small square hole in the bottom which, if the screen is dirty, allows you to see through in crawling traffic speeds.

City riding is ridiculously easy thanks to the 86-degree turning radius, which means you can execute single point U-turns on it. You just have to worry a bit about the initial jerkiness of the motor while doing so. There is also a bit of effort required to steer the bike at low speeds. This is due to the fact that 13kg sits just aft of the front wheel. The DCT gearbox makes life easy as you do not worry about shifting gears. The bike has two radiators mounted to the sides which direct hot air away from the rider. It works quite well and only on hot days and after spending an hour in traffic will you feel some engine heat on your shins. Shorter riders will, however, find it a tad exerting riding the Africa Twin in the city, mainly due to its 245kg weight and top-heavy feel.

During our fuel efficiency tests, the Africa Twin returned 18kmpl in the city and 23.3kmpl on the highway. An 18.8 litre fuel tank should give it a theoretical range of around 438 kilometres.
You need to relearn the left side switch controls. Pass light is replaced by gear upshift button. The horn is placed above the turn indicator switch. Being automatic, the Africa Twin gets a cable-operated parking brake in place of the clutch, with a separate calliper on the rear disc. The lever is deliberately positioned out of reach so that you do not mistakenly use it as a clutch.

The handling is predictable in corners. The top-heavy feel and constant rains in Pune meant we could not push it much. Braking is via twin 310mm front discs clamped to radially mounted four-piston Nissin callipers and a single rear disc with a two-piston calliper. The brakes have a strong and progressive bite with fantastic feel both at the front and rear. Under braking tests, the Africa Twin came to a dead stop from 80kmph in 28 metres. 60-0kmph had the bike cover a distance of 16.6 metres. ABS is non-intrusive and kicks in late, a boon for off-road riding.

Off the road:
The Africa Twin lives up to its legacy of being a competent overlander. Off the road, all of the bike comes alive, and it has an uncanny composure on the worst of trails. The 21-inch front wheel with long travel suspension gobbles up anything in its path with not as much as a shudder transmitted to the rider. Landing is quite stable if you jump the bike. The front feels connected to the trail at all times. The handlebar is wide, making maneuvering easier while the reach is set high. The slightly forward-set footpegs make it easy to stand up on the bike while off-roading. They could have been a tad wider though.

The riding position does not feel as tall as a Triumph Tiger 800. The battery and electronics are placed behind the engine for better mass centralization and this makes the bike feel light on its feet.
The DCT will prove to be a boon to newer riders and you do not have to worry as it takes care of the shifts and allows you to concentrate on your lines. For off road, I preferred to keep the bike in S3 with Gravel mode on as it provides just the right amount of aggression to climb up steep inclines. Traction control was switched off though you can keep it in level one, which allows a bit of wheelspin before intervening. With the rear ABS off, the front brakes feel well attuned and didn't easily lock up.

The Africa Twin's Achilles heel are the Dunlop Trailmax tyres which are more road-biased. The wheels did not offer much grip on wet grass and often had the rear wheel spinning. A proper set of knobbly ADV tyres will make the Africa Twin unbeatable off the road. It also needs a main stand as the tyres are tubed and a puncture necessitates the removal of the entire wheel. While DCT does its job well, I reckon experienced riders will prefer the manual transmission of the bike. We hope Honda gets that bike here as well and give more choice to the enthusiast.

Synergy:
In a segment where most bikes feels excessive in some areas and fall short in others, the Africa Twin seems just right. It provides just the right amount of everything. There is no tech overload so there are fewer chances of anything going wrong. The suspension is breathtakingly capable off-road. The motor is not a high-revving one with a heady power output but one with usable performance spread across the rev range, one that can be accessed even by novice riders.

Admittedly, the bike might not feel as exciting on-road as its competition but in terms of capability, its range of usability over different environments and its accessibility for different riders is hard to beat. In the city it feels like a much larger scooter where you don't have to bother about gear changes. How do you top that?
Despite its size, it is one of the easiest bikes to ride. For me, that comfort equates to confidence in properly riding the bike. The Africa Twin is one of those rare bikes where everything comes together in perfect harmony. And at Rs 13.07 lakh (ex-Delhi) it is almost a no-brainer.

Japanese Dictionary:
Seppuku: A form of Japanese ritual suicide by disembowelment.
Datsozoku: Datsuzoku signifies a breakaway from convention. When a pattern is broken, it allows the user/engineer more freedom.
Kanso: A simplistic approach by removing what does not matter. It allows you to focus on what does.
Honda CRF1000L Africa Twin Video Review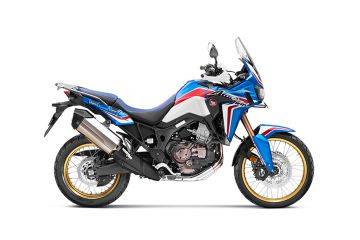 Rs. 13.50 lakh Onwards
Ex-showroom, Delhi
View Booking Offer
View On Road Price
Honda CRF1000L Africa Twin Alternatives