Tata Nano emax CNG launched at Rs 2.40 lakh
Oct 8, 2013
Views : 52062
---
Tata has launched the CNG compatible model of the Nano in two variants with prices ranging from Rs 2.40 lakh to Rs 2.65 lakh (ex-showroom, Delhi)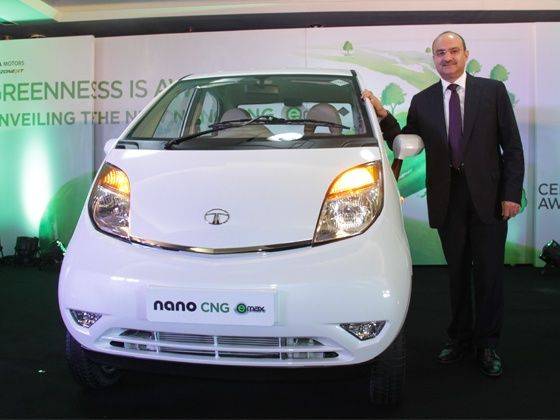 In a bid to further enhance the appeal of its compact hatchback, Tata has launched the CNG version of the Nano in two variants. Badged as the 'Nano emax' the most affordable version of the Nano CNG in CX trim has been priced at Rs 2.40 lakh while the LX variant has been priced at Rs 2.65 lakh (ex-showroom, Delhi). The CNG cylinders in the Nano emax, located under the front seats, have a capacity of 32 litres and the car is claimed to have a fuel efficiency of 36 km per kg.
The Tata Nano emax is powered by the company's 624cc petrol engine that develops 33PS of power and 45Nm of torque when running on CNG. The Nano has a claimed range of 375 kilometres on a single tank of petrol and the CNG cylinders are said to give the car an additional range of 150 kms.
The Nano emax is equipped with a sequential CNG kit that has been calibrated to its ECU that allows a shift to petrol mode when the driver needs that extra bit of oomph. The driver can also shift fuel modes on the fly with the help of a switch. Tata has also loaded safety features on the Nano emax in the form of leak detection sensors and interlock sensors that automatically shuts off the engine while refuelling at the CNG station.
Fuel prices have been going up across the board in India, CNG prices have been hiked recently too, in these times the Nano emax makes a case for itself as a personal car that is light on the pocket.
At the unveiling the Nano CNG emax at the launch ceremony, Ankush Arora, Sr. Vice President, Passenger Vehicle Business Unit (Commercial), Tata Motors, said, "At Tata Motors, the core philosophy behind the launch of every new vehicle is anticipating what our customers need and blending it with the best-in-class technology and design engineering. This helps us arrive at an end product that suits the inherent automotive needs of our customers in a holistic way. From its inception, the Nano has been a path-breaking invention and the CNG version only adds to that and also underlines our commitment to be a sustainable automotive player. "
Also read: Tata Nano showcased as police vehicle!