Tata Nano showcased as police vehicle!
Sep 27, 2013
Views : 15098
---
The security firm 'Grand' has displayed the Tata Nano as a police vehicle at the ongoing India International Security Expo in New Delhi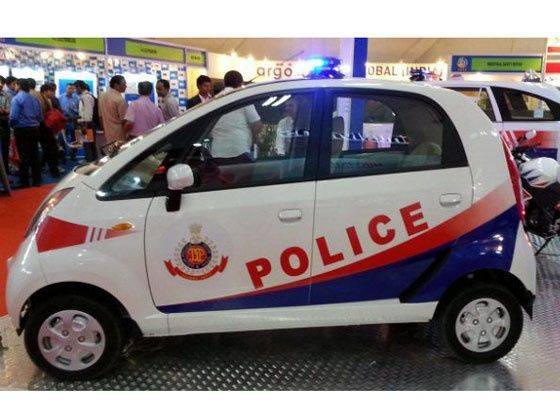 The Tata Nano has been showcased as a rather surprising probable for the Delhi Police Control Room (PCR) vehicle at the ongoing 16th India International Security Expo which is taking place in Pragati Maidan, New Delhi.
This new avatar of the Nano is thanks to the security firm 'Grand', which is known for supplying red, blue and other beacons to government vehicles. It comes equipped with medical gadgets, a first-aid kit and a set of red-blue beacons, a siren and search lights. Grand says that it can be used by lady police drivers to rescue women and children in distress from Delhi streets.
"We have just launched a concept of using the small car for emergency response instead of the big PCR vehicles being used at present by Delhi Police. We would want the police and other agencies tasked for exigency duties to have a look and see if this fits their bill," Monty Singh of the security firm Grand is quoted by PTI as saying.
"It is good that indigenous efforts are being made in the security gadgets and devices domain in the country. I will ask officials in the paramilitary and police forces to see whatever this exhibition offers and explore if they need something for their use," Anil Goswami, Union Home Secretary, said after unveiling and inspecting the car, reports PTI.
The Nano has a 2 cylinder 624cc petrol engine making 38 PS of power and 51 Nm of torque. Earlier this year, Tata Motors had given the Nano a minor facelift.
Related: Tata Motors unveils face-lifted Nano