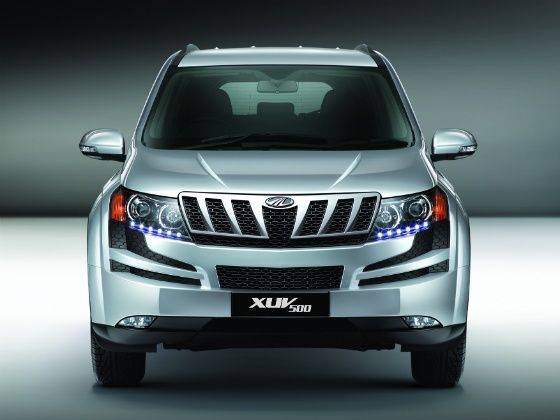 Mahindra and Mahindra have launched an all-new, entry-level variant of its ultra-popular XUV500 Sports Utility Vehicle. The new variant, badged the W4 will be priced at a mouth watering price of Rs 10.83 lakh (ex-showroom, Mumbai).
The Mahindra XUV500 W4 though seems to be quite well equipped and comes with a lot of essential features like dual air-conditioning, integrated MP3 player, electronically adjustable rear view mirrors and 6-way adjustable driver's seat. The second and third row too remains fully foldable like the other higher spec XUV500 models. Other features like the LED daytime running lights mated with a projector headlamp cluster and the chrome festooned grille remains identical.
Speaking on the occasion, Dr Pawan Goenka, Executive Director & President, Automotive & Farm Equipment Sectors, Mahindra & Mahindra Ltd. said, "The XUV500 has resonated very well with our customers since its launch and has since become a trendsetter within the Indian automotive industry. With over 74,000 vehicles on the road within two years of launch, the XUV500 is one of our most successful launches."
Mechanically too, the XUV500 remains identical to it's higher priced versions. The XUV500 W4 has ABS, EBD, 4-wheel disc brakes. The XUV500 W4 comes with a 2.2 Litre CRDe engine that produces 142PS of power and 300Nm of torque. The Mahindra XUV500 comes mated to a 6-speed manual transmission similar to the other XUV models too.
The XUV500 W4 though has lost out on a lot of the fancy gadgetry that the XUV was so well known for. For starters, the W4 does not come with rain sensing wipers, touch screen infotainment system, GPS navigation, DVD player, tyre pressure monitoring system, cruise control and the intelligent light sensing headlamps. Other features like climate control, fog lamps, leather upholstery and alloy wheels too are missing. The most important deletion though is the lack of the Electronic Stability Program (ESP) and the programs that facilitate hill hold and hill decent. All these deletions, especially the ESP will most certainly impact the way the XUV500 handled emergency situations as well as the spirited driver.
Although a lot has been cut out of the XUV500, the W4 is still better equipped than the likes of the Renault Duster. Although the Mahindra XUV500 W4 is something that Mahindra should have done a long time ago, launching it now is better late than never. The XUV500 will definitely be cannibalizing into the sales of other Mahindra offerings like the Scorpio with this new version. That said, there is an all-new Scorpio that is expected from Mahindra in 2014. Although the XUV500 W4 seems more like a knee jerk reactions to the likes of the Renault Duster, the Ford Ecosport and the Nissan Terrano, it is definitely a car that will give the competition a run for it's money.