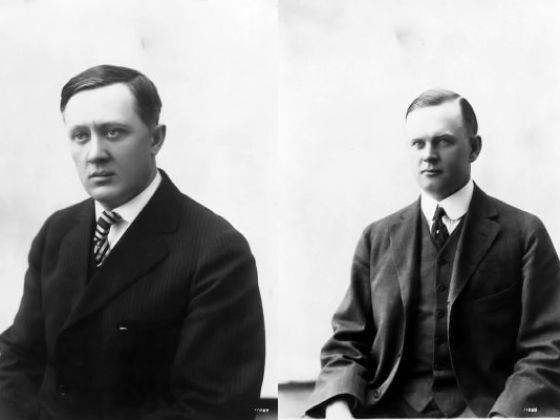 William S Harley and Arthur Davidson
William Sylvester Harley and Arthur Davidson Sr. were childhood friends based in Milwaukee who went on to become two of the four original founding partners of Harley-Davidson. In fact it was at the young age of 22 that William approached Arthur with his 116cc engine that could be fitted on to a regular bicycle frame. They worked on developing that bike for over two years and while the contraption worked, it still required the assistance of pedal power to tackle inclines. Not willing to just end their two wheeler dreams just yet, William and Arthur worked upon a larger 405cc engine which not only took them out of the power bicycle category but further nurtured their dreams to develop motorcycles.
In fact the prototype that featured this new engine was built in a tiny shed belonging to the Davidson family. A number of parts were developed and made at a railroad works where Arthur's oldest brother worked. The product was finally functional on the 8th of September, 1904 where it was piloted by Edward Hildebrand in a Milwaukee motorcycle race held at State Fair Park. Not only did the bike come fourth overall, this occasion also marked the first documented appearance of a Harley-Davidson motorcycle.
Two years later in 1906 the first Harley-Davidson factory finally became operational. In fact the current Harley-Davidson headquarters are still located at the same address in Milwaukee. In the following year William S. Harley graduated from college with a mechanical engineering degree. By this time Harley-Davidson had opened an additional production facility and was making over 150 motorcycles and not to mention, the company was also looking at a new engine, namely a V-Twin. Over the next few decades Harley-Davidson would go on to develop numerous engines, survive the Great Depression, emerge as the key motorcycle supplier to the US Army in World War II and start of a lifelong partnership with various Police Departments.
William served as Chief Engineer at Harley Davidson until his death in 1943. He was inducted into the motorcycling hall of fame in 1998. Arthur Davidson Sr. was killed in a car accident just 3 miles away from his home in 1950. He was 69 years old at the time of his untimely demise and like the other three founders of Harley-Davidson; he too has been inducted in the Labor Hall of Fame.
It is said that there were over 300 different entrepreneurs who set out to build motorcycles in America in the early 1900s. Just fifty years later, only one brand survived, namely Harley-Davidson. Whether it was the vision of the founders or just plain fortune that favoured them, the company still powers on and has achieved a cult status the world over. It is for this reason that William S. Harley and Arthur Davidson are our men of metal this month.