This Tiny Thing Is A Production-Ready EV From Toyota
Oct 21, 2019
Views : 12191
---
It offers a maximum driving range of 100km and can reach a speed of up to 60kmph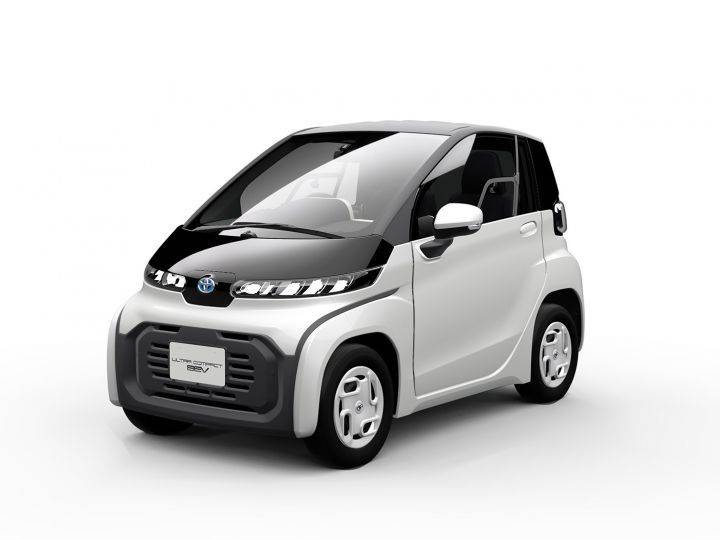 The BEV is basically a two-seater short-mobility solution.
Toyota is yet to reveal further technical details.
The BEV will mark its global debut at the Tokyo Motor Show.
Toyota will also unveil a host of other smaller EV mobility solutions.
Although it looks like a concept, this tiny thing from Toyota is a production-ready vehicle called the Battery Electric Vehicle (BEV). All set for a global unveil at the soon approaching Tokyo Motor Show, the BEV is a short-distance mobility solution that will not hurt the planet. Aimed at elderly people and new drivers, the BEV offers a maximum driving range of 100km while being capable of a speed of up to 60kmph. Pint-sized footprint is another trait that will help its case, especially in a crammed city like Tokyo. It is even smaller than a kei car, which is Japan's solution for tight parking spaces.
The ultra-compact BEV is 2490mm long, 1290mm wide, and 1560m high. It can seat two people and charge in around 5 hours, resulting in a range of 100km. Toyota is yet to release details of the electric motor and the battery. The only thing we know as of now is that it can reach a speed of 60kmph and it has a short turning radius.
Toyota is also contemplating various other versions of the ultra-compact BEV such as one for business purposes, a three-wheeled version, and different types of walking BEVs.
Toyota also showcased a new business model that aims to promote the adoption of all-electric vehicles. Leasing, reusing batteries and used vehicle programs are some of the highlights of the plan. Currently a Japan-only model, it remains to be seen if Toyota will offer the BEV in other markets. Meanwhile, Toyota is also expected to showcase the new GT86, 2020 Yaris, Mirai and a host of other cars at the upcoming 2019 Tokyo Motor Show.
Add Your Comments
View all comments