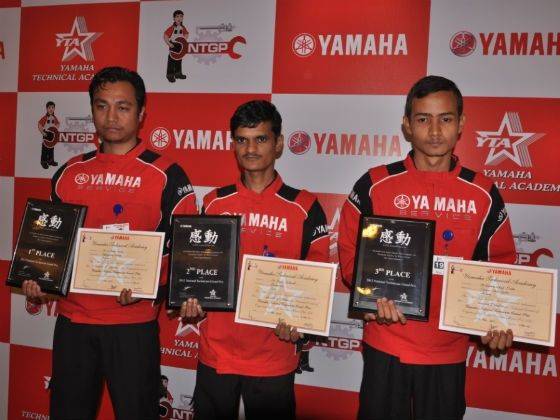 India Yamaha Motor has announced the winners of the 2012 edition of the National Technician Grand Prix (NTGP) held at its Surajpur Plant in Greater Noida on December 6 to 8, 2012. In the third edition, the contest featured 25 finalists from across the country vying for the 'Number 1 Yamaha Technician' title. Prabin Kumar L of Pakhamba Motors of Imphal was adjudged the winner, followed by Sagar Gaikwad of Pro Service of Pune and Sameer Shafi Naik of Naman Auto Sales of Alibagh in second and third places. The winners will represent India at the 'World Technician Grand Prix 2014' in Japan.
Yamaha's main objective behind the contest is to improve and strengthen the service provided by technicians. A total of 850 contestants participated in this year's event, a 30 per cent increase over last year. A 100 contestants were selected from the regional rounds out of which 25 winners were selected for the final round (five from each zone).
The contestants were judged on the basis of service knowledge, communication skills and customer service and they had to undergo tests in theory, trouble shooting, repairing motorcycles and dealing with customers. Also read: Yamaha launches limited edition Fazer and FZ-S
Jun Nakata, Director - Sales and Marketing, India Yamaha Motor, said, "We have witnessed a very encouraging increase in participation of technicians this year. This highlights the fact that more and more technicians are realising the importance of holistic development in today's customer centric market scenario. In addition to winning customers' hearts by providing value added services, this contest seeks to raise the service mechanic's consciousness of their importance in the Yamaha business, stimulate the desire for improvement and strengthen the Yamaha Service."
The first edition of National Technician Grand Prix (NTGP) was held in 2010 and it is part of the Yamaha Technical Academy.
Slideshow: