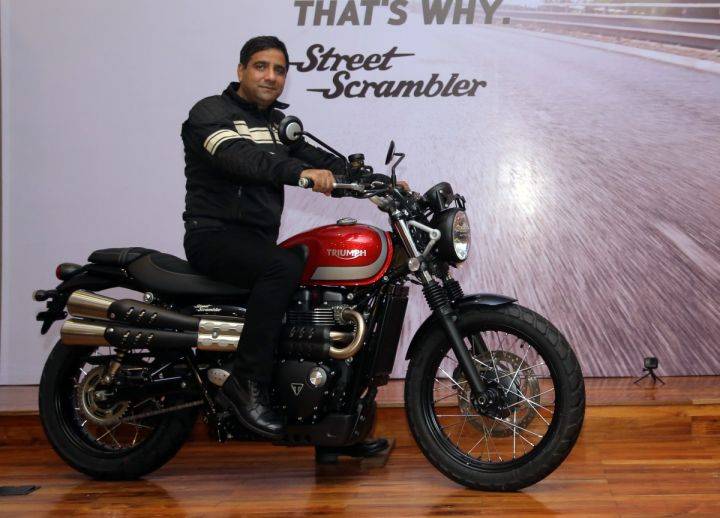 Zigwheels: With the launch of the Triumph Scrambler, you have covered almost all of the modern classic segment. What are the future plans for this segment?
Vimal Sumbly: The whole objective of this launch is to fill in the whole modern classic portfolio. You have the Street Twin, T100 and T120, Bobber and the Thruxton R. Now, with the Street Scrambler, we will be working further to grow this modern classic segment using this brand portfolio.
Zw: Why was the Street Scrambler launched so late in India as the bike had already been unveiled at 2016 EICMA?
VS: If you look at India, it's just a developing market for big motorcycles and we wanted to bring classic motorcycles to India first. Now, we have a good base of classic and adventure motorcycles in India. There's a huge number of customers invested in classic bikes and there are a few invested in adventure bikes as well. We wanted to bring this classic-adventure genre (like the Street Scrambler) now, after our customers had already experienced classic and adventure. We think there's a huge opportunity for customers who want to do both on-road and off-road riding using a classic bike platform, and that's where we are going.
Zw: What was the reason behind getting just the Street Triple S to India. When will the R and RS models be launching here?
VS: Our strategy is to make products which are usable, create that genre and then get into other segments. We want to be focused and saw potential in where the Street Triple S was. We want to do things correctly. If you have limited resources, it's better to focus on one product at a time than all of them at once. So whatever we try to do in India, the strategy is to do one thing perfectly. First we want to develop the Street portfolio in a bigger way and as we see more Street Triple customers and, in case we see the need to launch another version, we will do that. Right now, we are expanding the Street Triple S segment and it's doing exceptionally well.
Zw: What about the Tiger Explorer? Will you be getting the entire Explorer range here? More Tiger Academy planned?
VS: Like I said, it's about what you want to do and how much you want to do. The strategy can be both ways. It can be across (the whole range), and not do justice to each of the SKUs (semi-knocked down units) or you can have one bike and do full justice to the brand. You are able to cater to the customer better in terms of after sales service, give them easy and quicker access to spares and also grow that segment to a new level. Within the Tiger 800 portfolio, we today have 4 SKUs and within the Explorer we have brought one. As the Tiger 800 customers want to upgrade to the Explorer 1200, we will bring in more variants. As of now, we just want to have the XCx and we have almost sold out the first lot.
The reason behind the Tiger Academy was that off-roading is gaining popularity in India. More and more people want to try out adventure biking in the country. A bike like the Explorer XCx is the perfect bike to do complete off-roading.
Zw: Triumph has come very close to Harley-Davidson in terms of sales and is expected to overtake them soon. What is your strategy to achieve this?
VS: We have two strategies for Indian market. One strategy is to achieve leadership position in segments. Today we have a leadership position in classic and adventure segments. We would like to have the same in all bike segments. Today, our focus is to increase this premium industry by getting good products and a good network, by ensuring that we have riding schools, training sessions. We also want to have riding groups in place and make our bikes affordable. We have tied up with HDFC bank recently for a seven years finance scheme. Till now you've heard about seven year financing schemes for cars, this is the first time there's a seven year financing on a motorcycle.
Zw: What is your strategy in terms of dealerships?
VS: We currently have 14 dealerships that are WIP (work-in-progress). In the next couple of years, we definitely want to go up to 25 dealerships.
Zw: The Triumph-Bajaj alliance has been a big news for enthusiasts. What should we expect from the alliance in the near future?
VS: We have made it very clear that it's a non-equity partnership where a big segment of motorcycles will be jointly produced, that's where it stands today and as we go forward, we will keep letting you know what it is.
Zw: Which range of motorcycles can be expected from this alliance?
VS: We will let you know as soon as we have the details.