Here's Your Chance To Take Your Avenger To Ladakh
by Niraj
Jun 20, 2018
Views : 2967
---
The company will organize 9 rides across the country exclusively for Bajaj Avenger owners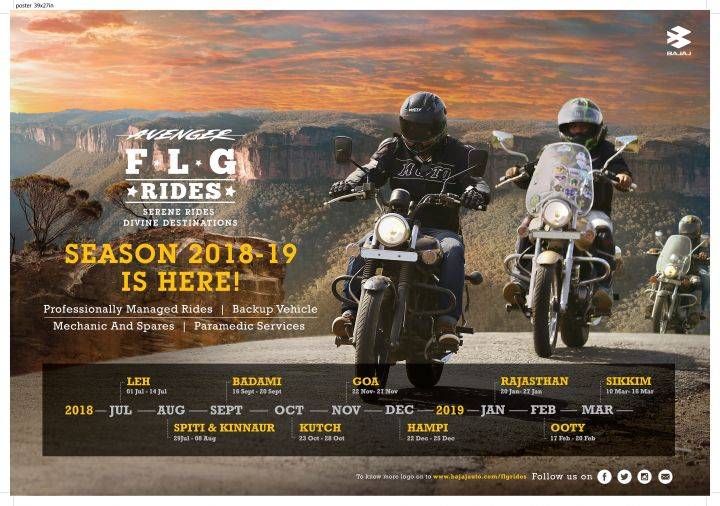 Planning a road trip? Already own a Bajaj Avenger? We have some news for you. The Chakan-based manufacturer will be organizing pan-India Avenger FLG rides to nine locations spread across the country.
As the name suggests, the rides will be exclusive only to Bajaj Avenger owners. Each of the nine tours will range from 3 to 13 days, with the first one kicking off on 1 July, in Leh. It will be followed by other scenic locations like Spiti, Kinnaur, Kutch, Goa, Hampi, Rajasthan, Ooty and Sikkim.

Each rider will be accompanied by a seasoned expert along with a support vehicle and a paramedic with all the necessary medical equipment. The company will bear all the support costs, leaving the participants with only fuel and boarding costs ranging from Rs 1300 to Rs 2200 per day (depending upon the location).
Ride Calendar -
Month
Destination
Length
Starting point
Start date
End date
Cost
June
Leh
13 days
DELHI
01-Jul
14-Jul
Rs 16,000
July
Spiti & Kinnaur
10 days
DELHI
29-Jul
08-Aug

Rs

14,000
Sept
Badami
4 days
16-Sep
20-Sep

Rs

6,500
Oct
Kutch
5 days
AHEMDABAD
23-Oct
28-Oct

Rs

8,100
Nov
Goa
5 days
MUMBAI/PUNE
22-Nov
27-Nov

Rs

9,000
Dec
Hampi
3 days
HYDERABAD
22-Dec
25-Dec

Rs

5,700
Jan
Rajasthan
7 days
DELHI
20-Jan
27-Jan

Rs

11,000
Feb
Ooty
3 days
BANGALORE
17-Feb
20-Feb

Rs

6,500
Mar
Sikkim
6 days
SILIGURI
10-Mar
16-Mar

Rs

9,000
Press Release -
Bajaj Auto Launches Avenger FLG Rides 2018-19
Mumbai, June 19th 2018: Bajaj Auto, India's leading motorcycle manufacturer has kicked off season 2018-19 of Avenger FLG Rides – a pan-India riding initiative, exclusive to Avenger owners. These serene rides to 9 iconic destinations are designed to give riders a divine liberating experience. With this, Bajaj Auto is enabling consumers to live Avenger's brand promise of liberation articulated as 'Feel Like God'.
FLG Rides - initiated in 2016, has received tremendous response since inception. FLG Rides season 2018-19 aims to engage Avenger owners round-the-year with exclusive selection of 9 long distance tours each ranging from 3 to 13 days. The first FLG Ride of the season will kick off on 1st July 2018 to every rider's dream destination - Leh, followed by other serene locations like Spiti, Kinnaur, Badami, Kutch, Goa, Hampi, Rajasthan, Ooty and Sikkim (Riding Calendar below)
Avenger FLG Rides has an uncompromised focus on safety & security of riders, and are supervised by seasoned riding experts. Each ride is led by a professional rider, accompanied by a support vehicle and a certified paramedic with medical equipment. Bajaj Auto bears all the support costs while the participants bear only the fuel and the boarding costs ranging from 1300/- to 2200/- per day depending on location.
Speaking on the commencement of Avenger FLG Rides Season 2018-19, Mr. Sumeet Narang, Vice President, (Marketing), Bajaj Auto said,
"Long distance group riding has grown incredibly in recent years across India. Avenger brand stands for riders' liberation articulated as 'Feel Like God' and these FLG Rides represent this value. It inspires the riders to break free from the mundane and get the best experience out of their Avengers. With Avenger FLG Rides, we want to encourage our valuable consumers to experience leisure riding to these breath-taking destinations. FLG Rides has been uniquely designed with resources and infrastructure that promotes group riding in a safe and professional manner. Apart from FLG Rides we have engaged over 10,000 Avenger owners through weekend rides & community get together."
Add Your Comments

More on Bajaj Avenger Street 220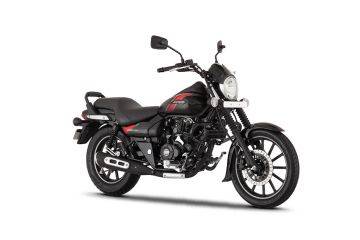 Get Loan starting @9.7%
View On Road Price