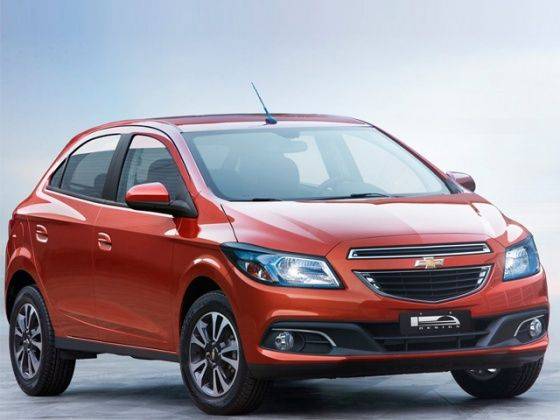 For the first time Chevrolet is going to showcase its models developed and sold outside the US, at the 2013 North American International Auto Show (NAIAS) aka Detroit Auto Show, including the Chevrolet Onix, Spin, Trax, Sail and Orlando.
"NAIAS kicks off the global auto show season and gives us a unique opportunity to show off the depth of Chevrolet's global product line-up," said Mary Barra, senior vice president of Global Product Development. "The appearance of these five global vehicles further reinforces Chevrolet's commitment to tailor vehicles to our customers' needs around the world."
Here are the five global vehicles and their relevance for the India market.
Onix
The Onix hatchback was first showcased at the Sao Paulo Auto Show in October 2012. Tailored for the Brazil market, the Onix is available in three trim levels, LS, LT and LTZ that can be customised in 'Joy, 'Race and '24 Hours' themes with stickers and appliques. Off-the shelf art is also available.
It is available with 1.0-litre or 1.4-litre petrol engines and a five-speed or six-speed manual gearboxes. The engines run on petrol, ethanol or any combination of petrol and ethanol. The Onix's 7-inch MyLink infotainment system with Bluetooth connectivity is a segment first in Brazil that allows users to sync their mobile phones for multimedia connectivity.
The Onix makes sense for India as a premium hatchback and with the company's 1.3-litre SDE Smartech common-rail diesel motor.
Spin
Manufactured at General Motors' Bekasi facility in Indonesia, the Spin MPV seats seven and will be powered by a 1.8-litre petrol engine mated to a five-speed manual or six-speed auto box and can run on petrol or ethanol.
The compact Spin is designed for congested urban environs. It will go on sale in Thailand and Indonesia later in 2013, in left- and right-hand drive versions.
The Onix can take on the Maruti Suzuki Ertiga but needs a diesel motor for both private and taxi fleet buyer.
Trax
Set for a 2013 launch, the Trax sub four-metre compact SUV is designed to take on the likes of the Ford EcoSport. Engine options include a 1.4-litre petrol engine that develops 141PS of power and 200Nm of torque and a 1.7-litre diesel engine that develops 131PS of power and 300Nm of torque. Both engines are turbocharged to support the vehicle's sporty character. The petrol engine is mated to a six-speed manual transmission while a six-speed automatic is on offer for both the petrol and diesel engines. All manual transmission vehicles will get a Start/Stop system. There is also an all-wheel drive system for both petrol and diesel engines. With its short wheelbase the Trax is geared for off-roading as well.
The Trax can seat five in comfort and top-of-the-line models will feature Chevy's new MyLink seven-inch touchscreen high resolution infotainment system and will get a navigation app that can be loaded on to compatible smartphones.
Indian tax regulations will require the petrol motor to be a 1.2-litre or smaller while the diesel motor should be a 1.5-litre or smaller for excise duty benefits, otherwise the Trax is perfect for India.
The Ford EcoSport is going to be launched soon in India and the Trax could be its only true competitor.
Orlando
The full sized Orlando MUV can rival the likes of the Toyota Innova and Mahindra Xylo. Prices start at $ 19,995 (Rs 10.95 lakh) in Canada and it's powered by 2.4-litre petrol engine. Other engine options include a 1.4-litre and 1.8-litre petrol motors and a 2.0-litre diesel engine, which will be most suited for India.
Produced in South Korea it went on sale in Canada in October 2011. It can seat seven and holds tremendous potential in the Indian MUV market.
Sail
Already in India, the Sail UVA was developed for India in China. Its spacious dual tone interiors and well kitted variants along with an attractive price of Rs 4.44 lakh for the base petrol model makes it a very attractive proposition.
It's powered by a 1.2-litre S-TEC II petrol unit that develops 86PS and 113Nm of torque and a 1.3-litre SDE Smartech common-rail diesel engine developing 78PS and 205Nm of torque. A sorted vehicle that offers a lot of bang for your buck.
The Sail UVA takes on the likes of the Maruti Suzuki Ritz, Maruti Suzuki Swift, Hyundai i20, Renault Pulse, Nissan Micra, Fiat Grande Punto, Ford Figo, Skoda Fabia, Volkswagen Polo and Toyota Etios Liva.
Chevrolet also plans to unveil the seventh generation Corvette C7 at the Auto Show. The next generation American icon's unveiling is eagerly awaited. Click to know more about the Corvette C7. Also read: Chevrolet Corvette C7 to make Detroit debut
Another definitive Chevy that will make its debut at Detroit is the new Silverado pick-up truck. Pick-up trucks don't get more authentic than a Silverado.
The new Silverado gets three new powerful and efficient EcoTech 3 engines, a more comfortable and quieter cabin, and the steering, suspension and brakes have been revised, Chevrolet has also come up with ingenious solutions for managing cargo and towing and hauling.
The 2014 Silverado will undoubtedly take the breed of pick-up trucks forward.
We will be bringing you the latest from the 2013 North American International Auto Show, so stay tuned!